Every time we look at our favourite celebrities, we wonder what's the secret to their toned and healthy body. The secret is their dedication towards their body. They follow a strict fitness regime that helps them achieve a fit and toned body. Your favourite Bollywood divas work really hard on their body and spend hours sweating, working out. Many of them stick to traditional Yoga to maintain their figure.
Recently, Payal Gidwani, celebrity Yoga expert talked to CNTraveller talked about how Yoga helps your body, mind, and soul. She has been training so many Bollywood celebrities, not just Kareena Kapoor Khan but the list also includes Saif Ali Khan, Farhan Akhtar, Rani Mukherji, Jacqueline Fernandes, Malaika Arora among others. She said, "You don't need much, just about an hour a day, to stay healthy, young, and beautiful. Surely, you can take one hour out for yourself. We all can."
Keeps You Healthy From Within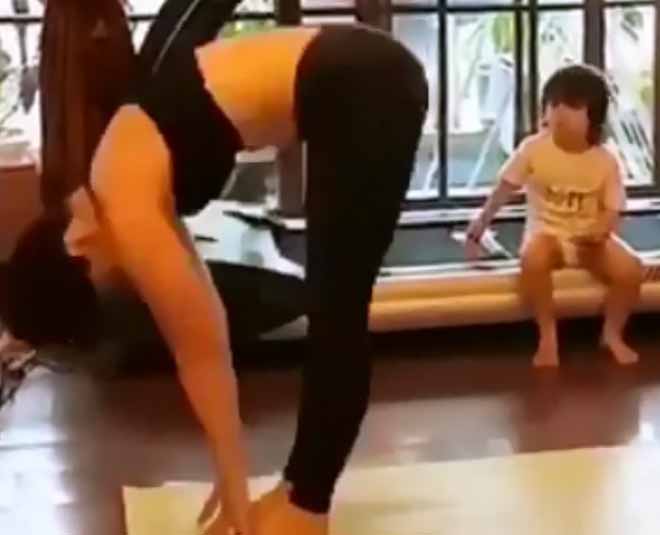 Payal Gidwani shared that Yoga helps in massaging your internal organs too. When you stretch, bend forward, backward, or sideways, your internal organs are at work too. This leads to a good flow of blood in your muscles and nerves. This is why Yoga helps you stay healthy from inside too.
Don't Miss: These Yoga Asanas For House Wives By Expert Will Help In Dealing With Stress, Fatigue & Balance Your Health
Helps You Control Anger
There are days when we feel negativity taking over us. We all get angry and at times it leads to mental issues too if not controlled in time. Regular practice of Yoga helps you control your anger. It also helps you understand yourself and further helps you in keeping any negativities at bay.
Natural Way Of Losing Weight
She shared that when we do Yoga and do some asana for more than 1 minute, it melts our body fat and helps us reduce weight. Yoga is the best way to get rid of those extra kilos. Doing it regularly helps you prevent you keep your weight in control naturally, you don't have to rely on diets to lose it. Yoga tones up your body.
Controls Ageing
There are Yoga asanas where you bend down and this helps in increasing blood flow in your head and face. This helps in increasing glow on your face. This helps in controlling signs of ageing like wrinkles and fine lines. Such Yoga asanas also help in treating issues like acne, migraine. These asanas are also helpful in turning your white/grey hair black. Yoga also helps you in controlling the way you breathe and it further helps you in controlling ageing.
Don't Miss: These Yoga Asanas Are For All Those Who Are On Work From Home Amid Lockdown!
Transforms Your Body
We all have some issue or the other with our bodies. While some are worried about their double chin, many feel their waist or hands are too thin. Not everyone is satisfied with their body but Yoga helps in achieving you the body you always wished for. With Yoga, you can work on different areas of your body and completely transform it the way you want to.
Yoga Expert Payal Gidwani Tiwari keeps sharing Yoga asanas and pictures of celebrities doing Yoga on her social media handle. She has authored many books like Body Goddess: The Complete Guide on Yoga for Women and From XL to XS: A Fitness Guru's Guide to Changing Your Body.
Every person must indulge in some physical activity every day to maintain their health. Do you do Yoga or work out some other way? Share with us!