Troubled With Bloating Issues? Make This Drink At Home To Beat The Bloat
Bloating can make our stomach appear larger than it is, as well as cause pain.
Summer is officially here, which means it's time to dress up in stylish clothes, eat a lot of ice cream, and drink as many drinks as you want without worrying about catching a cold. However, it's not all fun and games because summers can also carry with them a slew of challenges. Difficulties with digestion and boating are two of the most common problems in the summer. Bloating difficulties, such as gas, sour belching, stomach pain, stomach cramps, acidity, and so on, are quite prevalent in the summer. And if you have anything else after this, the condition can get even worse.
Do you also often suffer from such problems like bloating and acidity? If yes, some summer drinks can help you with these issues.
Ayurvedic Dr. Dixa Bhavsar has shared some information related to this on her Instagram account. Here is what she says through her Instagram post:
Hot summer days are back in India and so are bloating & discomfort in abdomen. If you're someone who feels heavy post meals or suffers from bloating & acidity every now & then, then this drink is for you.
You can see the post here:
View this post on Instagram
This drink is super easy to prepare & even tastes amazing. Here's how you can make drink.
Ingredients:
These ingredients are required to make the drink.
1. 5-7 Mint Leaves
Mint is a natural ingredient that is well-known around the world for its medicinal benefits and is backed by Ayurveda. It is particularly beneficial in the summer because it has a cooling effect on the body. It is not only beneficial to one's health, but it also has a good taste and aroma. Mint also protects against acidity, bloating, gas, indigestion, detoxification, acne, sinusitis, cold-cough, and other ailments. As a result, it can be quite good in summer cocktails.
2. 1 tsp cumin
Other than adding great taste to our everyday meals, cumin seeds have numerous benefits for our overall health. Right from improving your digestion to helping you lose weight, jeera or cumin seeds can do wonders for your health. Its effect is hot and it maintains the digestive juices of the stomach. It can help in reducing Kapha and Vata.
3. 1/2 tsp Carom seeds
Ajwain can prove to be the best spice for bloating and gas. It is light and very easy to digest. It is also good for reducing the problem of Kapha and Vata. You can include it in your diet in any way. It can be considered very good to reduce acidity and gas after eating food.
Don't miss: You Can Beat The Bloat By Following These Expert Tips
Here's How To Prepare:
Take 1 glass of water.
Add 5-7 mint leaves. (pudina)
Add 1 tsp cumin. (jeera)
And Half tsp carom seeds. (ajwain)
Boil it for 3 mins on a medium flame, strain and sip on it while its warm.
When To Have?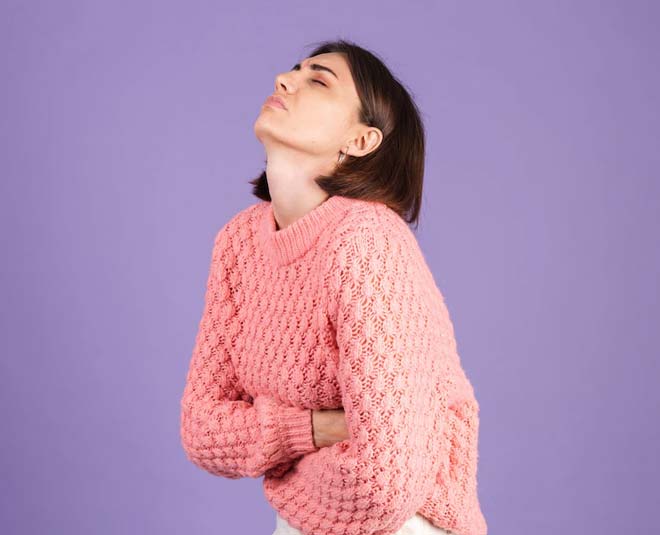 You can have this drink on either of the time:
First thing in the morning.
Half hour before/after meals.
Or when you feel bloated/heavy.
Who Can Have It?
It can be had by everyone in the family in every season. Works fine for people suffering from high cholesterol, diabetes, thyroid, acidity, gastric trouble, hormone imbalances, constipation, etc.
Don't miss: Expert-Recommended Exercises to Beat The Bloating
Benefits Of Ingredients:
Dr. Dixa Bhavsar says in her Instagram post, "Mint is my summer favorite. Smells like heaven & tastes delicious. Helps with cold/cough, acidity, gas, bloating, indigestion, detox, acne, sinusitis, constipation and more".
Cumin
Everything from its smell, taste to benefits are outstanding. Its hot in potency, improves taste, stimulates the digestive fire & promotes digestion. It reduces kapha & Vata.
Ajwain
Ajwain is the best spice for bloating. Super easy to digest & alike cumin- it reduces kapha & Vata. I even suggest you adding it in your meals (while cooking veggies). It helps reduce gas & acidity post meals.
If you are someone who also often suffers from bloating issues very often then you must try this easy drink. This drink will provide you the relief you have been looking for.
I hope you liked this article. If you did, share your views with us by commenting on our Facebook or Instagram page.
For more such stories, stay tuned to HerZindagi!