Packed with the goodness of vitamin C and dietary fiber, kiwi is believed to be one of the healthiest fruits. Though it doesn't come with the superfood tag, it is loaded with rich vitamins and minerals that can positively affect our health in many ways.
To enjoy the amazing benefits of kiwis, it is important to add them to our daily diet. Recently, nutritionist Pooja Makhija took to her Instagram handle and shared a quick recipe for her favourite kiwi salad.
How To Make Kiwi Salad?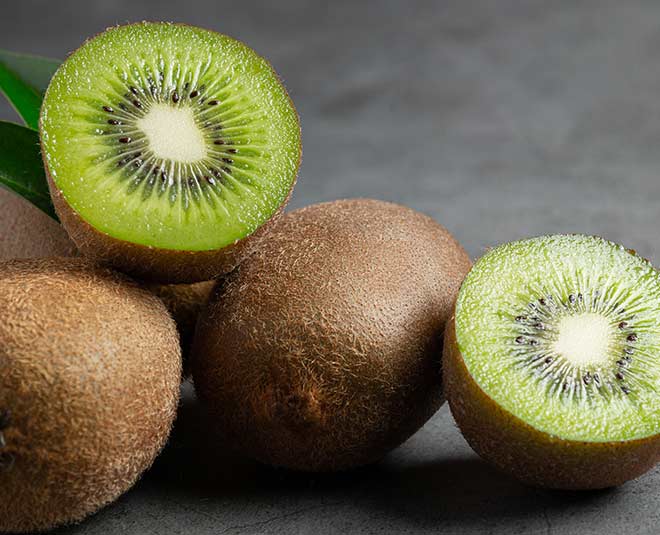 You Will Need
Kiwi
Kale
Carrot
Cucumber
Dragon Fruit
Lettuce
Nuts
Sesame Seeds
For Dressing -
Honey
Lime Juice
Sea Salt
Pepper
Directions
In a bowl, add sliced kiwis, chopped kale, grated carrot, cubed cucumber, chopped dragon fruit, crushed lettuce.
Add in seeds of choice and sesame seeds.
Prepare a dressing using honey, lime juice, sea salt, and pepper. Mix well and serve chilled.
What Does The Expert Say?
Nutritionist Pooja Makhija shared that kiwi fruit is loaded with vitamin C. She on her Instagram post shared that kiwis have twice the vitamin C content of an orange and are great for building immunity.
Kiwis are from Chile and are now available across the country. They should be included in the diet in different ways.
The nutritionist shared that all the other vegetables added to the salad fuel the body with the daily fiber requirement which is important for good digestive and gut health. She further shared that the nuts are good fats and protein, the sesame seeds have iron and calcium which the body needs everyday.
On her Instagram post, Pooja Makhija wrote, "Good food for me is therapeutic. Heals my mood and of course the body and thus the mind. This salad was ohhhh so good I could have it every single day!"
Other Ways To Add Kiwi Fruit To Diet
Other than having this delicious salad, you can also have kiwi fruit in other ways.
Kiwi Smoothie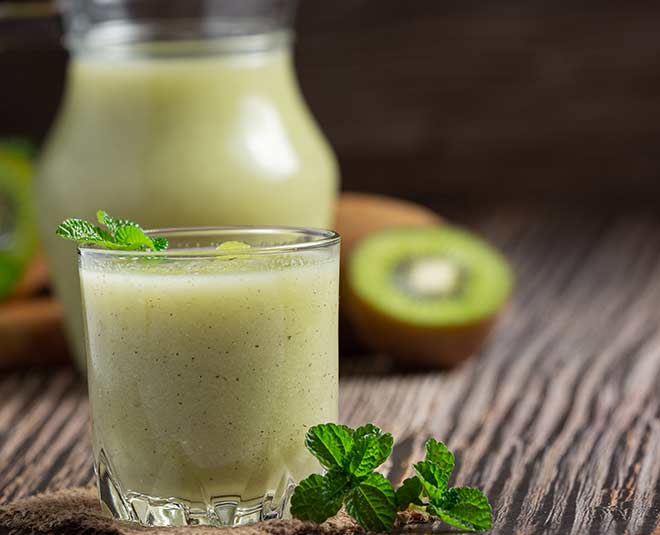 This one is a tasty and filling way to add this fruit to your diet. All you need for this recipe are some simple ingredients.
You Will Need
1/2 Cup Milk
1/2 Cup Yogurt
1 Small Banana
1/2 Cup Ice
1 Kiwi
Directions
In a blender, add kiwi, milk, and yogurt. Blend.
Add in banana and ice and blend till you get a creamy smoothie. Enjoy!
Kiwi Open Sandwich
When craving for a quick snack, prepare this kiwi sandwich. This one can also be your guilt-free midnight sweet snack.
You Will Need
Kiwi
Bread Slices
Butter/Milk Cream
Directions
On a non-stick pan, add some butter and roast both sides till crisp and golden.
Take off flame and spread milk cream or butter over it.
Slice kiwis and place them on the bread. Enjoy!
Kiwi Loaf Cake
If you want to give those healthy kiwis a delicious twist, you can make this loaf cake out of it.
You Will Need
2-3 Cups All-Purpose Flour Or Maida
2 1/2 Tsp Baking Powder
1/2 Tsp Sea Salt
1/2 Cup Greek Yogurt
1 Cup Granulated Sugar
4 Eggs
1 Tsp Lime Zest
1/2 Tsp Vanilla Extract
250 Gram Pureed Kiwi Fruit
1/2 Cup Vegetable Oil
Directions
Grease a baking pan and preheat the oven to 350 degrees Fahrenheit.
In a big bowl, add flour, baking powder, salt, yogurt, sugar, eggs, lime zest, and vanilla extract. Whisk all the ingredients well.
Add in pureed kiwi and fold into the mixture.
Pour the batter into the greased pan and bake for about an hour. Insert a toothpick in the center to check if the cake comes out clean.
Let the cake cool and then slice. Dust with icing sugar and enjoy!
Kiwi fruit is believed to treat a lot of our common health issues. Some health benefits of consuming kiwi fruit are:
Improves digestive health
Helps in regulating blood pressure
Supports immune system
Prevents vision loss
Fights inflammation
Prevents blood clotting
Improves skin health
Tell us if you have more interesting ways to add this tangy fruit to your diet. For more such health-related stories, stay tuned!