We all want to know what Kareena Kapoor Khan has for her meals every day. Seeing her toned body, we guess she has a low calorie, zero carb diet but is that true? Not really! Kareena Kapoor's biggest diet secret is that she has everything packed with nutrients.
Kareena Kapoor strictly follows the diet given to her by her nutritionist Rujuta Diwekar. Recently, Rujuta took to her Instagram and shared a picture of Kareena Kapoor eating Makki di roti, sarson da saag, and white butter.
Kareena is currently in Punjab, shooting for her next and in between, she took out some time to enjoy this wholesome Punjabi meal.
Now you must be thinking if it was Kareena who couldn't control herself from cheating her diet. But is it so?
Rujuta took to her Instagram handle and shared this picture with a caption that read, "The joy of eating desi -
Every region has its own tradition of celebrating its seasonal produce using timeless, heritage recipes. And i strongly believe that one should follow a diet that respects that versus that which makes you feel like you have "cheated" if you eat a seasonal delicacy.
Changing the roti, sabzi and the accompaniments as the season changes is something that we must cherish. Nutrition societies across the globe are trying to adopt this practice from ancient cultures. And on our part, we must ensure that this timeless practice is not forgotten and lost in the process of eating only meat or only soup-salad or not eating at all.
Health is not a size, it's a state. A state of harmony, in the mind and body and between people and planet. And really, all you need to do for that is to keep calm and eat makhan-roti-saag.
P.S- - Makhan-roti-saag coz right now #kareenakapoorkhan is in Punjab.
- This is for dinner. The Makhan, saag and roti and the quantities in the picture do NOT depict how much she eats. The pic is taken after most of it is in her stomach. Eat as per your hunger, not as per a fixed measure.
- Mein apni favourite hu is not just a dialogue, it's a way of life that encourages you to eat all that is nice.
#winterfood #saag #punjab."
All those who have been controlling themselves all this while and will continue this season to have this delicious meal, you have an answer. If Kareena Kapoor can, you too can have this meal that is packed with the right nutrients.
Don't Miss: Kareena Stays Fit By Doing 50 Surya Namaskar Every Day. Here Is Proof!
Do you know what are the benefits of this meal? Read on.
Saag
Saag, which is prepared using green veggies like spinach and bathua is great for your overall health. This green dish is loaded with nutrients and antioxidants which keep you healthy. Green leafy vegetables have vitamin A that is great for your eyes.
Saag is made with mustard leaves and this makes this dish fiber rich that is great for digestion.
Makki ki Roti
Loaded with vitamin A, K and C, makki roti gives your body the much-required nutrients. It helps you in boosting your immunity. Makki ki roti is prepared using corn kernels which are great for consumption especially during the winter season. Cron is great for your overall health, your skin, hair, and digestive system.
White Makkhan
Do you think adding a dollop of white butter to your roti will add to those extra kilos? No! White butter helps you lose weight. It has healthy calories which are important for weight loss. It has a compound that boosts your metabolism which helps you lose weight quickly.
Coming back to Kareena Kapoor's diet, let us tell you that Kareena believes in having a proper diet. She swears by the diet given to her by her nutritionist Rujuta Diwekar.
Rujuta Diwekar and Kareena Kapoor interacted with their fans on a live session and there they shared some diet secrets. Rujuta shared that both Kareena and Saif love rice and have it everyday.
Kareena in this session also stressed the importance of eating local produce or home-cooked food.
Her regular meals include daal rice, multigrain bread, nachni roti, and seasonal vegetables.
What Does She Have In Between Meals?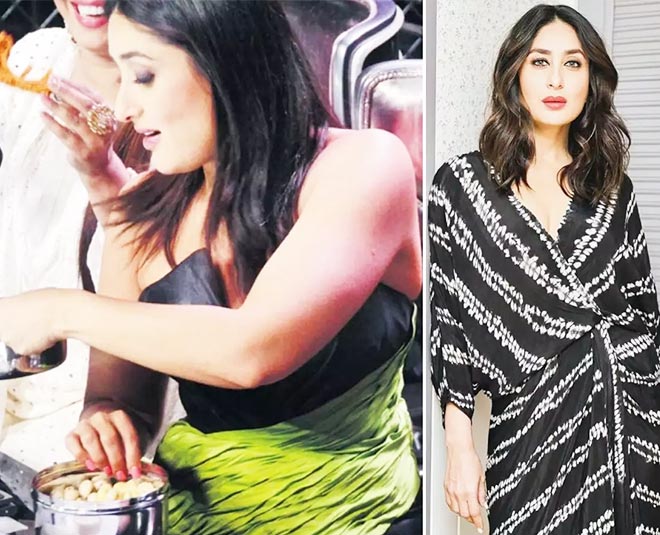 Other than having fruits between her meals, she binges on makhanas. She always keeps a box of makhanas lightly cooked in oil and seasoned with spices. While Kareena Kapoor was judging the show Dance India Dance, we saw her having makhanas in between shots.