They say, our body is built 80% in the kitchen and 20% in the gym. Our diet plays a key role in shaping our bodies. Having a healthy and balanced diet can help us achieve a fit and toned body. Summers are here and we are all trying to work hard to shed those extra kilos. Due to the pandemic, none of us are able to hit the gym and there can be no better time than this to pay attention to what we eat.
All this while, if you have failed following any diet charts for weight loss then you have landed on the right page. Here, we are talking about an interesting and tasty way of shedding those extra kilos.
Do you know, juicy and delicious strawberries can help you lose weight? Read on.
Low-Calorie Fruit
Strawberry is a low-calorie fruit, it has only 33 calories. For weight loss, you need to consume less amount of calories and strawberries are best for consumption.
High On Fibre
Strawberries have a lot of fibre which helps in weight loss. Having a bowl of strawberries means packing your tummy with a lot of fibre. It keeps your stomach full for long. This prevents you from overeating and consuming more calories.
Don't Miss: Lose Belly Fat Quickly By Drinking These Summer Juices This Season
Less Amount Of Sugar
Strawberries taste sweet but do you know this fruit is actually low in sugar? As compared to other fruits like apple and banana, it has less amount of sugar present in it. For weight loss, you need to go on a low-sugar and low-carb diet and nothing like having strawberries. It is naturally sweet and the best alternative to fattening desserts.
Healthy Digestion
For weight loss, you need to have a healthy digestive system. Poor digestion can lead to weight gain as your body is unable to eliminate waste from your body. Strawberries soothe your digestive tract and improve bowel movement.
Packed With Nutrients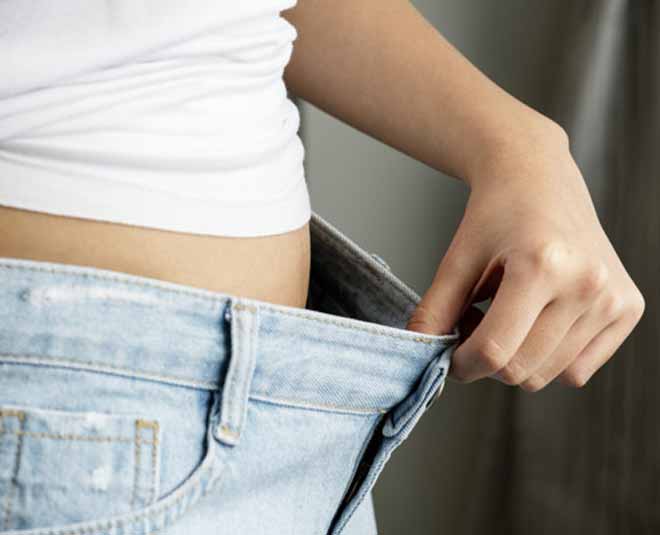 Strawberries have ellagic acid which helps in restoring the function of weight-reducing hormones that get blocked due to inflammation in the body. These delicious berries also have vitamin B6, biotin, and foliate which help in burning fat.
Promotes Tissue Recovery
After an intense workout session, you need to consume something that helps in tissue recovery. Strawberries have anti-inflammatory properties that repair muscles.
Don't Miss: These 5 Homemade Drinks Help You Burn Excess Fat From Your Body
How To Make Strawberry Smoothie?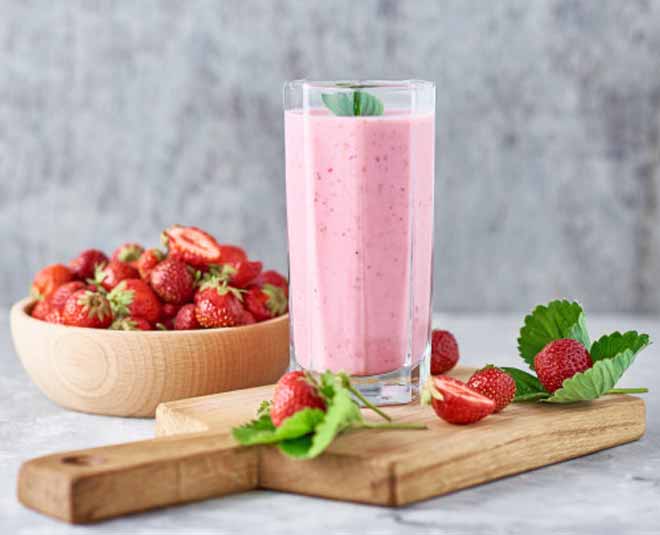 You Will Need:
1 Frozen Banana
1/2 Cup Frozen Strawberries
1/2 Cup Milk
1/2 Cup Greek Yogurt
1/2 Cup Ice
Directions:
In a blender, all the ingredients and blend until smooth. Your strawberry smoothie is ready. Enjoy!
Tip - Make sure you pick big and red strawberries as they have more vitamins and nutrients.
Drinking strawberry smoothie for breakfast is a great way to lose weight. It is a fat-burning drink that keeps you full for longer and prevents hunger pangs between meals. It is a healthy and delicious way to shed those extra kilos.
Do add this strawberry smoothie to your diet and share the results with us. For more stories around weight loss, stay tuned to HerZindagi.