India is rich in many aspects, including history, culture, architecture, folklores, and most importantly, food! Each household, village, region, state, has it's own recipes and dishes that have been passed down from generation to generation. When we talk of sweets, Indian mithais are scrumptious and so interesting when we watch them being made. The whole process keeps you glued until it reaches your belly. Food ignites memories from childhood, moments with the loved ones and one such sweet dish is 'besan ke laddoo'. These golden yellow rounds of sweetened gram flour are so endearing especially when our grandparents or mothers make it. They make it with so much affection that they are bound to make you feel better. This mithai, however, has a lot of benefits even if loaded with ghee and sugar. They can be heavy but they are good for our body if had in moderation.
A besan laddoo has 307 calories where carbohydrates comprise 152 calories, proteins take up 32 calories and the remaining calories come from fat which is 122 calories.
Heart Health
Besan is said to be very good for our heart because it has soluble fiber. This fiber keeps tabs on our cholesterol and supports the smooth functioning of our heart and blood circulation.
Allergies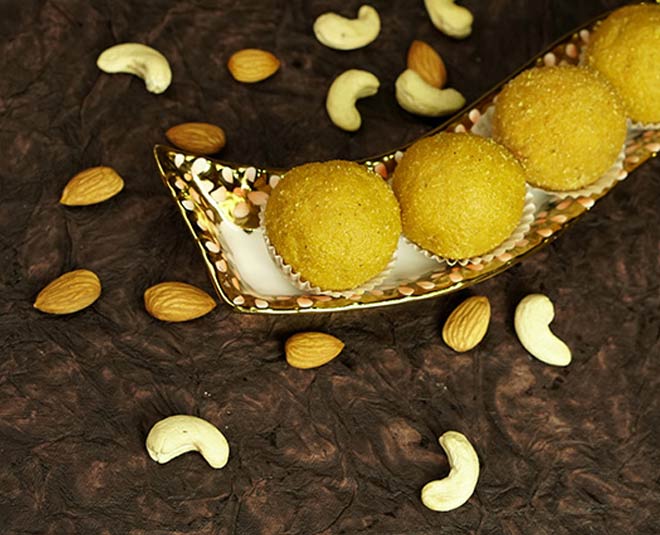 Image courtesy: Bombay Tiffanys
The besan flour is said to be excellent for treating allergies. This is because besan has gluten which has less calories but is high on nutrition. It is said that besan fights many allergic reactions.
Pregnancy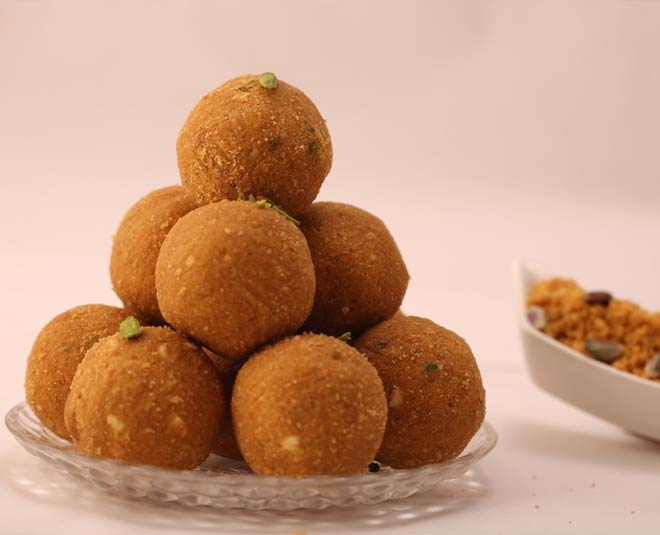 Image courtesy: Maakhan Bhog
If you are an expecting mother then as a precautionary measure, consult your doctor once before you consume anything. It is said that besan laddoo, is good for pregnant women as these rounds of desi heaven are high on foliac or folic acid. This acid is crucial for iron production and the growth of red and white blood cells in the body.
Weight Loss
The besan laddoos have a low glycemic index and are very rich in complex carbohydrates. The glycemic index is said to be able to satiate sweet cravings without piling on too many unwanted calories. This helps in weight loss.
Diabetes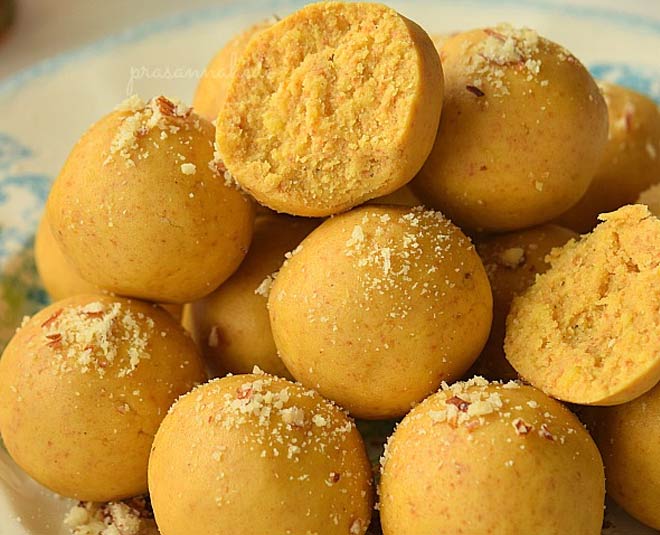 Image courtesy: Savory Bites Recipes
Due to the low glycemic index, these laddoos are okay for diabetics as well but in a low quantity. However, it is best to consult a doctor for the same as it also depends on the level of your disease and also the fact that each body reacts differently.
Here is a recipe to make the perfect besan laddoos by Indian food writer and chef Maunika Gowardhan, who shared it on her Instagram a while back.
Don't Miss: Prepare Coconut Beetroot Barfi Using This Recipe For Prasad
Along with the ingredients and method, she wrote: "Gram flour Laddoos with cardamom, pistachios and raisins. Was craving something sweet last night and I had a bag of besan/ gram flour. Roasting besan in ghee is the ultimate goodness. Although it takes a while I promise this recipe is totally worth it. Recipe below"
View this post on Instagram
Ingredients
150gms besan or gram flour
75gms unsalted butter or ghee
100gms caster sugar
2 tbsp semolina
1/2tsp cardamom powder
1 tbsp chopped pistachios
1 tbsp raisins
Method
Heat ghee in a frying pan over a medium heat.
Add besan & sooji and roast for 22-24 minutes stirring continuously.
Once it begins to change colour and come together turn the heat off.
Cool for 5 minutes and add sugar and keep stirring until it dissolves.
Add cardamom, nuts and raisins. Divide in 12 portions. Serve when cool.
Even actress Bipasha Basu had made some for her 4rth wedding anniversary and shared the process on her Instagram.
View this post on Instagram
Stay tuned to HerZindagi for more on what your food is made of and why should you have it as a part of your diet. Before consuming anything, a consultation with your doctor is recommended.