Follow These Tips To Choose The Right Water Bottle For Your Child This Season
Look for these 5 things while buying a water bottle for your child.
Children are always on the go and don't really realise if their body is dehydrated. As parents, it is important to ensure that they drink enough water throughout the day, especially during this hot and humid season.
For the same, children need to have a water bottle handy all the time, be it for school, a picnic, or a day at the beach. Having a water bottle around helps them stay hydrated and fresh all day long. Thus, it is important to invest in a good water bottle for them.
While there are a lot of water bottles available in the market, it is important to ensure that you pick just the perfect one, a bottle that doesn't leak, is easy to clean, and suits your child's needs.
If you are finding it challenging to look for a water bottle for your child, we have a quick guide for you. We spoke to Mr. Anand Baldawa, CEO, thinKitchen and he shared some tips to choose the best water bottle for your child. Read on.
Bottle Which Holds The Right Temperature
During this hot season, your child would crave cold water while at school, or playing on the grounds. For this, you should have a water bottle that can give water to your child at the right temperature. This is possible only when you use an insulated water bottle. Vacuum insulated water bottles keep the water ice cold or piping hot.
Leak-Proof And Break Resistant Water Bottle
Next, it is important to ensure that the water bottle your child is using is leak-proof and doesn't break easily. Kids can be rough while using their stuff. You should look for a bottle that comes with a good leak-proof lid that prevents the water from spilling over them. (signs your body is dehydrated)
Water Bottle Made Out Of Safe Material
It is essential to choose a water bottle that is made out of safe material. The water bottle material should be free of toxins like BPA and other harmful chemicals. These chemicals are usually found in plastic materials and can be harmful for the health of your kids. Look for water bottles that are BPA and phthalate-free.
Don't Miss: Child Care: Expert Suggests Simple Tips To Design An Emotionally Healthy Household For Your Kid
Long-Lasting Water Bottle
Invest in a good quality water bottle that is durable and can last for years. Let your kids know the same and make them learn to take care of it the right way. A good quality, chemical-free water bottle will also prove to be great for the environment. (benefits of starting day with water)
Pick Size And Shape As Per Usage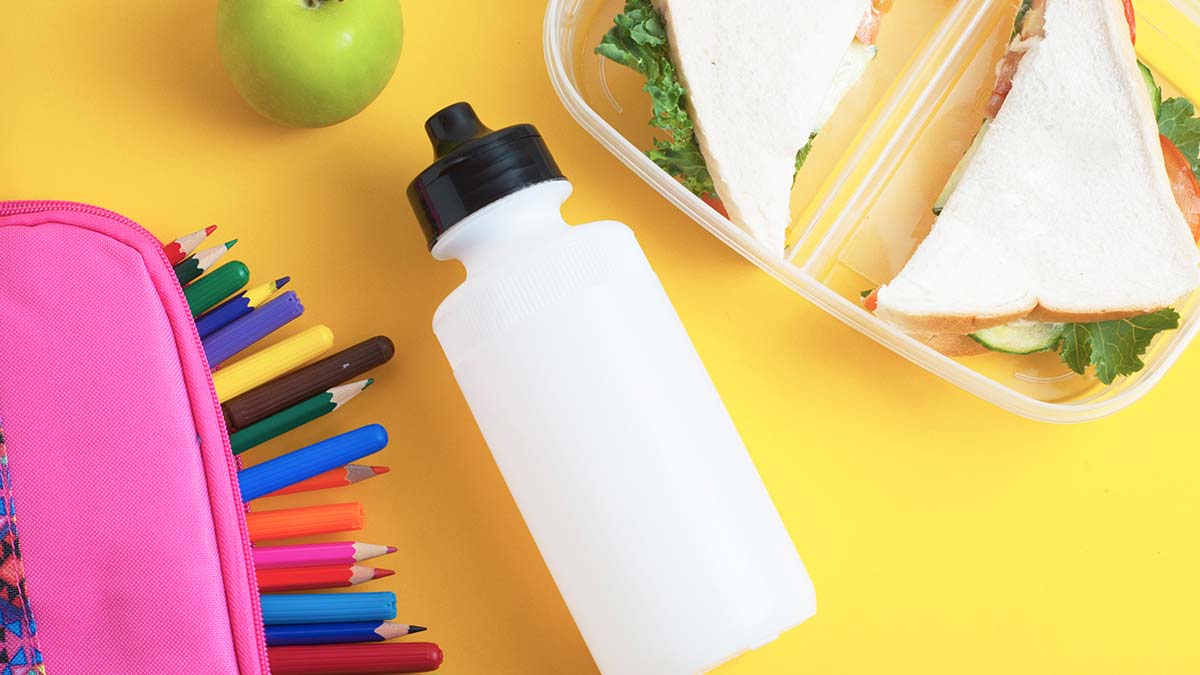 Lastly, the size and shape of the water bottle should be chosen as per their use. If your child is more into sports, buy a water bottle that is light in weight, and easy to use. For school, buy a water bottle that isn't very heavy for them to carry along with their school bag. Coming to the size, make sure the water bottle can carry at least 6 to 8 cups of water which is essential for your kids to consume per day.
Don't Miss: How To Make Your Child Smart And Active?
Check for all the water bottle options available online and offline, make a quick list of pros and cons, and get the perfect water bottle for your child this season.
Other than getting your child a water bottle, teach them the importance of water breaks throughout the day, especially in the summer season. Be it for play or a day at school, kids should not forget to hydrate themselves. Ask them to take a water break every 30 minutes so that they never feel dehydrated. We hope you found this guide helpful. For more such stories, stay tuned!