We all love sweets and when it is the winter season, the cravings for jaggery and other sweets are at their peak. Here are some healthy sweet recipes dolled out by Preety Tyagi, Lead Health Coach and Founder of My22BMI, which are bound to keep you and your guests happy.
Caramelised Salted Nuts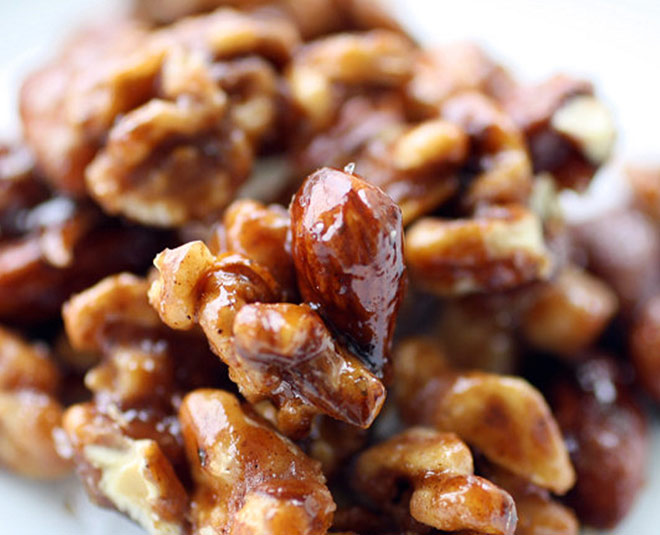 Nuts are a popular evening or morning snack. However many can find it boring to have the same snack every day. This caramelised salted nuts recipe is a twist to the boring nuts and makes for a perfect morning snack. Nuts have good fatty acids and proteins that make you feel fuller for longer and act as an instant pick-me-up! Carry one serving of this recipe and enjoy as a morning snack!
Ingredients:
Honey or agave nectar, 3 tbsp.
Water 2 tbsp.
Unsalted butter 1 tbsp.
Kosher salt large pinch
¾ Cup Mixed nuts (walnuts and pecan halves recommended)
Method:
Put the honey or agave nectar, water, butter and kosher salt in a heavy, preferably non-stick, skillet.
Bring to boil, stirring.
Boil for 1 minute before adding the mixed nuts. The mixed nuts can contain walnuts, cashews, peanuts, almonds, hazelnuts. Go crazy with the mix!
Stir and toss until the nuts are thoroughly coated with a glaze, about 3 minutes. If they start to smoke, take them off before they burn.
Transfer nuts to sheet of greased foil or parchment paper and quickly separate with forks.
The syrup may seem a little chewy at first, but it becomes crisp when it cools completely.
Keep the nuts for at least 3 days at room temperature in an airtight container.
Read More: Do You Have A Sweet Tooth? Visit These 5 Iconic Sweet Shops In Delhi
Energy Laddoos
Satisfy your sweet cravings with these healthy, delicious, easy to prepare dry fruit energy balls or laddoos. These naturally sweetened energy balls are loaded with the goodness of whole foods like nuts and dates. Dates are a good source of fibre, various vitamins and minerals like calcium, iron, phosphorus, potassium, magnesium and zinc. Make a big batch and enjoy these yummy snacks as you go. You can have these as an evening or morning snack.
Ingredients:
Medjool dates or any soft dates pitted 10
Toasted nuts coarsely ground 1/2 cup
Oil 1 tbsp
Honey (if required)
Method:
Dry roast the nuts in a pan, add the nuts in the pan without oil and place it on medium heat.
Stir the nuts in between until warm and lightly toasted.
To roast in a microwave: Layer the nuts in a single layer in a microwave-safe plate. Pop into the microwave for about 1 minute to 1 and 1/2 minute.
Grind the dates in a food processor or mixer.
Transfer it to a pan, add oil and cook it on medium heat till the dates soften.
Add the ground nuts to the dates and mix well until it all comes together.
Taste and add few teaspoons of honey if needed. Take it off the heat.
Let the mixture cool slightly.
Divide the mixture into 12 equal portions and roll it into balls with the palm of your hands. Store in an airtight container and enjoy an energy filled snack anytime.
Pumpkin Burfi Recipe
Pumpkin burfi is a delicious, gluten-free and healthier Indian sweet recipe. It is simple, quick and requires no pre-preparation which makes it a perfect to enjoy on festivals and holidays. Pumpkin burfi is a perfect healthy treat, with its orange colour anyone will be tempted to eat them. It is prepared with grated pumpkin (kaddu), Besan (chickpea flour), milk and Jaggery and flavoured with cardamoms and saffron which gives this burfi an awesome flavour. No matter how health-conscious you are, everybody needs a little dessert sometimes and you can definitely enjoy it at the times when sweet cravings kick in!
Ingredients:
1 cup chickpea flour (besan)
1 cup grated pumpkin
1-1½ cup jaggery powder (Adjust as per your taste)
½ cup milk
¼ to ½ cup melted ghee/clarified butter
1 tsp green cardamom powder
Directions:
Sift besan. Add the flour in a pan and lightly roast it over low heat till you get a nice aroma.
Add ghee and saute grated pumpkin separately for a few minutes in a pan to remove the raw smell.
Now combine flour, sautéed pumpkin, milk and jaggery powder in a pan.
Mix it well to ensure there are no lumps.
Place the pan over medium heat and stir continuously for few minutes till the mixture starts to thicken.
Now add the ghee, simmer the heat and stir for few more minutes.
Now you'll see it bubbling and ghee leaving on the sides.
When it gets thicker, turn off the heat.
Add cardamom powder and leave it to cool down.
Transfer the content into the ghee greased plate and leave it for few minutes.
When it is still warm, sprinkle musk melon seeds and some chopped cashews on top and cut it into square pieces.
Hope you enjoy making these recipes. Do not forget to give feedback on our Facebook Page.