Try Your Hand At Making Famous Himachali Dishes Using Yogurt
Try these easy Himachali recipes by Mrs Kamla Sud, a Himachali grandmother, and let us know how it turned out.
Every city, state and region of India has a rich culture, heritage and the traditional food they have to offer is incredible! The same way, I belong to Himachal Pradesh and there is a particular dish that we folks prepare during weddings but since we are in Delhi, every Diwali or big festival we have some particular dishes which need hard work. This time I am sharing my late grandmother Mrs. Kamla Sud's recipe which she had documented before she passed away. From Mandra to palda, I proudly share with you the recipes which mean home to me. Before you jump the gun, they are pure veg and the base is that of curd.
Aloo Ka Palda (Potatoes In Yogurt Gravy)
Ingredients:
2 potatoes (aloo), peeled and cut into chunks
1 tsp cumin (jeera) seeds
1/2 tsp turmeric powder (haldi)
1 tsp coriander (dhania) powder
1 tsp red chilli powder
Salt, to taste
1 tsp garam masala powder
Cooking oil
2 cups beaten yogurt
Method:
First things first, beat the yogurt and keep it aside (not in the refrigerator).
Next, heat a kadai with oil, add cumin seeds, coriander powder, and red chillis, and allow the aroma to be released for 10 seconds.
Add the potatoes to the kadai and sprinkle the turmeric and some salt and saute till they get cooked.
You can add some water, a bit more salt as when the curd will be added it might tatste a bit bland.
Close the lid and cook so that the potatoes get cooked faster.
Once the potatoes are one, turn off the gas and then fold in the beaten yogurt and mix it all together. ( We turn off the gas as the yogurt curdles if heated).
Next, sprinkle the garam masala powder into the kadai and mix it all.
Serve the Palda with hot rice. (If you don't like potatoes, you can put in more vegetables like cauliflower or even stir in some mushrooms).
Mandra (Chickpeas in Yogurt)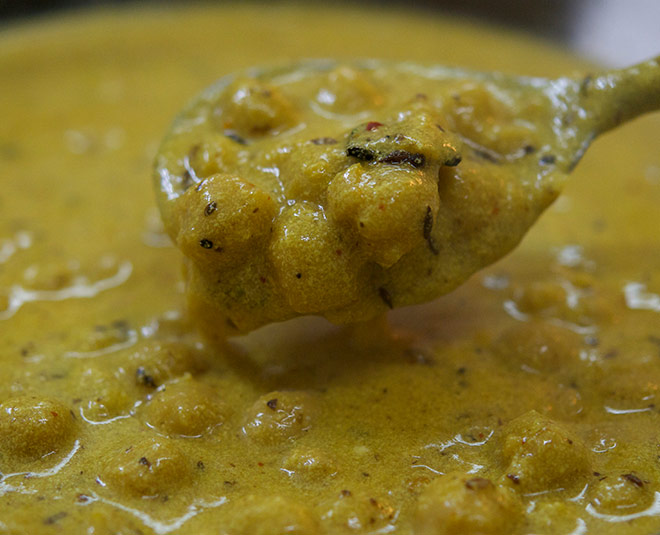 Ingredients:
1 cup white channa or chickpeas
3 tbsp cooking oil
1/4 tsp hing
1 tsp cumin Seeds
3-4 cloves crushed
2 black cardamom crushed
1 inch cinnamon crushed
2 cups curd
2 tsp coriander powder
1 tsp turmeric powder
2 tsp Kashmiri Red chilli powder
Salt to taste
1 tbsp ghee
2 tbsp coriander chopped
Read More: Love Modaks? Make Them Yourself At Home Using These Recipes
Method:
Recommended Video
Wash the chana and soak in 3-4 cups water for 6-8 hours.
Drain the water and add the chana in a pressure cooker along with 2 cups of water and 2 tsp salt.
Pressure cook until chana are nicely cooked.
Remove the pressure cooker from heat and let the pressure release.
Heat oil in a pan.
Once the oil is hot, add hing and cumin seeds and let them crackle for a few seconds.
Add crushed cloves, black cardamom, peppercorn and cinnamon and fry for a few seconds.
Whisk curd with Maida, coriander powder, turmeric powder and red chilli powder and add it in the pan.
Cook for 3-4 minutes.
Add cooked chana and cook for 2-3 minutes.
Add rice flour mixture, salt to taste and ghee and cook for 5-6 minutes.
Garnish with fresh coriander.
Serve madra with naan or rice.