Kareena Kapoor's Nutritionist Rujuta Diwekar says that "The size of our waist is inversely proportional to the size/importance of our kitchens". The utensils that you use to cook, the wrapping that you store your food in and the method you use to reheat food can all affect your micro-nutrient status, especially that of Iron, Calcium, Zinc and even vitamins like B12, folic acid, etc. Micro-nutrient deficiencies can lead to imbalances in hormones, irritability, constipation, etc, all of which can make weight loss an elusive dream. So, if you want sustainable health and weight loss, this is where it all begins.
Rujuta took to her Instagram and said that "if you look around, you will notice that waists were slimmer when our kitchens were larger. Now we have homes with bathrooms larger than kitchens, because intuitively the real estate market knows that people are spending more time in their toilets than in their kitchens.
So here are 3 simple rules to bring the focus back on the kitchen for good health:
Reduce plastic
Bring back the iron kadhai
Heat, don't microwave
Plastic we all know is unhealthy. Storing food and water in it is like slow poison. But when it comes to using the good old iron kadhai that our ancestors would use, then even our elders would agree with Rujuta. Now we have cast iron in our lives, with the markets flooding with pans and kadhais made out of it. Reason being that it is multiple health benefits. Weight loss is one of the prime reasons including battling the common cold.
Consumes Less Oil
First off, when we cook we tend to add in a lot of oil unless you have that control in you. Here cooking in cast iron actually leads to healthy cooking as it uses less oil. They help us in cutting down on cooking oil as compared to the usage of aluminium or stainless steel utensils or vessels. How does it work? We heat the cast iron pan which helps spread the oil all over when we moved the pan around. A thin layer coats the pan which is all we need to cook our food. This helps a lot when it comes to weight loss.
Non-Stick
This brilliant iron is actually like non-stick pans. It is very easy to cook in them. On the non-stick is one major disadvantage that it releases perfluorinated compounds in the food that is being cooked and to be specific, in the food which is scrapped from the bottom which can cause several health issues.
Don't Miss: Improve Posture, Focus, Blood Flow By Sitting & Eating Highlights Nutritionist Rujuta Diwekar
Much Needed Iron In Your Food
The right level of iron is very important for a body to function properly. Doctors in fact recommend that they eat food cooked in cast iron cookware. Many studies are proof that cooking in iron cookware makes the food really rich in iron nutrition. Buy The Indus Valley Cast Iron Cookware - 8.2 Inch Kadai for Rs 755, here.
Easy To Clean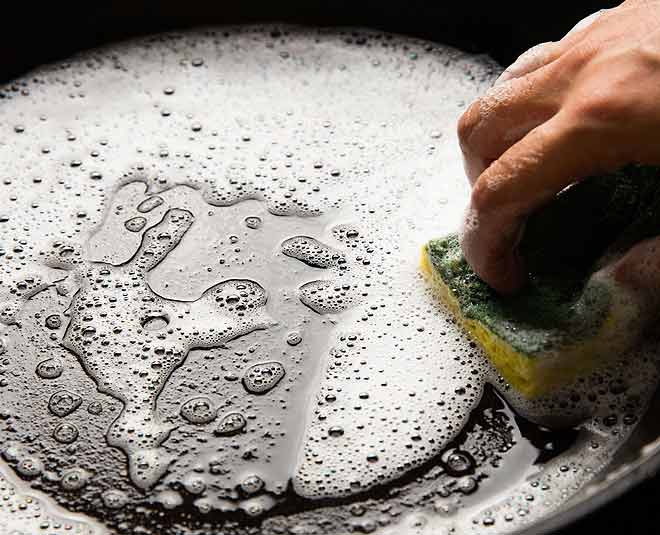 These vessels are rather easy to clean. All you have to do is get your mild soap and water to bid goodbye to the grease. You can scrape off the food stuck on the bottom with a metal spatula and just run it underwater. Wipe the pan with a kitchen towel by dipping it in oil to avoid rusting. Buy Rock Tawa Dosa Tawa 12 Inch Pre-Seasoned Cast Iron Skillet for Rs 950, here.
The Temperature Evens Out
The most amazing feature about cast iron utensils is that they even out the temperature and not just concentrate where the burner is. Even if it is low or high, it evenly distributes. Also, the food remains hotter in it for a longer time. Buy Bhagya Cast Iron Cookware Grill Pan, 10 inches for Rs 1400, here.
Functions Better With Time
If you have not been using your cast iron vessel for a long time then bring it back and watch the magic. It will function better than the last time and the surface will allow the oil to spread evenly even more. It is tough and durable!