Try these easy modak recipes and impress the guests that will be coming home for Ganpati or Ganesha's blessings. If you do not celebrate this festival, then simply satisfy your sweet soul with these imgredients the right way:
Puran Poli Modak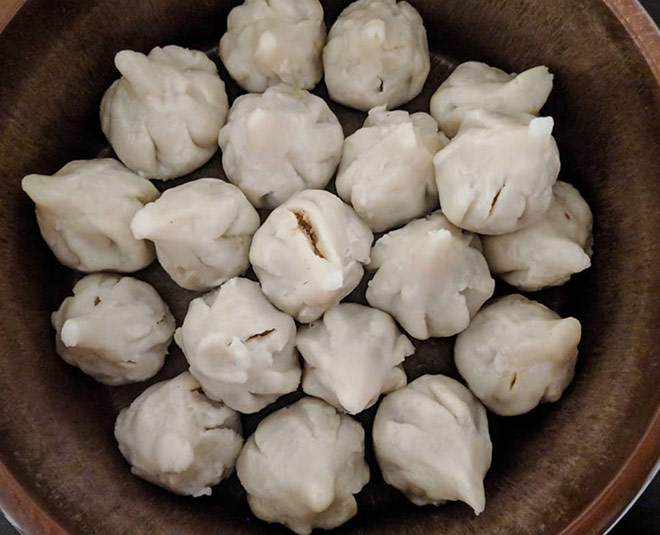 Ingredients:
For Dough
4 cup rice flour
6 cup water
6 tsp oil
For Stuffing
3/4 cup chana dal
2 1/2 cup water
3/4 cup jaggery or sugar
A pinch of cardamom powder
Few strands of saffron
Method:
For Dough
Boil water and add oil in it for the outer covering. Take it off heat.
Add rice flour, little by little to avoid lumps.
Cover the mixture and let it cool.
When it's cool, knead it well into dough with a smooth finish in such a way that it should sparkle.
For Stuffing
Wash the chana dal under cold water and then soak it for an hour.
Drain the water and discard.
Put that dal in a pressure cooker with two and a half cups of water. Cook the dal for four whistles.
When done, drain the water in the dal through a sieve.
Press the dal lightly, so that all the water drains out through the sieve and dal gets mashed a bit.
Take a pan and add mashed dal with jaggery.
Heat the pan on medium flame. Start cooking.
Once the jaggery melts completely, it will be of very thin consistency.
Continue stirring and cooking.
When it starts thickening up, add cardamom powder and saffron.
Mix well.
Take the pan off the heat and keep it aside for cooling.
To Assemble
Make balls with the dough for the covering.
Flatten the dough balls on the palm or on a surface into a circle.
Place the stuffing in it. Cover it completely with the dough.
Fold the edges tapering to the centre.
Steam cook the modaks in a cooker for 15 minutes until done. Serve.
Chocolate Truffle Modak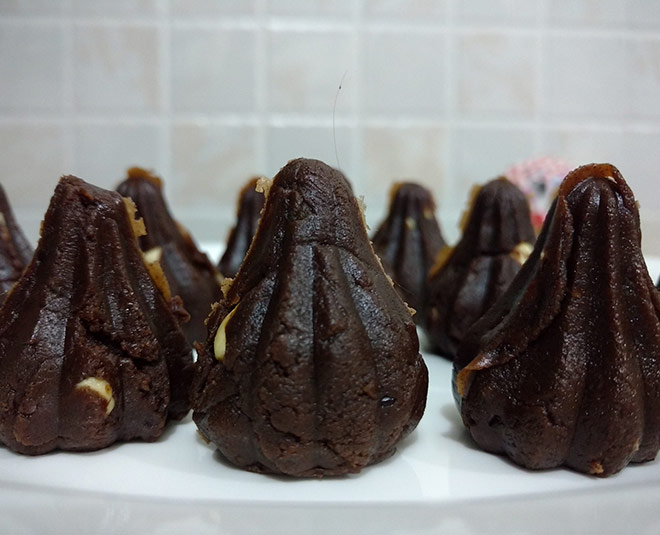 Ingredients:
1 cup khoya
1/2 cup sugar
2 tbsp dark chocolate chips
2 tbsp cocoa powder
1 tbsp tempered white chocolate
1 tbsp milk
2 tbsp chocolate flakes, for garnishing
Method:
For Chocolate Coating
Mix khoya, milk and sugar in a food processor till soft.
In a heavy bottom pan, cook it on low flame.
Let it melt and thicken and then bring it to room temperature.
Add cocoa powder and dark chocolate chips.
Keep it aside for cooling.
To Assemble:
Grease the modak mould with ghee, as this will prevent the chocolate truffle mixture from sticking.
Fill the chocolate truffle mixture inside the mould and stuff it with tempered white chocolate in the center.
Press it nicely using your fingers and demould. Remember to grease the modak mould before use.
You can also coat it with chocolate truffle. Keep it aside to cool. Garnish with chocolate flakes.Serve.