At 65, Neena Gupta looks super fit and healthy. If you follow her on social media closely, you know she loves doing Yoga and often shares videos from her yoga sessions. She is one of the many Bollywood celebrities who practice Yoga on a daily basis to keep themselves fit and active.
Recently, Neena Gupta shared a yoga video where she can be seen performing Supta Vajraasana. It is also known as the Sleeping Thunderbolt Pose. This asana is believed to be highly beneficial for the body. Here is how you can do it too.
How To Do Supta Vajraasana?
View this post on Instagram
Begin with sitting in Vajrasana. Your heels should be pointing outwards and toes should be touching each other. Keep the body straight and hands on your thighs.
Now place your hands on the floor beside your buttocks and bend the elbows. Now slowly lean your body back. Lower your upper body backward till your head touches the floor.
Hold the posture by holding your hands together in the front, on your chest. Breathe a little deeper than you normally do. With the help of your elbows, slowly return to the original position.
Benefits Of Doing Supta Vajrasana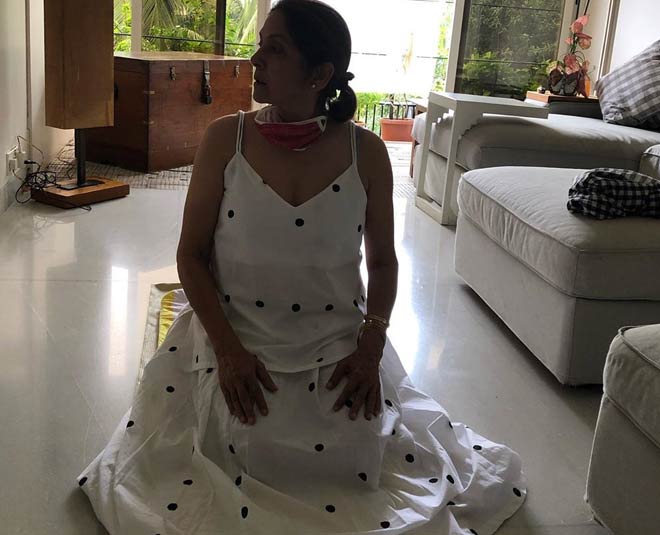 Supta Vajrasana works on your abdominal and pelvic areas. Here is how it benefits.
Supta Vajrasana massages the abdominal organs and improves the digestion process. Doing this asana helps in treating any digestive issues like constipation, diarrhea, acidity, or gas.
Performing this asana can help you expand the lungs to their maximum capacity. When you stretch, the ribcage expands fully and this can help you intake more oxygen.
Those suffering from any issues like asthma, bronchitis, or lung problems should perform this asana it opens up the chest area.
As the asana also works on the pelvic area, it helps in treating any disorders related to the reproductive organs of men and women.
If you feel any discomfort in the body then you must perform this pose. It removes all the discomforts.
Performing Supta Vajrasana can tone the spinal nerves, shoulders, and also increase the flexibility of the back. This asana is great for back muscles. Those who suffer from severe back pain or problems should do this asana for relief.
Supta Vajrasana can help in calming a stressed and aggressive mind. It leaves you relaxed and calm.
If you don't usually get time to stretch out your body, this asana is a good way of stretching, especially the knees, abdomen, thighs, and ankles.
Tips For Those Performing It For First Time
If you are performing this asana for the first time, you may find it really difficult to nail the pose. Your thighs may slide apart, making it difficult for you to hold the pose. Initially, you can use a book in between your thighs to keep them together or tie your thighs with a strap. With time, everyday practice you will be able to master the asana.
Don't Miss: Neena Gupta Makes The Most Out Of The Lockdown By Penning Her Memoir
Best Time To Perform This Yoga Pose
Supta Vajrasana should be performed during the early morning hours or evening. One must make sure that their stomach is empty before performing it. Make sure you haven't eaten 4-6 hours before performing this asana.
Things To Keep In Mind While Performing Supta Vajrasana
Those suffering from high blood pressure or vertigo should not practice this pose.
If you have a slipped disc or injury in the knee, back or ankle then you should not perform this asana.
Pregnant and menstruating women should also avoid doing this yoga pose.
Well, this yoga pose has some amazing benefits for our overall body and I think it deserves a try. If trying it for the first time, do be a little careful or perform it under someone's guidance. Make sure you keep all the tips in mind while performing the asana. For more stories around celebrity health and fitness, stay tuned!