The mother of two has a huge fan following among young women with many copying her style. Mira Rajput Kapoor, the wife of Bollywood star Shahid Kapoor, is a celebrity in her own right. So when I got the opportunity to speak to her via Tata Sampann, I had to ask her on what she does to stay so fit, her skincare regime and what she does to keep her kids healthy. Here is what she shared.
When it comes to healthy living, there must be some guidelines or tips you adhere to that have been passed on in your family?
I think my topmost advice would be to start young and to involve kids in all the process of making these home remedies because I think it is just about getting them excited about things, that the kids most benefit from. I give my kids things like amla juice and haldi doodh regularly and we started all this when they were really young.
So my advice for all mothers would be to inculcate natural remedies that you may have and those that our mothers have taught us and start early because when they grow up and get into school and seeing their friends making faces it gets more difficult.
Don't Miss: Mira Rajput Kapoor Cooked This Healthy Grand Meal For Her Family Over The Weekend!
Is there a certain spice you automatically reach for or try to add when cooking?
I think spices are integral to the Indian way of cooking and the way Ayurveda explains usage of spices is actually far more medicinal than taste. We actually associate spices with taste but we don't realise the number of medicinal benefits spices have. My favourite spice is haldi, because it has got so many benefits and there are so many different ways you can use it.
You can use it in your tadka, you can add it to your Kadha, you can add it in your milk and even apply it on your skin. The second most important thing for me is the seasoning salt and nothing is more essential than adding salt to your food. Also, I prefer salty food over sweet food so that's why my second favorite ingredient is salt.
What's your fitness mantra?
These days people are more worried about immunity, eating wholesome, and staying healthy. For me, fitness is important in all aspects – mind, body, and soul. It is a combination of working out, going for a walk, playing with kids, meditation, yoga. All of these things I think make you physically and mentally fit and sound.
Don't Miss: HZ Exclusive: Mira Kapoor Swears By These Desi Spices In Her Kitchen
There are many nuskhas that our parents or grandparents pass on or we adapt as we grow up watching them use them. Could you tell us two nuskhas for skincare that are your go-to?
I follow a balanced diet and there are definitely kadhas and kitchen remedies that help. One kadha that I have is haldi, ginger, black pepper in hot water in the morning and it is extremely refreshing and also detoxing. I also use a lot of haldi for my face packs.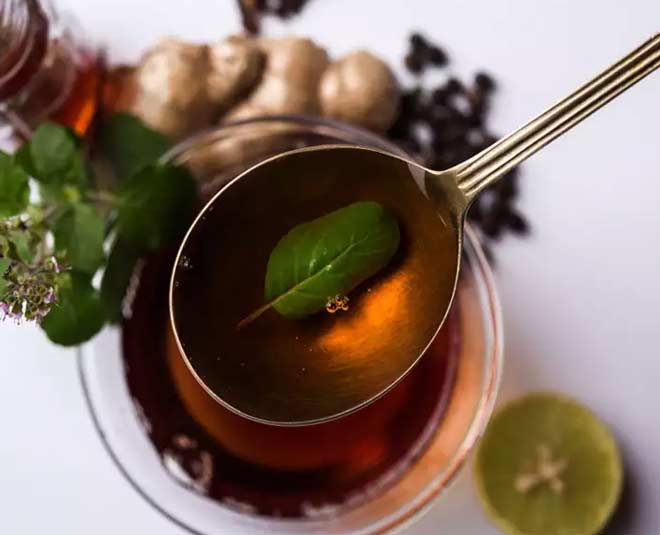 One kadha that I have is haldi, ginger, and black pepper in hot water. It helps me spice up my health and boost immunity.
For more on celeb fitness and skincare secrets, stay tuned to HerZindagi.