Thyroid is a disorder that has become very common just like hypertension and diabetes. One of the leading causes of thyroid disorders is believed to be the kind of lifestyle we all have today with stress taking a toll. Yoga is a great answer for that as it can help in curing this disorder naturally. If you can practice yoga every day for a few minutes, it can help in reducing stress and anxiety. This also helps in the overall development of the body, and makes you feel happier inside.
Grandmaster Akshar told HerZindagi that "two of the most prevalent thyroid disorders are: Hypothyroidism (underactive thyroid) and Hyperthyroidism (overactive thyroid). You can always check with your doctor but if you want to treat it the holistic way then here are a few asanas".
Hastha Uttanasana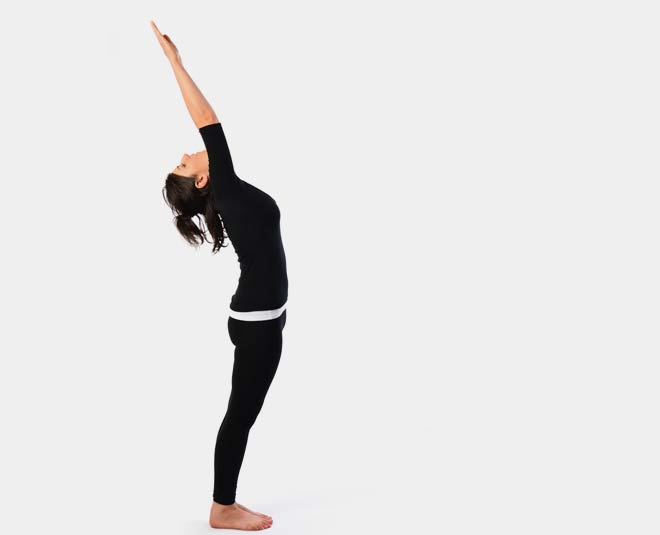 This asana helps in many ways and a very easy to do asana and also requires less space, it helps in improving your digestion, massages the thyroid gland, stretches your arms, spine, abdomen, and chest area, improves your respiratory functions, reduces fatigue, helps with hunching shoulders and increases your memory and much more.
Formation
Stand Straight, inhale and exhale, relax yourself.
Now inhale and raise both hands above the head.
Stretch your arms as much as possible and bend backwards.
When you are going back make sure that you feel the stretch on your throat.
Exhale come in the centre, now slowly bring your arms down and relax.
You can repeat this 5 to 6 times to get the actual results of the asana and if your body permits you can do it for a longer time too.
Padhasthasana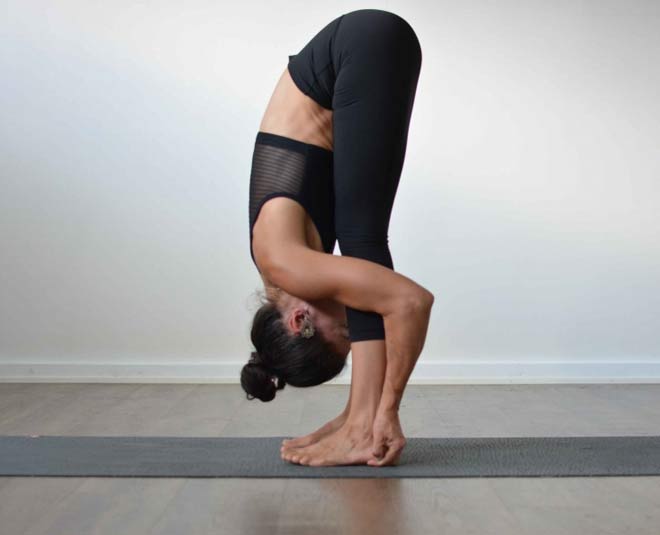 This is a very easy and effective posture, which helps in massaging the digestive organs. This helps in improving digestion, and your spinal nerves are stimulated and toned. This posture also works on your metabolism, helps with nasal and throat diseases and massages the thyroid gland.
Formation
Stand straight, with hands beside your body and feet together in an attention position.
Relax and inhale, exhale deeply.
Slowly bend forward but go as slow as you can.
Now, place your fingers under your toes or hold your ankles.
Relax the back of your neck
Keep your legs and knees straight but you can bend your knees a bit of you are new to this posture.
Try touching your nose to your knees, and push as much as possible without straining yourself.
Now come back slowly and relax.
You can repeat this 5 to 6 times and if your body allows, you can do it for a longer time too.
Downward-Facing Dog (Adho Mukha Svanasana)
This asana is great for lengthening and strengthening muscles in the body. It also helps in reducing tension in the shoulders and relaxes the neck. The pose is also great for stretching your legs, wrists and arms which may become sore or tired due to long hours of typing on the computer.
Don't Miss: What Is Kundalini Yoga? How Is It Beneficial: All You Need To Know
Formation
Form an inverted V shape with your body.
Place your hands and feet apart as your hips lift upwards.
Your palms should be flat on the ground.
Push your body upwards to engage your shoulders and neck.
Pull your abs and stretch your back fully.
Try touching the heels to the ground, but it's okay if you are not able to initially.
Hold for 5-6 breaths or more.
Repeat this posture 4 times or more.
Kurpara Chathuranga Adho Mukhi
This asana is very effective for treating thyroid as when you do it loads of pressure goes on our throat which thereby helps in stimulating our thyroid gland and once those muscles come in the movement they start functioning normally, it also makes arms stronger, it relaxes the neck and also helps in stretching the legs and back too.
Formation
Stay in the above posture which is downward facing dog
Inhale and exhale, now slowly bend your arms and come on your elbows
Do not strain yourself, but try to stay in this for few breaths
Relax and slowly come back in downward facing dog
Put your knees down and slowly come out of the posture
Hold for 5-6 breaths or more.
Repeat this posture for at least 4 times to get the maximum benefit out of it, you can do it for longer duration too
Don't Miss: How To Do Vrikshasana Or Tree Pose Of Yoga To Start Your Day
Marjariasana
To improve your body posture and for strengthening your joints and muscles, a regular practice of this asana can work wonders. Gently massages the abdominal region and increases the flexibility of spine, shoulder & neck. Improves the flow of blood in the body hence better circulation which helps in reducing stress and anxiety.
Formation
Come in the tabletop position
Inhale a deep breath and raise the head along with putting stress on the spine in the downward direction
Expand the abdomen as much as possible without forcing; fill the lungs with maximum air possible. Hold the breath for 3 sec.
Exhale and lower the head while stretching the spine in an upward direction.
Relax and slowly release the posture.
Take care of yourself and stay tuned to HerZindagi for more on how you can take care of your health.