Bigg Boss 13 fame Mahira Sharma has been creating buzz for a long time. Her bond with fellow contestant Paras Chhabra was talk of the town for various reasons. For the uninitiated, Paras fell in love with her and also confessed his feelings for Sharma on the show. However, later the two said that they are just close friends and nothing is brewing between them. Recently, the duo was reunited for a music video, Baarish which received an overwhelming response from all #PaHira fans.
Apart from all this, Mahira is known for her flawless skin and perfectly toned body. Well, many have been wondering about how she manages to keep her body so fit, we have finally decoded the diva's fitness and diet secrets. In a recent interaction with a news daily, the Kundali Bhagaya actress revealed her fitness routine and her thoughts on being 'fit and fab'. She revealed that the secret behind her perfect figure is not any crash diet but a combination of healthy eating and intense workout. "For me, working out and eating healthy is a part of my lifestyle", she said.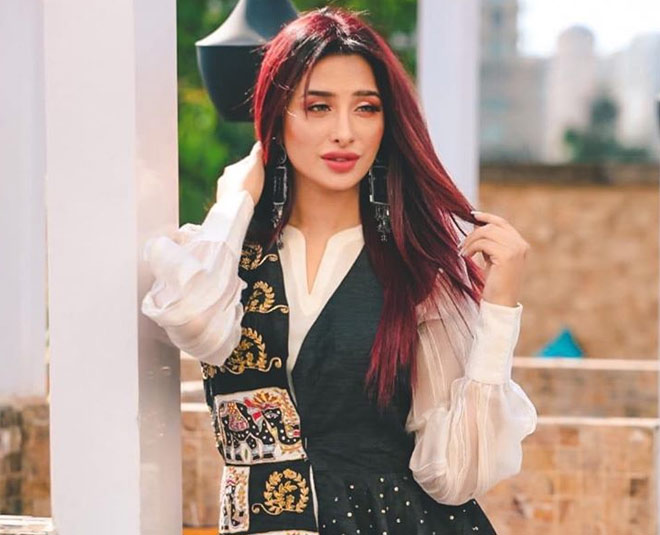 She further said that she is very careful about what she eats and how much she consumes and doesn't deprive herself of delicacies. "I am careful about what and how much I eat but I do not deprive myself of anything. I don't indulge in crash diets for a particular shoot. I know people who eat in a crazy way and then suddenly they want a perfect body, and to achieve that they go on crash diets which takes a heavy toll on their body in the long term."
Mahira also focused on the side effects of crash diets and advised that one must not reach a point to go on heavy crash diets as they are bad for the body. "I think ideally one should not reach a stage where you have to go on crash diets. Crash diets are bad for your body. You need to be conscious on a daily basis."
Don't Miss: Sunny Leone's Beauty Secrets Can Help You Achieve Flawless & Younger-Looking Skin; Check It Out
Mahira highlighted how out of peer pressure, people struggle for six-pack abs or a size zero figure, which is wrong. She said, "One must not come in peer pressure and aim for six-pack abs or a size zero figure. You should be fit and healthy. Thin is out. Fit is the new Sexy!!"
So, if you want a toned body just like Mahira Sharma, then just follow her tips enthusiastically and you're good to go.
Stay tuned to HerZindagi for latest updates.