These colourful bowls are just all over Instagram. Let's be honest, we have craved for it every time we have seen someone post it on social media. Smoothie bowls have taken over the food trends like anything.
Not just they look so beautiful but they are prepared using some super healthy ingredients which give us more reasons to binge on the smoothie bowls.
We thought of bringing you some health benefits of adding smoothie bowls to your diet.
Easy To Digest
From fruits to nuts to seeds, you can load your smoothie bowl with so many different healthy ingredients. All these healthy fruits and nuts are rich in fiber which means it is an easy-to-digest meal.
When a meal is high in fiber content, it makes your digestion easy. The fiber improves bowel movement and prevents any digestion-related issues like constipation, bloating among others.
Loaded With Antioxidants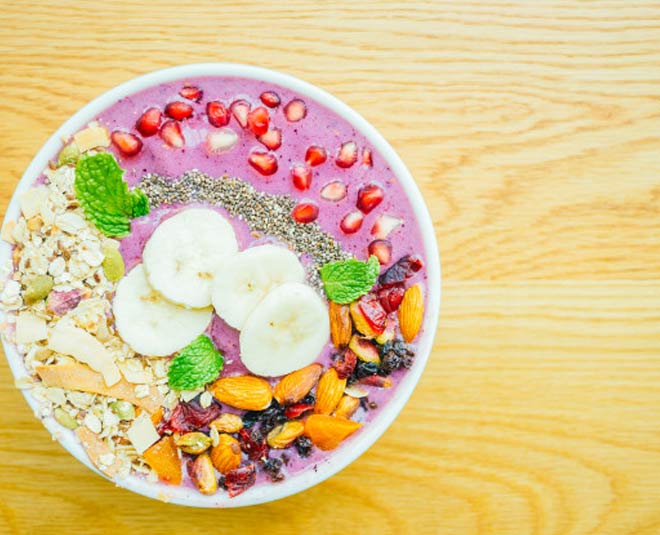 It is important to fuel your body with antioxidants because they help your body fight free radicals and prevent chronic diseases like cancer. Smoothie bowls have ingredients like blueberries, cranberries among others which are high in antioxidants. They are super healthy and keep diseases at bay.
Helps In Weight Loss
When a meal is high in fiber content, the digestive system works harder on the food and it is a time-consuming process. This means that after having a smoothie bowl, you feel fuller for longer. This further prevents you from overeating or bingeing on unhealthy snacks.
Fuels Your Body With Nutrients
How often do you have healthy seeds, nuts, and fruits? These ingredients are packed with a lot of nutrients which our body requires on a daily basis. However, often, we ignore or just forget to add them to our daily diet.
Having a smoothie bowl is an easy way to add fruits, nuts, and seeds to your diet. You can also add protein powders to the smoothie bowl to make it more healthy. All the ingredients together help fuel your body with nutrients.
Don't Miss: Want A Radiant Glow Skin? Start Using Blueberry Smoothie To Achieve It
Tastes Better
Do you know, according to a study, food that looks pretty tastes better? Smoothie bowls have a lot of different colours because so many ingredients go into their making.
Don't Miss: Check These Lip-Smacking Meal Replacement Smoothies And Learn How To Make Them
How To Make A Smoothie Bowl?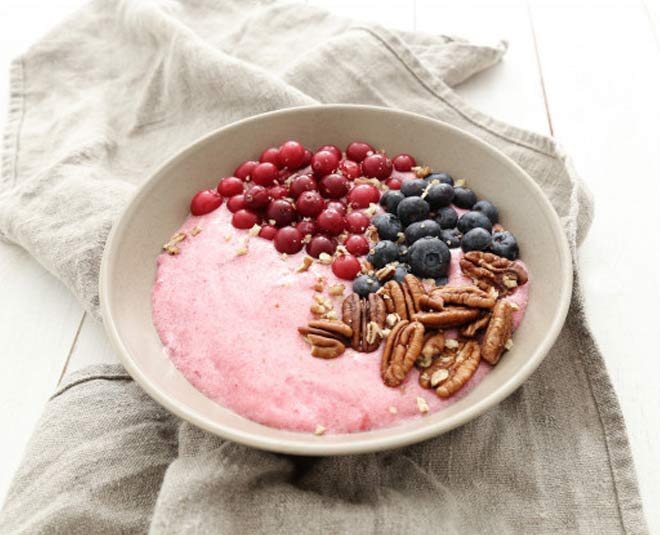 You can make a delicious smoothie bowl at home using a few ingredients.
You Will Need
1 Cup Mix, Frozen Berries
1 Frozen, Ripe Banana
2-4 Tbsp Milk (Regular, Almond)
Toppings Of Choice (Fruits, Granola, Chia Seeds, Pumpkin Seeds, Desiccated Coconut)
Directions
In a blender, add frozen berries and banana. Blend till you get small bits of fruits.
Add milk and blend again to get a smooth consistency.
Transfer to a bowl. Make sure the bowl is chilled. You can keep a bowl in the freezer for 30 minutes. This will keep your smoothie chilled as you enjoy it.
Top with chopped fruits of your choice, seeds, desiccated coconut.
Enjoy your smoothie bowl! You can also store it in the freezer for 1-2 weeks.
You see, it is so easy to make this healthy and delicious smoothie bowl at home!
For the amazing health benefits of the smoothie bowl, you should add it to your diet. However, make sure that you don't over binge on it as the sugar content is high. If you are a diabetic or suffering from any other health condition, do consult your doctor before adding it to your diet.
For more such health-related stories, stay tuned!