It is often said that the only major source of protein are fish, chicken, meat, etc., however, it is only a myth. Secondly, it is said that another source of protein for vegetarians are animal products such as milk, cheese, yogurt, and many more, but again it's not the only one.
Vegans shouldn't be concerned about the protein intake in their diet as there are a lot of options available for them that will provide their body with the needed amount of protein. Read ahead to know about the sources of protein for vegans.
Tofu
Tofu is a basically made up of soybean and is a great option for vegans looking for protein sources. Go for organic variety of tofu and with the intake of 3.5 ounces of it, you'll get about 8 grams of protein which is pretty good. Apart from being rich in proteins, tofu is also a great alternative option for meat for those who are not keen on consuming any kind of animal products.
Beans
Beans are extremely good for your health as it may help you with lower cholesterol and promotes healthy gut health. Along with this, a cup of beans will provide you with about 6 to 8 grams of fibre that will help you feel full for a long time.
But, most importantly, beans are a plant based product and a great source of protein at the same time. A cup of any kind of beans will provide you with about 6 to 9 grams of protein.
Lentils
Be it any kind of lentils, from green to red to brown to black, each one of these is rich in proteins. No matter whether you eat it as a curry or taco or salad or anything else, a half cup of cooked lentils will provide you with about 12 grams of protein making it a great source of protein.
Don't Miss: Know Some Amazing Health Benefits Of Kokum Juice
Apart from being rich in proteins, lentils promote healthy gut health as the fibre found in these has been shown to feed the good bacteria in your colon. Also, they help to reduce a number of diseases such as heart diseases, diabetes, cancer and many more.
Additionally, lentils are rich in iron, manganese and folate along with having a good amount of anti-oxidants and other compounds promoting health. In conclusion, lentils are not only a great option for vegans to consume protein but also overall great for health.
Don't Miss: Stock Up On Grapefruit For Some Amazing Health Benefits
Green Peas
Peas are a great source of protein in spite of their bad rapport. They provide about 9 grams of protein in a cup full of cooked peas which is actually more than that of milk. Apart from this, green peas also rich in other vitamins and minerals, such as iron, zinc, copper, vitamin C and many more.
Nuts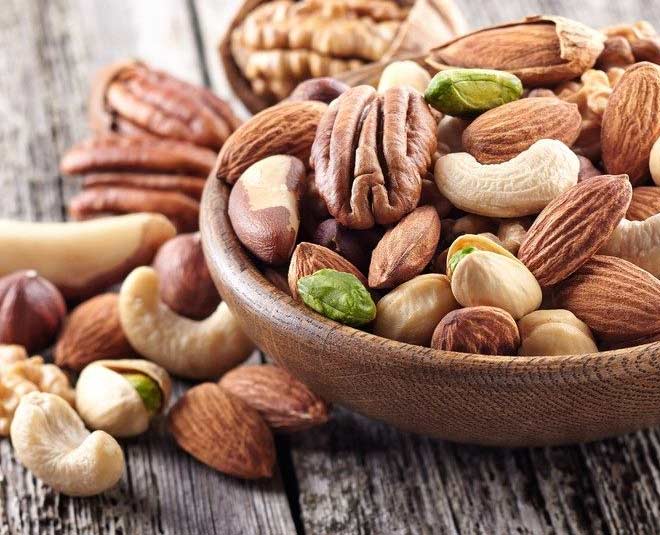 Nuts are a great source of protein. You can add it to your oatmeal or other foods or just eat them as it is for the great benefits. Depending upon the variety of the nut, one bowl of nuts will provide you with 5-7 grams of protein. However, remember to eat them raw as roasting them may damage the nutrients.
For more such tips, stay tuned to HerZindagi!