Idli Sambar is one of the most favourite South Indian dishes we all enjoy. The taste of steamed and soft idli dipped in hot sambar is truly unmatched. However, there are a lot of people who don't like having it. But what if we tell you that idli sambar has a lot of amazing health benefits?
Idli Sambar is not only delicious but it has some amazing health benefits too. If you are looking for healthier food options then idli sambar deserves some attention. Read on.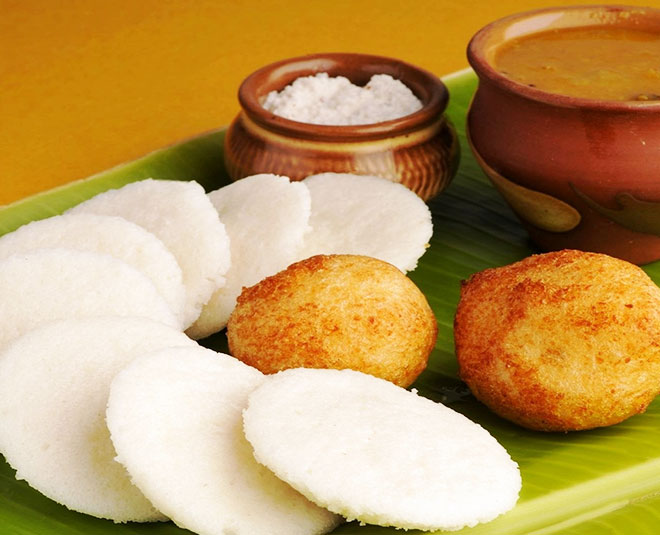 The reason why idli sambar is loved by a lot of health-conscious people is that it is really low in calories. All those who want to shed weight look for foods that have fewer calories. Idli sambar is one such dish. Idli is steamed and it has fewer calories. On the other hand, sambar is prepared using a lot of veggies and is super healthy and is low in calories too.
Idli is rich in fiber and sambar has a lot of vegetables. Idli sambar keeps you full for longer and this prevents you from overeating and binging on unhealthy snacks.
Don't Miss: These Expert Tips Will Help Housewives Lose Weight Quickly
Another great thing about Idli sambar is that it is really easy to digest. The fiber present in idlis makes it very easy to digest.
Idli sambar is one dish that is prepared using very little oil. In fact, idli is prepared without any oil. Idli is prepared using rice. This makes it more healthy for you.
Don't Miss: How To Lose Weight By Adding Semolina Or Suji In Your Diet
As per a survey, consuming idli on a regular basis helps you fulfill the iron requirement of your body.
Idli sambar can be enjoyed during any time of the day. Idlis can be prepared in different variations. From moong dal idli to vegetable idli, they can be given healthier twists by adding the right ingredients.
Bollywood actress Shilpa Shetty is super fit and all those follow her know that she follows a really healthy diet. If you see her Instagram then you will find her bingeing on South Indian food on most days. Shilpa loves having South Indian food, especially idlis. South Indian food is healthier and it helps you lose weight too.
So if you want to shed those extra kilos then add idli sambar to your diet.