Eating the right kind of food and a good skincare routine using the right products or DIYs gives nice, good glowing skin, this is something we all know. But what should we really eat besides fruits and loads of water? Celebrity Nutritionist Rujta Diwekarlisted different dishes and largely Indian food items that solve the problem. These dishes or concoctions not only save your skin but are super healthy, packed with several benefits as listed by her.
Kadhi
This traditional dish made in most states but in different preparations is if nothing else, is more than 2000 years old and there is a reason why it is still being passed down by our ancestors. Rujuta took to her Instagram and shared some of the benefits it has. Here is what she wrote: "The traditional kadhi (and similar preparations like ambil, kheru, kalan) are at least 2000 years old.
"Ayurveda has used it as a therapy for increasing appetite, boosting recovery and skin health during summers. Appetite drops during summer and the heat can take a toll on the skin and the stomach. The abdomen feels cramped, constipation & gas become frequent and even periods get painful. Dehydration is the default, afternoons are exhausting and you almost don't feel like eating lunch.
"What did our dadi and nani ma's do then to help us out of this situation. They knew that loss of appetite meant Vit B12 was dropping and that gut bacteria was being compromised on. What they also had on their hands, invariably on most days, was curd that had gone just a little bit sour because of the heat. Now they were the original zero wastage crusaders, because they decided to use this exact same dahi to help the stomach and the skin.
"But they improved on it by mixing it with pulses like besan and tempering it with spices and curry leaves. You could now eat this slow-cooked kadhi with rice and have access to another yummy meal, right at home, which is a perfect combo of pre + pro-biotic and with a complete amino acid profile. It is a complete meal."
She listed that kadhi helps in reducing bloating, helps combat constipation and is also good for preventing mood swings and migraines. Many put besan in it but some even add sour curd to it, mix in millets like ragi or with pulses like kulith and prepare dishes like ambil or with "hyper-seasonal veggies like desi cucumber to make Kheru."
Raw Bananas & Peanuts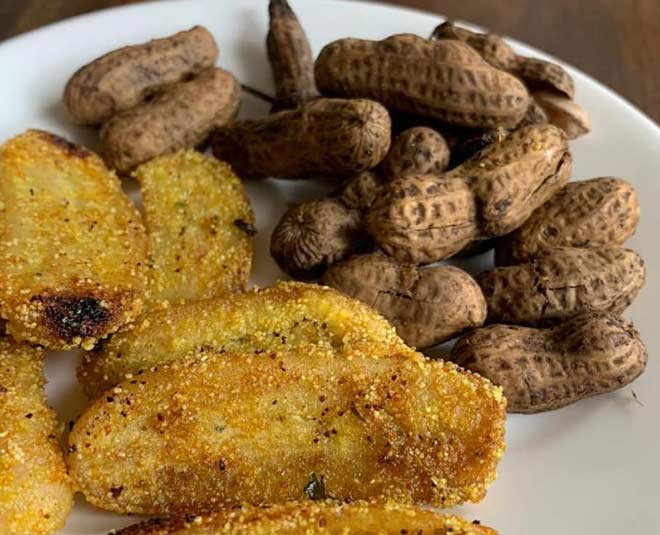 Image courtesy: Rujuta Diwekar's Instagram
This meal is excellent not just for your skin but for your hormones as well. Have these once a week. Make the raw bananas with oil and season them as you like and enjoy it with ground nuts with salt (add salt while boiling them).
Rujuta listed some of the benefits below:
Bananas have resistant starch which acts as a prebiotic. It also works on improving digestion and blood sugar regulation.
Boiled peanuts have antioxidants which are better than raw/ roasted peanuts. They help with the ageing effects.
The combination ensures that you geta good supply of Vit B6 which helps in cutting down bloating and improving your mood.
They also have minerals that are necessary for the recovery processes of the body and for heart health. --
If you are crash dieting or want to lose weight and have harmed your body then the MUFA and Vit E in peanuts and the antioxidants in Banana are what you need.
If you have painful PMS or high prolactin levels, make both a part of your routine.
Don't Miss: Rujuta Diwekar Suggests Top 5 Must-Do For PCOD
Gulkand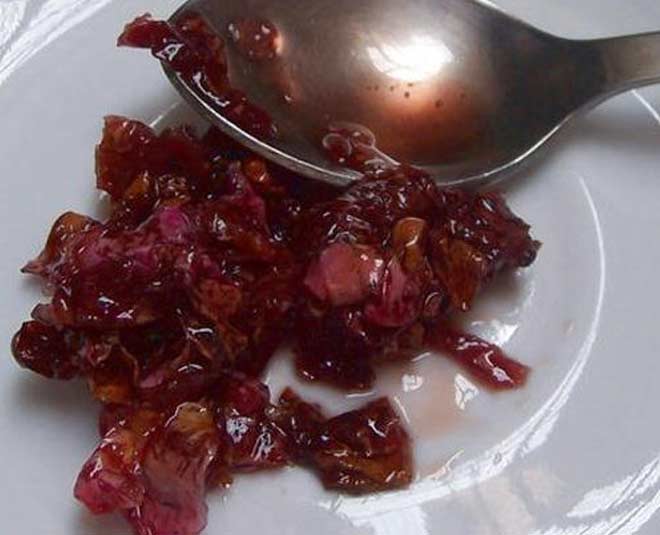 Image courtesy: Rujuta Diwekar's Instagram
This concoction helps with headache, acidity, tiredness, bloating, constipation, PCOS, period spots, acne marks, irregular sleeping patterns.
Don't Miss: Rujuta Diwekar: Here Is Why You Must Eat A hand Pounded Chutney Thrice A Week
How To Have It
Mix it with milk before going to bed and have a restful sleep as it is a natural coolant.
Beat acidity and bloating by mixing it with water and sip through the day.
To beat the sweet cravings and for better digestion, have a tsp, first thing in the morning or after meals.
Rujuta shared: "Kitchen secret: Have it with a paan leaf. Excellent for digestion, absorption of nutrients, rich source of iron."
Stay tuned to HerZindagi for more from Rujuta Diewekar and other experts on wellness.