In today's time when there are innumerous food options both for junk food and healthy dishes, our diets go for a toss. Many of us have no control over what we eat and then we regret the weight gain and unhealthy body which eventually suffers due to our habits. Besides the binge eating due to work from home, the festive season is around the corner and eating unhealthy becomes inevitable. I got the opportunity to speak to well known nutritionist Kavita Devgan who was a part of the 'Sthaniya Aaharam Sampannam Poshanam' symposium by the ICMR National institute of nutrition and Tata Sampann, where she dolled out some tips to go healthy, some spices that help in weight loss and the do's and don't for PCOD. She advised how our good old basic Indian thali can return the much-needed food diversity in our meals.
What would be the right diet that women can look at for their kids to be specific? How can one make sure that taste, nutrition and convenience are all balanced in the meals that they consume?
There is no doubt that we all need convenience when it comes to cooking. Taste also plays a very important role and is one of the biggest components of the right food that you eat. What we need to overcome is that nutrition should not get lost in taste and convenience. Taste, convenience, and nutrition have to coexist and it is possible! One simple solution to this is: cooking at home and keeping a ratio of 70% home-cooked food and 30% packaged, convenience food from a trusted source. This will give you the perfect balance of taste, nutrition and convenience.
The festive season is around the corner and we all tend to eat all the wrong food items. Could you recommend a few nuskhas or tips that could help keep it all balanced and not take down our immunity level either?
Actually, the festive season is a great time to make homemade food and binge on it. Unlike the common belief, our Indian meals aren't heavy and rather give you all the nutritional benefits too. This Diwali why not stick to our Indian thali. The dals gives you benefits: they are rich in multiple nutrients and a very good source of protein for vegetarians and the rice and roti are a good source of energy, they deliver some protein and the difficult to find B vitamins.
They also deliver dietary fiber that is an essential part of any eating plan. Rice is very easy to digest and also delivers insoluble fiber, that helps waste material move through the intestines. Make sure you add greens to the thali as well. Green leafy veggies are packed with vitamins, minerals and fiber but low in calories.
Make mithai's with besan. It is made from 100 percent chana dal. Besan is also loaded with multiple nutrients and fiber. Its gluten-free so can be easily consumed by people who are prone to gluten allergies and also has a lower level of glycaemic index so is good for diabetics. I did suggest to limit the mithais intake and stick to mithais made with natural sweeteners like dates and gur.
Turmeric is a strong flu-fighter and has anti-inflammatory properties which act as immunity enhancers and can help the body ward off viral infections. So add it to all your 'tadkas' and drink 'haldi doodh' (turmeric milk) at night. You could even make haldi-ghee-pepper-jaggery balls and eat one every day.
What spices do you recommend when it comes to weight loss since that is an issue that ails many especially due to WFH?
Turmeric: Apart from being a very good immunity booster, it can also help you burn fat.
Cinnamon: Balances the blood sugar, prevents cravings.
Ginger: It helps control blood sugar levels and has fat-burning and anti-inflammatory properties.
Drinking water boiled (and cooled) with fennel seeds helps flush out excess fluids from the body, detoxes and purges out toxins.
We must not underrate our spices a lot and understand the importance of our spices. It is important that we do not compromise on the spices. The spices that we select should not have any additives and we must opt for a packaged trusted source and make sure that the spices have their oils intact like Tata Sampann spices have their oils intact,
Don't Miss: HZ Exclusive: Mira Kapoor Swears By These Desi Spices In Her Kitchen
These days PCOD has become very common and also the fact that losing weight for a PCOD sufferer is no joke. What can be done when it comes to our diet and if you recommend some do's and don'ts?
Dos
High-fibre vegetables
Lean protein
Anti-inflammatory foods and spices
Don'ts
Foods high in refined carbohydrates
Sugary snacks and drinks
Inflammatory foods, such as processed foods and red meats
Don't Miss: Here's Why Soup Is An Ideal Weight-Loss Friendly Dinner Option
There is a perception that Indian food is heavy and increases weight too. Is this true?
The Indian way of nutrition that has been with us for ages and suits our bodies best and we must learn to trust that. In fact we will do well if we follow the time tested ways of eating that our grandmothers followed.
A variety of seeds have become a norm when we speak of healthy snacking. But how much is too much?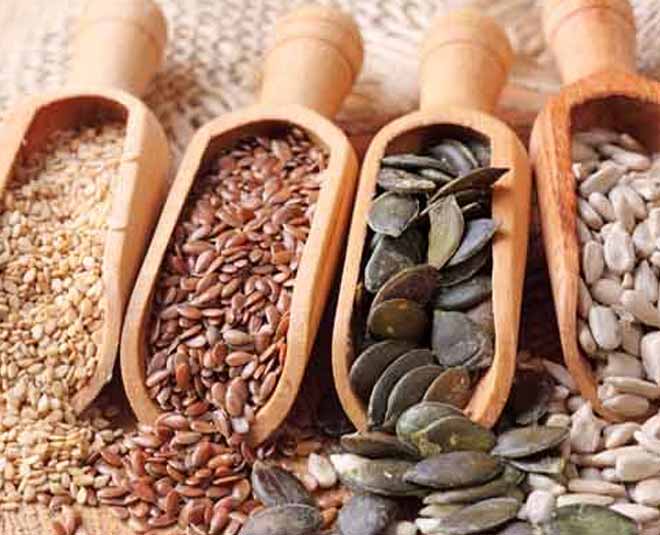 Seeds are really underrated, but they're just as beneficial as nuts, with the same good fats, vitamins and minerals. Have them all by rotation.
Message For HZ Readers
Always make sure that you make informed food choices. Try and opt for packaged food. For example: besan can be bought from a source where the label says that it's made from unprocessed and unpolished chana dal – you are sure that it has not been tampered with so you have food security and know that you and your family is consuming the best possible food. Similarly always opt for spices that have their natural oils intact.
Stay tuned to HerZindagi for more such diet tips.