Sweet potatoes are highly nutritious vegetable. They promote gut health as well as improves your overall health. One can consume sweet potatoes in many ways such as sweet potato fries, baked sweet potatoes and much more. But the most straightforward form of consuming sweet potatoes is by preparing a sweet potato curry. Here is a ten-minute easy sweet potato curry recipe.
How To Make Sweet Potato Curry?
Ingredients:
600 gms of Sweet potatoes
2 small or 1 big Tomato
2 Dried red chillies
A handful of Curry leaves
¼ tsp of Asafoetida
½ tsp of Turmeric Powder
1 tsp of Kashmiri Red chilly powder
½ tsp of Coriander powder
½ tsp of Garam masala
Coriander leaves
1 tsp of Mustard Seeds
1 tsp of Cumin Seeds
3 tbsps of oil
How To Make ?
Step 1: Heat three tablespoons of oil in a pressure cooker.
Step 2: Once the oil is hot enough, add one teaspoon of mustard seeds, the same amount of
cumin seeds
, and two dried red chillies.
Step 3: Now begin adding all the masalas. First, add one-fourth teaspoon of asafoetida and a few curry leaves.
Step 4: Give this mixture a quick stir and make sure the asafoetida mixes properly.
Step 5: Now either add two chopped small tomatoes or one big tomato. Give the tomatoes a nice stir and let them cook for a few seconds.
Step 6: Add half a teaspoon of
turmeric powder
, one teaspoon of Kashmiri red chilly powder, half a teaspoon of coriander powder, and half a teaspoon of garam masala.
Step 7: Stir and mix all the spices really well.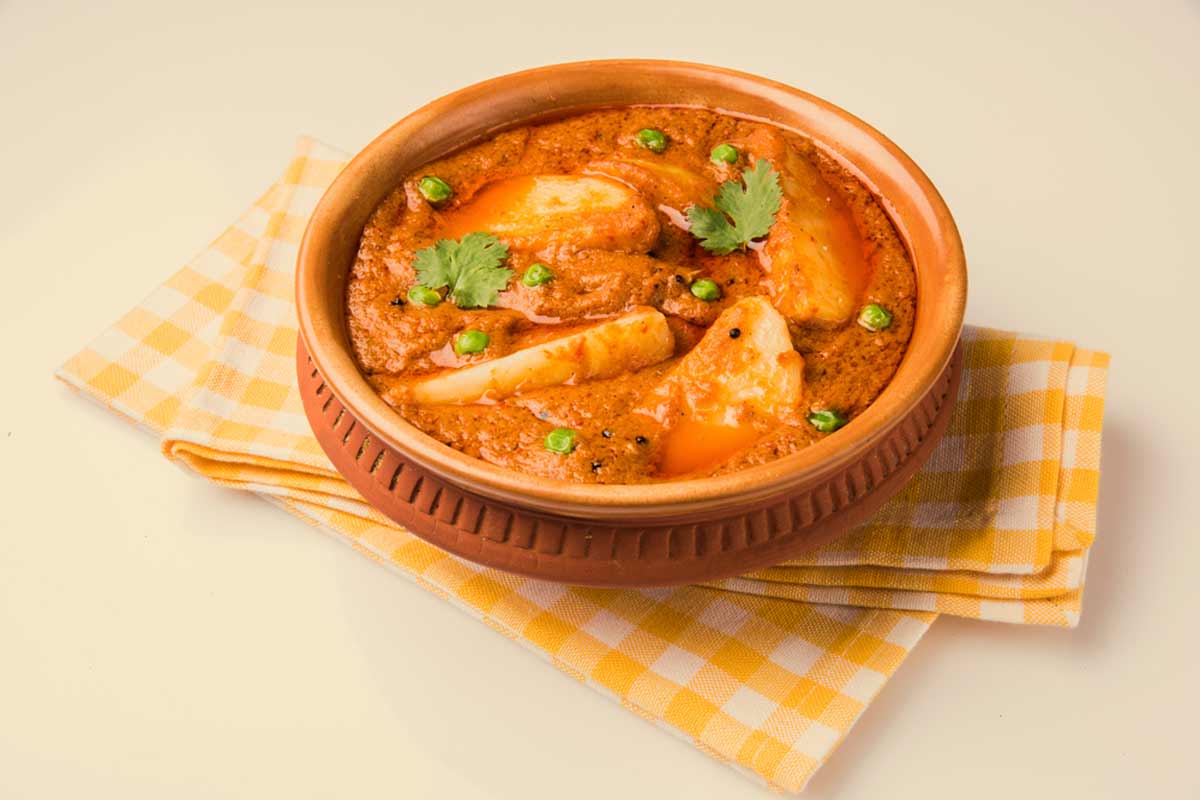 Step 8: Now it's time to add the main ingredient. Make sure to wash, peel and cut 600 grams of sweet potatoes into cubes. Add the sweet potatoes to the curry.
Step 9: Mix everything together and make sure all the pieces of sweet potatoes are well coated with the spices.
Step 10: Add one cup of water and salt to taste. Mix everything properly.
Step 11: Now cover the pressure cooker and cook the curry on a high flame till one whistle.
Step 12: After one whistle, open and check whether the curry has been cooked properly. The curry might look watery but it will thicken once it cools down.
Step 13: Make sure to check whether the sweet potatoes have been cooked properly. You can do this by mashing a piece of sweet potato with a spoon.
Step 14: This is an optional step. You can mash a few pieces of sweet potatoes make the gravy thicker.
Step 15: Garnish the sweet potato curry with a bunch of coriander leaves.
The delicious and nutritious easy ten-minute sweet potato curry is ready!
Did you like this article ?