Veg. Spring rolls are a popular food that we love to eat and it cherishes every taste buds. It is one of the finest culinary treats. They are crunchy on the outside and filled with a warmly flavoured veggie-noodle mixture that tastes great with dipping sauce like chilli sauce, red garlic chilli sauce, tomato ketchup, hoisin sauce, or Szechuan sauce. This delectable dish can also be prepared at home. Learn to make the perfect spring rolls with easy tips and tricks.
How To Make Spring Roll Wrapper?
Ingredients:
2 cup maida / plain flour
2 tbsp corn flour
1/2 tsp salt
2.5 cup water
Method:
To begin, combine 2 cup maida, 2 tablespoons corn flour, and 1/2 teaspoons salt in a large mixing bowl.
Using a whisk, combine 2.5 cups of water and mix thoroughly.
Whisk until a lump-free, smooth batter forms, adding water as needed.
Using a ladle, pour a ladleful of batter into a hot pan.
Swirl one more to ensure the batter is evenly distributed.
Cook for one minute, or until the sheet is heated through but not browned.
Continue to cook on the other side by gently flipping it over.
Finally, the spring roll wrapper is ready to be used. You can cover it for later use also.
How To Make Spring Roll Noodles?
Cook 75 g instant noodles according to package directions. Cook the noodles in a pot of boiling water.
Cook the noodles until they are al dente or firm.
The noodles should then be drained and rinsed thoroughly in cold water.
Drain all of the water and set it aside. You'll get roughly 1 cup cooked noodles from 75 gram of raw noodles.
How To Make Spring Roll Stuffing?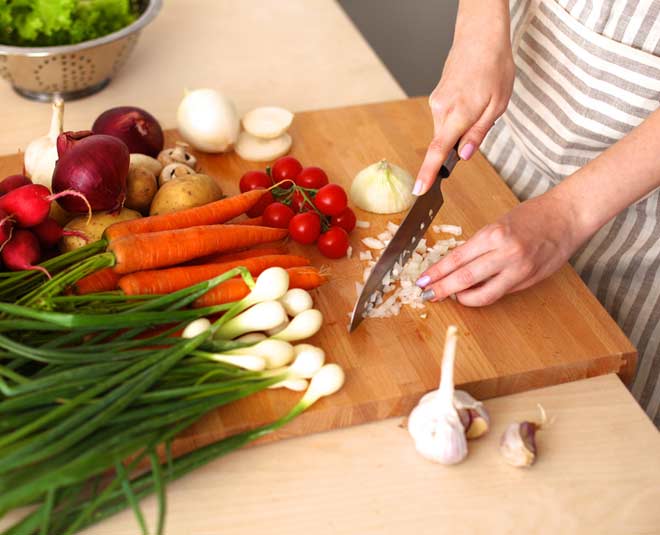 Ingredients:
2 tbsp oil
3 clove garlic (finely chopped)
2 chilli (finely chopped)
2 tbsp spring onion (chopped)
1/2 onion (sliced)
1 carrot (julienne)
2 cup cabbage (chopped)
5 beans (chopped)
1/2 capsicum (chopped)
2 tbsp vinegar
2 tbsp soy sauce
2 tsp chilli sauce
1/4 tsp pepper powder
1/2 tsp salt
Method:
To begin, heat 2 tablespoons of oil in a big wok. Then saute 3 garlic cloves, 2 chilies, and 2 tbsp spring onion in it.
Add 1/2 chopped onion and stir fry on high flame.
Next, add 1 carrot, 2 cup cabbage, 5 beans and 1/2 capsicum.
Stir fry them while making sure the veggies do not lose their crunchiness.
Then, add the cooked noodles.
Further, add 2 tablespoons vinegar, 2 tablespoons soy sauce, 2 tablespoons chilli sauce, 1/4 teaspoon pepper powder, and ½ tsp salt.
Stir and mix thoroughly to ensure that everything is well mixed.
Remove the pan from the heat and add 2–3 tablespoons of spring onion greens. At this time, you can add herbs like chopped coriander leaves (cilantro) or fresh basil leaves. Let it cool
How To Fold And Fry The Spring Roll?
To start, place a tbsp of prepared veg stuffing in a prepared wrapper.
Using a teaspoon of maida paste, massage the edge. The maida helps in the roll's sealing.
Now roll and fold the sides of the roll to ensure that it is completely sealed.
Further, deep fry these rolls in a hot oil kadai, keeping the flame on low.
Stir the roll occasionally until it is golden brown and crunchy.
Once done, drain off the excess oil.
Finally, the spring rolls are ready. Enjoy these veg spring rolls with sweet chilli sauce.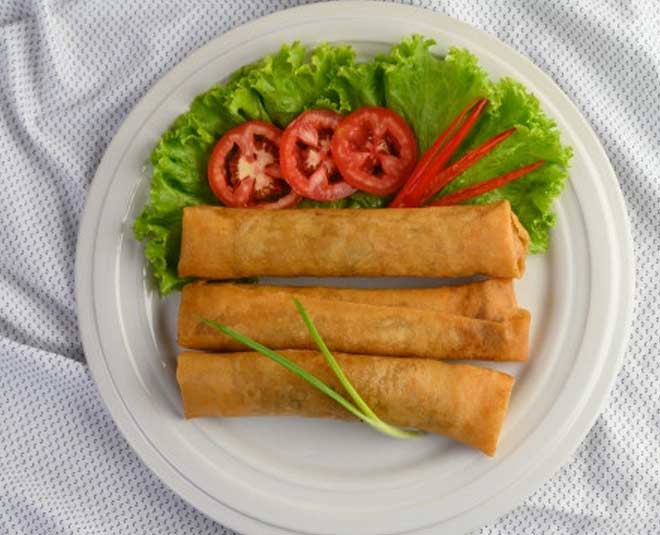 Tips:
Instant noodles, hakka noodles, or any form of flour noodle can be used. However, avoid using rice or flat noodles.
If you don't want to use noodles, the dish will still taste delicious.
For the wrappers to seal nicely, the filling must be dry. Cook your vegetables until the surplus liquid has evaporated if they have given off a lot of water.
These methods will help you prepare the perfect and most delicious spring rolls.
For more such recipes and tips, stay tuned to HerZindagi!