Jackfruit has been one of my favorite fruit and veg combo ingredient since many years and we would wait for its season to come and pre-list a whole lot of dishes to make with it and relish its taste and flavor, it is also known as Jack Tree and is said to be a species of tree in the fig, mulberry family, it is one of the most significant evergreen trees in tropical areas and widely grown in various parts of Asia including India. It is a large, prickly fruit which grows on a tropical tree reaching a height of approx. 80 feet, 20 meters and its pulp is starchy & fibrous in texture very much a native to South India.
Jackfruit is commonly used in south east Asian cuisines in a number of ways, it often finds its place in curries and stews, gravies, chips and sides in a number of menus and the kitchens of Indonesia, Philippines and Vietnam have created some great recipes too with jackfruit. it is also the national fruit of Bangladesh and Sri-lanka and the state fruit of Indian states like Kerala and Tamilnadu.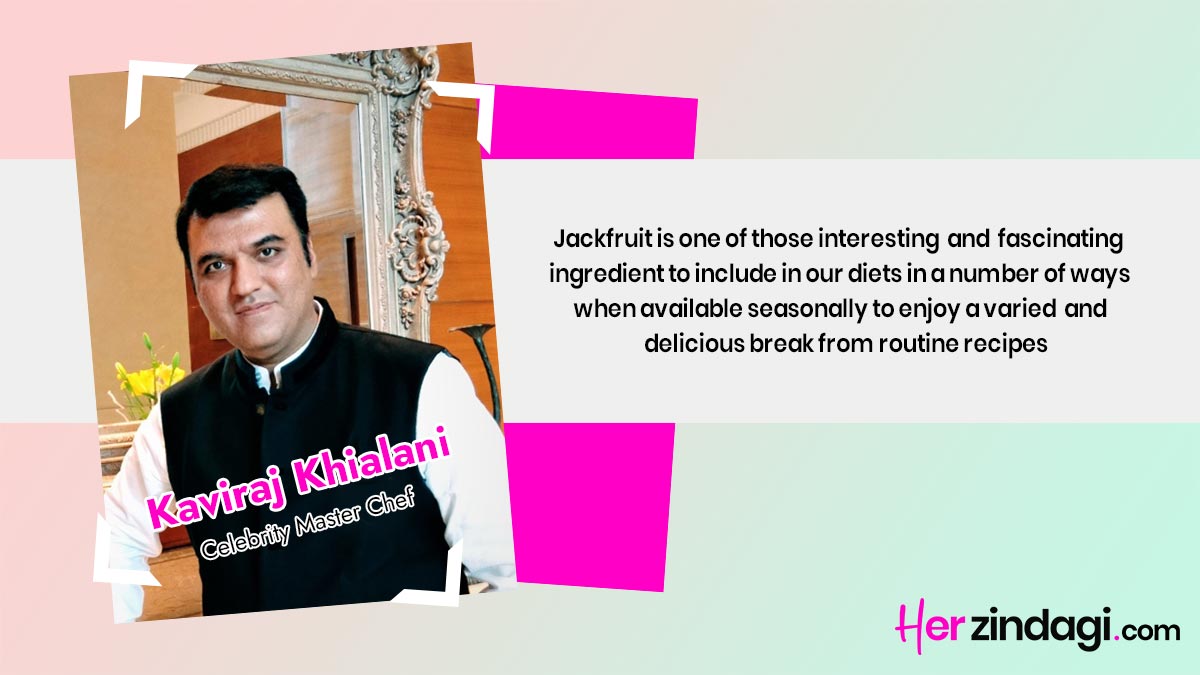 The greenish unripe fruit is cooked as a vegetable and the brown ripen fruit is often eaten fresh or added to desserts like ice-cream. Jackfruit is not the easiest fruit to prepare when cut open we find large pale yellow pods containing seeds and are connected to the fruits core. The flesh of jackfruit has been closely linked to texture of chicken which makes it an excellent "vegetarian meat" for curries, salads, noodles etc.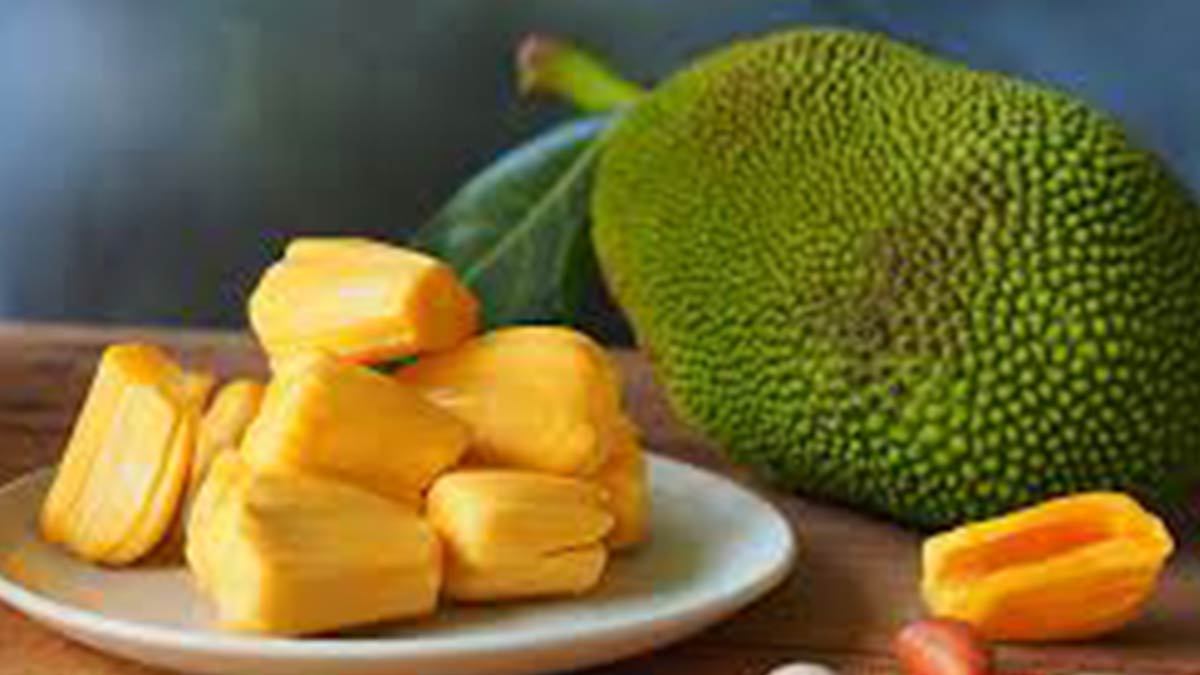 "Jackfruit is one of those interesting and fascinating ingredient to include in our diets in a number of ways when available seasonally to enjoy a varied and delicious break from routine recipes and methods of cooking!" Dr. Kaviraj Khialani- Celebrity Master Chef.
Health Benefits of Jackfruit:
1. The fruit has an open odor between a banana and a pineapple and is a good energy boosting ingredient.
2. Jackfruit has been known to strengthen our immune system.
3. It is considered good for eyes and skin texture as well.
4. Jackfruit is well balanced in nutrition and offers a good source of healthy calories.
5. It is also regarded as good for bone health in our body.
6. Jackfruit is also a rich source of B-complex group vitamins and minerals.
7. Is a good source of Vitamin- C, potassium and essential dietary essential for our body.
8. Jackfruit in our diet and helps lower blood pressure.
Tips on How to Prepare Jackfruit for Cooking: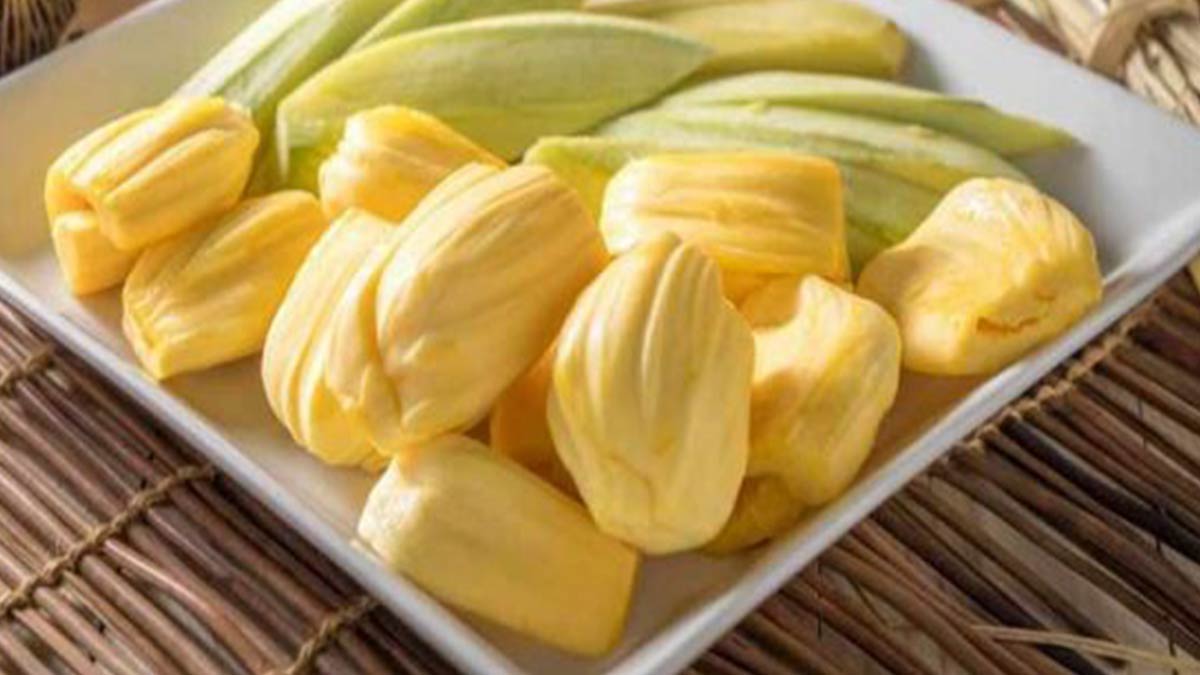 1. Jackfruit contains natural latex, so one is adviced to wear gloves in case of a latex allergy or so, stronger the smell ripe the fruit is what is considered.
2. It is recommended to apply coconut oil on our hands and the knife when we start cutting and preparing jackfruit, it tends to dis-color as well so keep a bowl of cold water as well to immerse the pieces.
3. It is best to lay down some kitchen paper over a wide working surface and then slice it open.
4. Jackfruit has a more neutral flavor like potato and will absorb the flavor of the other foods as well it is stored or cooked with.
5. The seeds are similar to chestnuts after boiling or roasting
Uses of Jackfruit in Culinary:
1. Jackfruit flesh consumed fresh or as canned slices, fruit juice and dried chips as well.
2. In some parts of the world we also have puree of jackfruit which is further processed into baby foods, juices, jams and jellies, candies and ice-cream too!
3. The unripe stage of jackfruit is also used to prepare pickles when it is still a little tender.
4. The jackfruit seeds as mentioned above can also be consumed after boiling or roasting or blended into flour for baking purpose as well.
5. Thai Jackfruit and water chestnut red curry, Kathal ki Subzi, Jackfruit Cutlets, Kathal ka Achaar, Jackfruit Appams, Sweet Jackfruit Wraps, Jackfruit Burfi.
Here are a few interesting recipes with Jackfruit for our readers to try in their kitchens and enjoy!
Recipe-1] Jackfruit Cutlets
Ingredients
Jackfruit- 400gms cubes, boiled
Potatoes-150gms, boiled mashed.
Oil- to shallow fry/deep fry.
Red chili powder-1/2 tsp
Cumin powder-1/2 tsp
Turmeric powder- ¼ tsp
Ginger- 1 tsp chop.
Salt to taste
Garam masala powder-1/4 tsp
Chopped mint -1 tbsp.
Chaat masala-1/4 tsp
Chopped coriander-1 tbsp.
Chopped green chilies- 1 tsp
Rice flour- 2-3 tbsp. or besan- 2 tbsp.
For binding- bread crumbs/maida/corn flour- as needed.
For stuffing: grated cheese- 2 tbsp. + chopped nuts.
Method:
1. Prepare the jackfruit and sprinkle little salt on it and with a little water and oil pressure cook it until soft, mash or grate and keep aside.
2. In a mixing bowl combine together all the ingredients for the cutlet mixture and add bindings as desired and shape it into a nice dough like texture.
3. Apply oil on the hands, and divide the cutlet mixture into lemon sized balls, shape them into tikkis, I like stuffing them with grated cheese and chopped green chilies and nuts too.
4. Coat them on top with maida, corn flour/ batter and bread crumbs and shallow fry/deep fry until nice and crispy on the outside.
5. Serve with choice of dips, sauces, chutneys etc.
Don't miss: Here Are Some Healthy Tempeh Recipes For Your Good Health
Recipe- 2] Jackfruit Coconut Burfi
Ingredients
Jackfruit paste- 1 cup, edible parts to be removed and processed.
Fresh or dried coconut- 1 cup
Sugar-2 cups as per taste
Ghee- 2-3 tbsp.
Green elaichi- 5 -6 no.
Assorted nuts- 2 tbsp. chop
Method:
1. Prepare the Jackfruit paste and keep aside.
2. Dry roast the coconut until dry, roughly grind without adding water to convert it into fine pieces.
3. In a pan add jackfruit paste, sugar to taste and cook it well on a medium flame for a few mins, add in the ghee, coconut and also the elaichi to flavor.
4. Continue stirring it for 4-5 mins, until the mixture starts to leave the sides of the pan.
5. Remove the mixture onto a greased tray and evenly spread it, sprinkle chopped nuts over and allow to set in the fridge or in a cool place for couple of hours, cut into burfi shapes and serve the sweet.
Don't miss: Summer Special: Healthy And Refreshing Milkshake Recipes
Recipe- 3] Asian Jackfruit & Veg Curry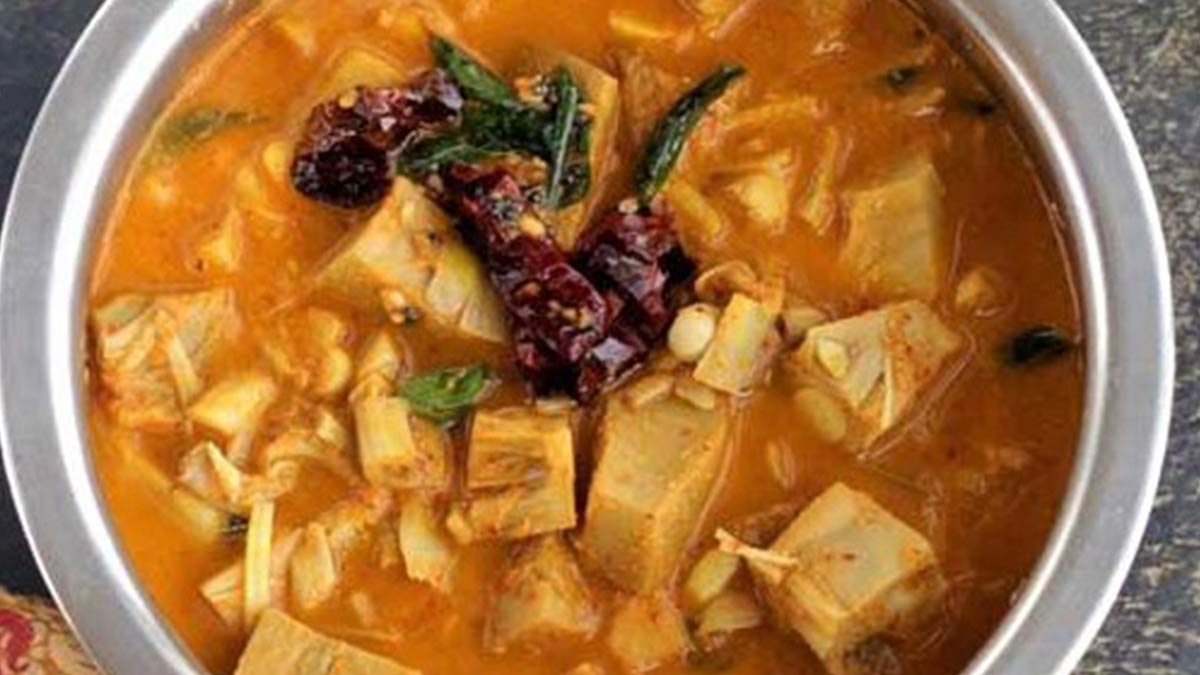 Ingredients
Oil/ghee/coconut oil - 2 tbsp.
Hing-1/4 tsp
Dry red chilies- 2 nos.
Curry leaves- 8-10
Onion- 1 medium size chop or 8-10 shallots peeled
Capsicums- ½ cup diced
Ginger -1 tbsp. chopped
Garlic- 1 tbsp. chopped
Curry powder/curry paste- 2 tbsp.
Ground jeera powder- 1 tsp
Kasuri methi-1/2 tsp
Cashew paste-1 tbsp.
Fresh cream- 2 tbsp.
Turmeric powder-1/2 tsp
Salt to taste
Tomato puree- ½ cup
Coconut milk- 500 ml
Assorted veggies to add to the curry- carrots, potatoes, peas.
Jackfruit- 500 gms, cubes par boiled.
Coriander leaves for garnish- 1 tbsp.
Roasted peanuts- 2 tbsp.
Method:
1. Prepare all the ingredients for the curry.
2. Heat oil/ghee add in the hing, curry leaves, chilies, ginger, garlic and allow to crackle and splutter.
3. Add in onions or shallots and saute until pink add in the tomato puree, salt and all powdered spices/curry powder and mix well.
4. Simmer the gravy for 4-5 mins, add a little cashew paste and fresh cream as well for more flavor, add in kasoori methi, and allow to cook.
5. Now put in the jackfruit pieces, and other additional veggies or non-veg of your choice and mix and cover and cook for 15-20 mins or until soft and tender.
6. Add coconut milk thick version and simmer it for another 5 mins, garnish with coconut cream, fresh coriander, fried chili on the top and serve the curry with a bowl of steamed white rice/ Malabar parathas, laccha parathas, bowl of salad and raita.
Stay tuned to HerZindagi for more such recipes by chef Kaviraj Khialani who is not just a celebrity Master Chef but has a varied experience with hotels and airlines. He is an author, food writer, food designer, consultant, and creative cuisine specialist.
Did you like this article ?
Disclaimer
Your skin and body like you are unique. While we have taken all measures to ensure that the information provided in this article and on our social media channels is credible and expert verified, we recommend you consult a doctor or your dermatologist before trying a home remedy, quick hack or exercise regime. For any feedback or complaint, reach out to us at compliant_gro@jagrannewmedia.com