Kasuri Methi or dry fenugreek leaves are a commonly used spice in Indian households. These are usually added to different food preparations for flavour. The herb is prepared by drying fresh methi or fenugreek leaves. Many of you may not be aware that kasuri methi has amazing medicinal properties. It has been used for aged now to treat a lot of health problems. Let's quickly take you through its amazing benefits and different ways you can add it to your daily diet.
Increase Milk Production In Breastfeeding Mothers
Kasuri methi is a must-have for breastfeeding mothers. This green dry herb is known to boost milk production in mothers who are breastfeeding. It is an easy remedy for women who suffer from low milk production while breastfeeding.
Packed With Fibre
Our body needs a lot of fibre to function properly and there are different ways we can fuel our body with it. Kasuri methi has fibre which has some amazing benefits for our digestive health. It prevents issues like constipation. It also helps with weight loss.
Controls Symptoms Of Menopause
In the late 40s and 50s, women suffer from menopause, and before its arrival, they have to pass through the symptoms of pre-menopause like fatigue, hot flashes, breast tenderness, irregular periods, and vaginal dryness. Consumption of kasuri methi helps in controlling these symptoms.
Good For Bones And Overall Body Energy
Dry fenugreek leaves are a rich source of micronutrients which are great for your overall body. It has iron, calcium, and vitamins which keep your bones strong. Also, kasuri methi helps in building the hemoglobin level of the body and keeps your energetic all day.
Don't Miss: Methi: One Ingredient For Multiple Health Benefits
Keeps Blood Glucose Level In Control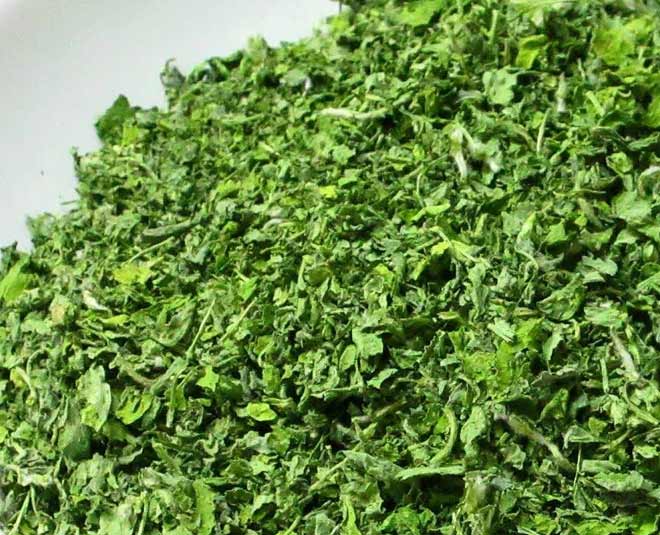 Kasuri methi is highly beneficial for diabetic patients. It balances blood sugar levels and reduces insulin resistance. It is believed that consuming these leaves helps in lowering blood sugar levels in patients with type 2 diabetes.
Good For The Heart
Consumption of these dry leaves helps in regulating the proper flow of blood through the body. This helps in improving your cardiovascular health.
Don't Miss: Make Your Family Eat This Healthy And Delicious Methi Dana Sabzi That Has Some Amazing Benefits
Benefits For Skin And Hair
Adding kasuri methi to your diet can do wonders for your hair and skin. It helps in the development of new cells in your skin and makes it look fresh and youthful.
Talking about its benefits for the hair, it prevents premature greying. Kasuri methi is packed with essential vitamins and minerals which give the essential amount of nutrition to your hair. It also prevents hair fall.
How To Make Kasuri Methi A Part Of Your Diet?
For these amazing benefits, you must add kasuri methi a part of your daily diet.
You can add these dry fenugreek leaves to your different curry preparations. Another way is adding kasuri methi to your rotis and parathas.
Easy Way To Make Kasuri Methi At Home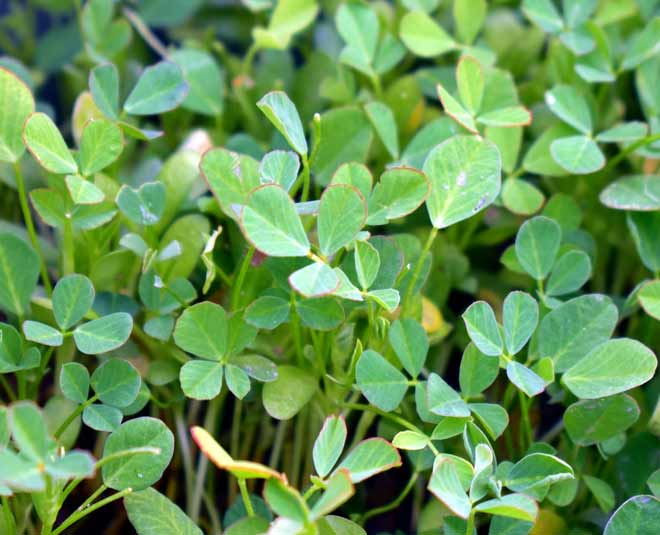 If you don't want to get these herbs from the market then you can prepare them fresh at home. Here is how:
1. Get fresh methi leaves from the market.
2. Cut the stem and wash the leave properly. Make sure you remove all the dirt.
3. Using a towel, pat them dry.
4. Take a tray and place all the leaves.
5. Sun-dry all the fenugreek leaves for 2-3 days. Make sure that all the moisture gets evaporated.
6. When your leaves become crisp, pack them in an air-tight container and they are ready for use.
Do add these dry fenugreek leaves to your diet to enjoy all its amazing benefits and stay tuned for more stories around health.