The word Tempeh comes from Indonesia and has been known since quite some time, however most of us have not yet tried and incorporated it into our favourite recipes in our kitchens, it is very obvious to have a doubtful thought process on the how's? what's? and what if not? when it comes to trying something new. The same thing happened with me as well when I found myself acquainted to tempeh but once it turned out to be a delight and burst of flavours in the form of a recipe it has now become an anytime welcome with a number of ways doing it and that is how this feature of sharing more about tempeh started.
Tempeh is actually a meatless source of rich protein, vegan in nature, healthy and nutritious for those who love plant based foods and enjoy experimenting with recipes which are not only colourful to the eyes but also tempting to the palate. Tempeh is made from fermented soy beans which are broken down by microorganisms and is further compacted and pressed into cakes which have a nice texture, appealing colour and a little chewy texture with a little nutty in its taste.
Most tempeh in Indonesia is sold wrapped in banana leaves and are available in local markets, though in the United states and other places we have seen it being available in vacuum packed formats. Besides being packed and being a powerhouse of proteins and nutrients, tempeh is also a good source of essential vitamins and minerals but is a bit low in sodium and carbohydrate content.
"Tempeh is a wonderful vegetarian offering which can be used in a number of recipes from snacks to soups, main course to side dishes, a must try ingredient by all foodies to relish its flavours"! - Dr. Kaviraj Khialani- Celebrity Master Chef.
Health Benefits of Tempeh: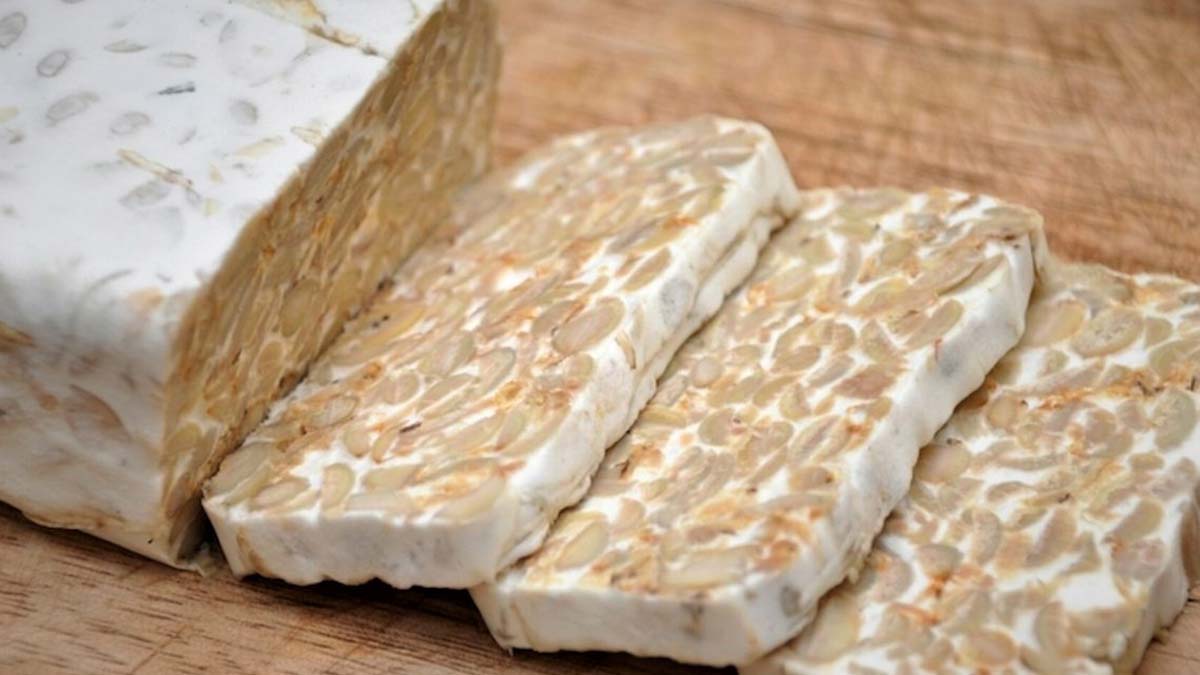 1. Tempeh is good to include in our diet since it is good for weight management and is an interesting option to add.
2. Tempeh also is known to aid in digestion in our body therefore it somehow plays an important role.
3. Tempeh is said to reduce inflammation in the body.
4. Tempeh is loaded with pro- biotics which is also good.
5. Tempeh is also a good source of fibre besides proteins.
6. Tempeh is also regarded as a heart healthy & brain healthy food.
7. Tempeh is said to reduce cholesterol levels in our body.
Culinary Uses of Tempeh in our Kitchens:
1. Tempeh being a soy based product is very much easy to adapt into our very own indian cuisine. It can formulate itself into gravies, curries, crumbled up and stuffed into tikkis and more.
2. Tempeh is a good option to use in salads as it is also regarded as good for weight loss. It gives us a variety to make our salads more interesting and colourful as well. Combine it with various greens and crunchy ingredients and a choice of flavorful dressings.
3. Tempeh is a great filler for a sandwiches, wraps and roll concepts as well and can create a great mouth feel in between those two slices of assorted breads from vegan breads, almond meal breads, multi-grain breads, rye bread, herbed rolls etc with a variety of lettuce leaves and superfoods like avocados, tomatoes and a dash of herbs and seasonings.
4. Tempeh is also found in the popular Buddha bowl concept which is now featuring itself in many menu cards in Asian cuisine restaurants. It is not only filling but has a number of elements to enjoy all in one bowl with a little bit of everything which makes it a complete one pot meal in itself.
5. Tempeh in soups and broths is also one of the better ways to incorporate it into suppers and light meals once in a while. Have a nice flavorful stock and a few veggies of your choice in it and with tempeh and a little seasoning and sauces it is ideal to enjoy a good bowl of nutri-balance.
6. Tempeh is also great to add to stir fry concepts and recipes.it is a good match to a number of exotic veggies like mushrooms, broccoli, zucchini, bell peppers, asparagus etc and with a little bit of celery, garlic, spring onions and stir fry sauce and a dash of chilli and pepper it is good to go with.
7. Tempeh in baked dishes creates variety in our meals as well. Steam the cut tempeh pieces for around 10 mins and then marinate it with a choice of ingredients and sauces and place it into a baking dish with add ons and alternates to enhance the dish. Create layers in the baked dish with a choice of plant based options and with some vegan cheese etc.
Here are a few Simple- Easy & Healthy Recipes with Tempeh:
Recipe-1] TEMPEH SOUP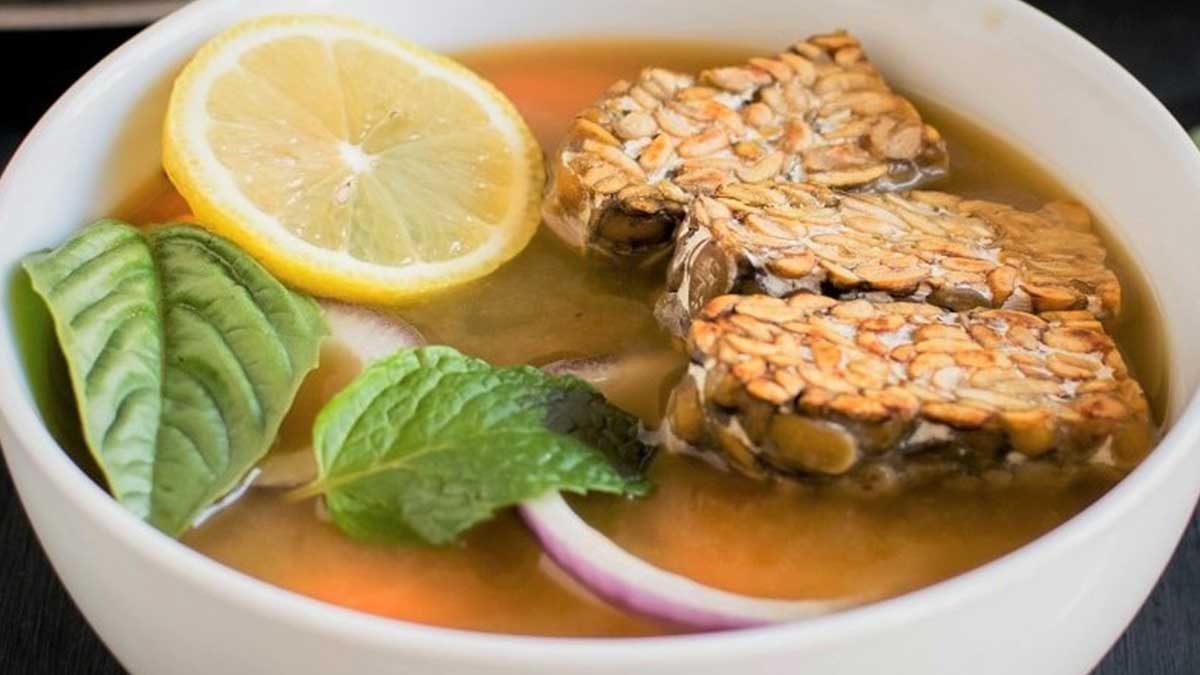 Ingredients:
Tempeh- 150 gms cut into cubes.
Veg stock- 500- 750 ml
Oil- 2 tbsp.
Salt and pepper to taste
Chilli flakes- ½ tsp
Soy sauce- 1 tsp
Red chilli sauce- 1 tsp
Garlic- 2-3 cloves, chopped
Onion-1 small, chopped.
Carrots- ¼ cup cut into cubes.
Celery- 2 tbsp. chopped
Mixed herbs/ fresh basil leaves- 2 tbsp.
Bayleaf-1 no
Green/yellow zucchini-1/2 cup cut into cubes.
Fresh parsley/micro-greens to garnish the soup- 2 tsp.
Method:
1. Heat 1 tbsp. oil in a sauce pan and add in the pieces of tempeh and saute it for a couple of minutes until golden brown, remove and keep aside.
2. In the same saucepan add in a little more oil and add in the Bayleaf, garlic, onion, celery, carrots and cook for 1-2 mins, add in the seasonings, herbs and chilli flakes, sauces to taste.
3. Bring to a boil and add in the zucchini cut into med cubes and also add in the tempeh pieces, simmer for 10-12 mins until all veggies are just done right in texture.
4. Serve hot garnished with fresh herbs, microgreens and a dash of crushed black pepper.
Recipe-2] TEMPEH KA DESI TADKA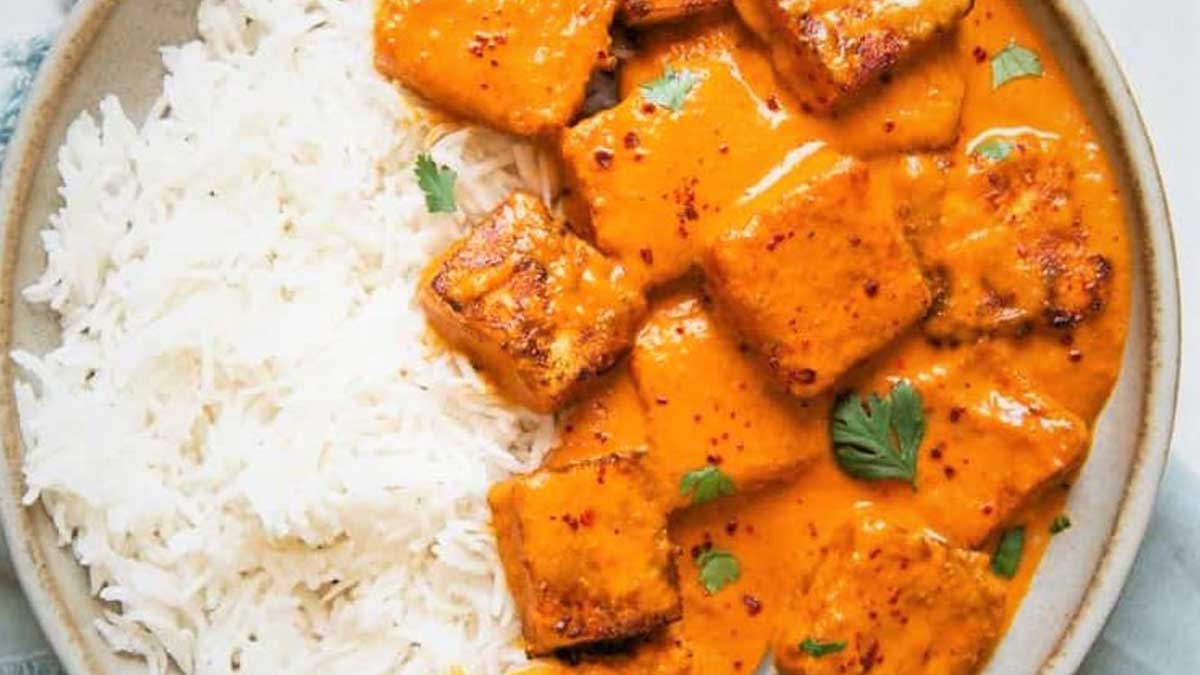 Ingredients:
Tempeh- 150 gms cut into cubes.
For the marination:
Curd -1 cup
Lime juice-2 tsp
Cumin powder-1/2 tsp
Ginger-garlic paste-1 tsp
Garam masala powder-1/2 tsp
Salt to taste
Kasuri methi-1 tsp
Oil-1 tbsp.
Red chilli powder-1/2 tsp.
For the sauce/gravy:
Oil-2 tbsp.
Onion- 2 medium chopped
Ginger-garlic-green chilli paste-1 tsp
Red chilli powder-1/2 tsp
Salt to taste
Turmeric powder-1/2 tsp
Tomato puree-1/4 cup
Coconut milk-1 cup
Green peas- ½ cup boiled
Coriander leaves- 2 tbsp. chopped
Method:
1. In a mixing bowl combine together the ingredients for the marination, add in the cut cubes of tempeh into the same and mix well, keep in the fridge for 45 mins.
2. Heat oil in a pan, add in the onions, ginger-garlic-chilli paste and saute them all well around 3-4 mins, add a little water if needed. Add in the powdered spices and salt and mix them all well.
3. Add in tomato puree, the marinated tempeh and stir well. Now also add in the coconut milk and green peas and mix well. Simmer and allow to cook for 20 mins.
4. Serve hot garnished with fresh coriander leaves.
Don't miss: Tasty Sev Puri Recipes To Satisfy Your Craving
Recipe-3] STIR FRIED TEMPEH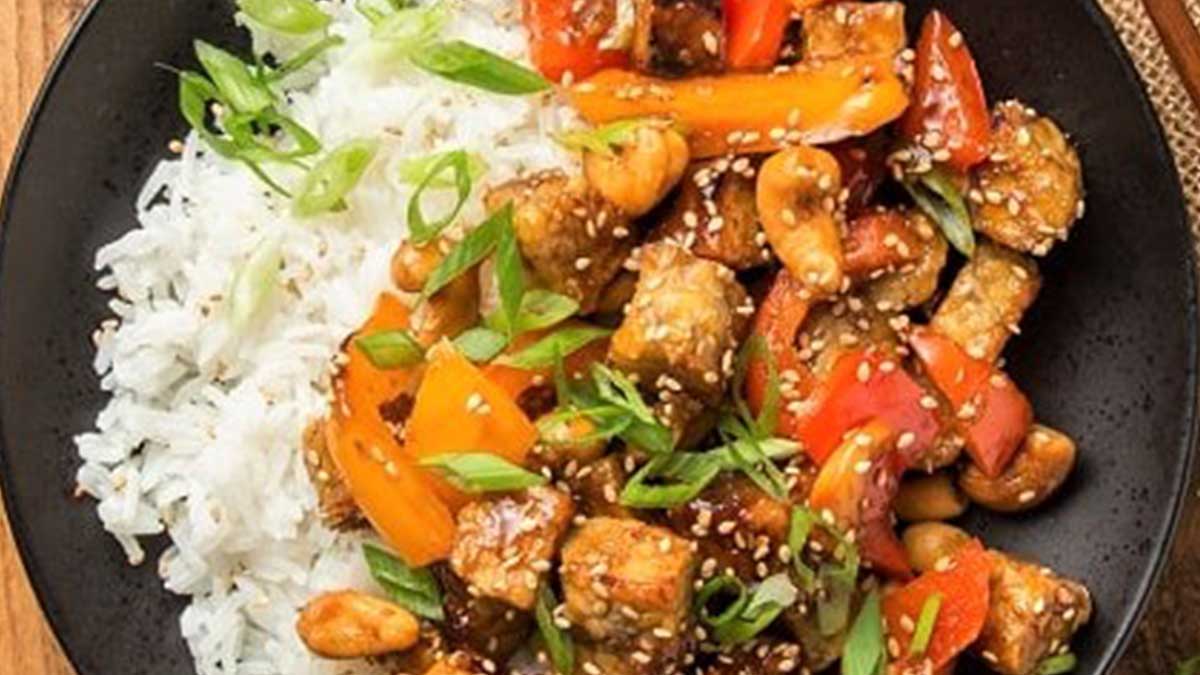 Ingredients
Tempeh- 150 gms cut into cubes/fingers
Oil- 2 tbsp.
Ginger- 1 tsp chopped
Garlic- 1 tsp chopped
Green chilli & red chilies- 2-3 each slit
Spring onions- 3-4 sliced
Red/green/yellow capsicums-1/2 cup cubes
Salt and pepper to taste
Red chilli sauce-2 tsp
Soy sauce- 2 tsp
Sugar-1/2 tsp
Tomato ketchup-1 tbsp.
White sesame seeds- 1 tsp
White vinegar-1 tsp
Veg stock/water-1 cup
Corn flour and water solution-2 tbsp. to thicken up.
Spring onion greens-2 tbsp. chopped.
Method:
1. Cut the tempeh into cubes/fingers as desired and heat oil in a pan and slightly saute the tempeh for a couple of minutes, once lightly browned remove and keep aside.
2. In the same pan and a little more oil saute the ginger, garlic, chilies, onions and add in a little stock or water to prevent burning and to have a little sauce being formed.
3. Add in the salt, pepper, sauces to taste and bring it all to a boil, add in the peppers and the saute tempeh and allow to simmer for 2 mins.
4. Now add in the corn flour water solution and thicken the gravy and get it to a nice coating texture on the tempeh, check for seasonings, add in the vinegar and finally garnish with toasted white sesame seeds, the spring onion greens and serve hot as a snack/starter.
Don't miss: Quick Fix Tiffin Recipes By Chef Kaviraj Khialani
Recipe-4] TEMPEH SANDWICH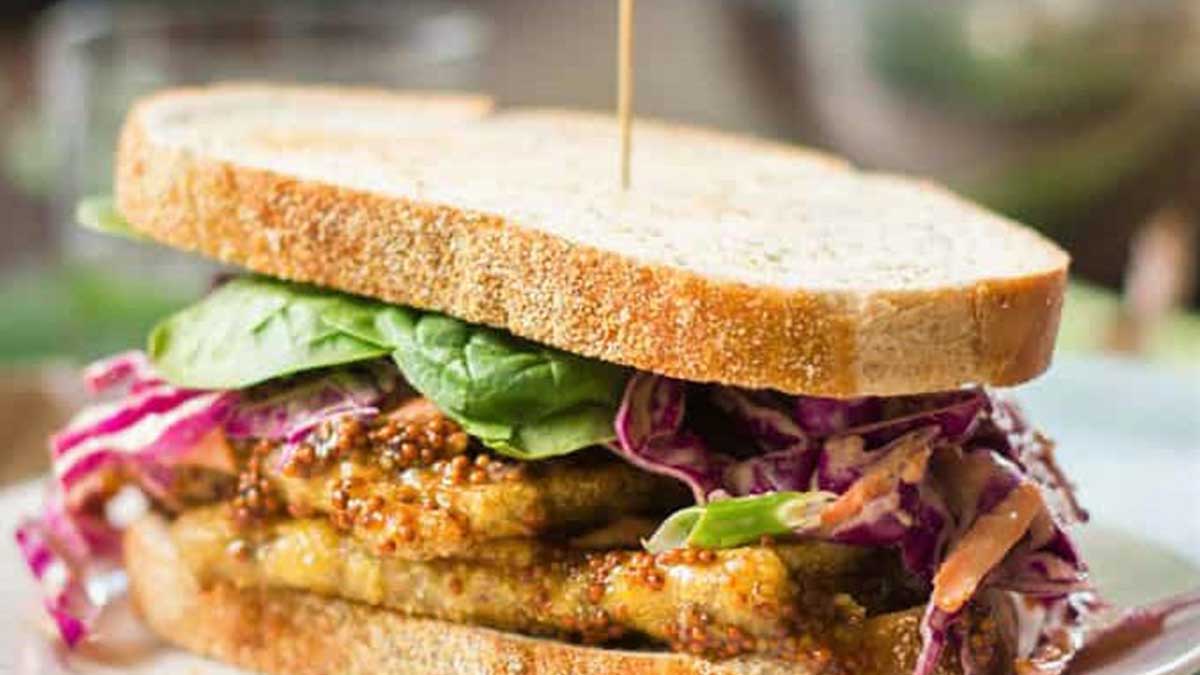 Ingredients
Tempeh-150 gms cut into slices
For the marination of tempeh:
Mustard paste-1 tsp
Olive oil-2-3 tbsp.
White vinegar/ balsamic vinegar- 2 tsp
Honey- 1 tbsp.
Peanut butter-2 tsp
Mixed herbs-1/2 tsp
Chilli flakes-1/2 tsp
Soy sauce- 2 tsp
Red chilli sauce- 2 tsp
Sliced bread of your choice- 4-6 no.
Spread of your choice on the bread- mayo-mustard, cream cheese- herb spread, almond and mint butter, peanut butter and honey spread etc.
For the additions in the sandwich:
Assorted lettuce leaves- ½ cup fresh and crispy
Sliced tomatoes- 3-4 slices
Sliced cucumber- 4-5 sliced
Avocado slices- 4-5 no
Salt and crushed black pepper to taste
Vegan cheese/ cheese- as desired.
Accompany the sandwich with olives, pickled vegetables/chips etc.
Method:
1. Assemble all the ingredients for the sandwich with tempeh.
2. Steam the tempeh slices for 10 mins and remove, apply the marination and keep aside for 30 mins.
3. Heat 1 tbsp. oil on a grill pan/ non-stick pan and saute/grill the marinated tempeh for 2 mins on each side, remove and keep aside.
4. Arrange the slightly toasted slices of bread, apply the spread of your choice from simple butter to the varieties and place the lettuce leaves, tomato slices, cucumber slices, avocado etc add a little seasoning as needed.
5. Finally place the tempeh and close the sandwich and grill/ toast the sandwich as desired and serve hot with assorted dips and chips etc.
Stay tuned to HerZindagi for more such recipes by chef Kaviraj Khialani who is not just a celebrity Master Chef but has a varied experience with hotels and airlines. He is an author, food writer, food designer, consultant, and creative cuisine specialist.
Did you like this article ?
Disclaimer
Your skin and body like you are unique. While we have taken all measures to ensure that the information provided in this article and on our social media channels is credible and expert verified, we recommend you consult a doctor or your dermatologist before trying a home remedy, quick hack or exercise regime. For any feedback or complaint, reach out to us at compliant_gro@jagrannewmedia.com