Pregnancy And Hair Loss - Why Do Women Experience Hair Fall After Delivery?
Are you a new mother experiencing hair loss after delivery? See what our expert gynaecologist has to say.
Are you a new mother experiencing hair loss after delivery? Do you wonder how long postpartum hair loss lasts? Are you looking for ways to prevent hair loss after pregnancy? If all these questions cause you insomnia at night and stress during the day, read the article!
With the help of our expert Dr Tanushree Pandey Padgaonkar, Obstetrician-Gynaecologist (OBGYN), we will answer some of the above questions and provide diet and nutrition suggestions that will help you prevent hair loss after delivery.
Why Do Women Experience Hair Fall After Pregnancy?
Dr Padgaonkar says, "The phenomenon of losing hair after pregnancy is called hair shedding rather than hair fall." There are hormonal changes during pregnancy, especially, in the levels of estrogen. This slows down the actual day-to-day hair fall, which is between 30 and 40 strands a day.
Hence, women feel that their locks have become healthier and longer during pregnancy. However, around the fourth month after delivering the baby, the hormone levels change again, and they go down.
Dr Padgaonkar added that the normal number that should have fallen every day in the nine months starts shedding all of a sudden. That is why women in the postpartum state feel that there is excessive hair loss. How long does postpartum hair loss last? The doctor said that, in most cases, it subsides in a couple of months.
Is It Normal For Women To Experience Hair Fall After Pregnancy?
Dr Tanushree said, "Yes, it is normal for women to experience hair fall after delivering the baby." She added that the new mom could take multivitamins and apply hair serums.
However, you must ensure to use the products that do not harm, and it is always better to consult with your gynaecologist, physician or dermatologist. She adds that it could be quite dramatic for women to see hair shedding in such a large number despite knowing it to be a physiological effect.
Supplements For Women To Reduce Hair Fall After Delivery
Dr Padgaonkar suggests supplements, like Biotin, Vitamin B Complex, Zinc, Vitamin D, Iron and Vitamin C, are given to mothers postpartum for a speedy recovery. These alone can help them prevent or reduce hair loss after delivery.
She says that there are hair serums that dermatologists can suggest to new mothers to prevent or reduce hair fall after pregnancy. She, however, insists on taking vitamins and serums after consulting with the concerned doctor.
Do Women Also Experience Hair Thinning After Pregnancy? (Hair Fall In New Mothers)
Dr Padgaonkar says, "Hair thinning is not the right term. It is actually just hair shedding, and in 4-5 months, your starnds will go back to what they were before pregnancy." When we talk about hair thinning, we talk about the degradation in the quality of hair.
She added that pregnancy and medication do not affect the quality of locks. However, after hair shedding, women would definitely feel that they have lost a substantial volume of starnds. This is a temporary change.
How can women deal with hair fall after pregnancy? Dr Padgaonkar says that new mothers (tips to take care of new mothers) can use volumising shampoos and hair serums. Diet and nutrition also plan an important role in reducing hair fall.
Don't Miss: Pregnancy And Diabetes: Here Is How To Prevent Complications
What Diet Help With Hair Loss After Delivery? (Food After Delivery)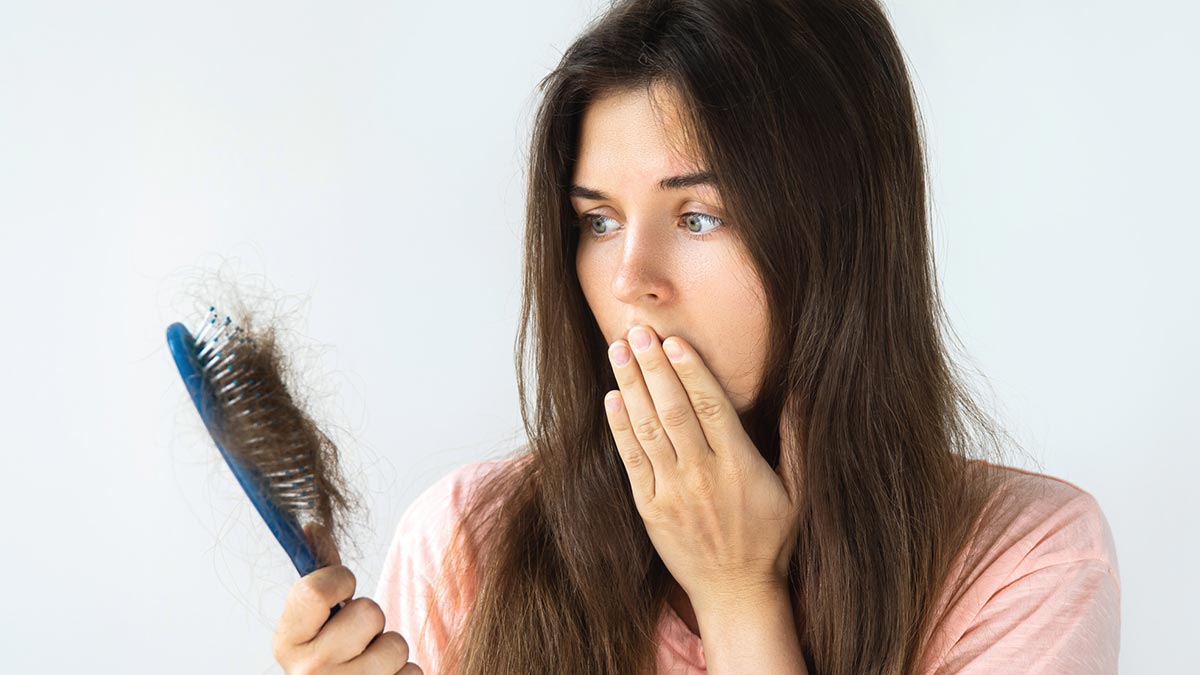 Dr Padgaonkar suggests women must include protein-rich food items and green leafy vegetables in the diet (post-pregnancy diet). Since a hair strand is made of protein, it is always a good idea to intake such vegetables and fruits that can add protein to your body.
Don't Miss: Ovulation Pain: Symptoms, Causes, Pregnancy Planning & Relief
She also said that postpartum stress is one of the most common issues among new mothers. "It can aggravate any condition, including hair loss after delivery." Hence, new mothers, their partners and their families must take every precaution to ensure a stress-free environment in the house.
Stay tuned with HerZindagi for more such stories!