Curry leaves add that extra flavour and aroma to your food. It is not just a random food item but has been regarded as one of the best superfoods that people across the globe including in their diet. Curry leaves are highly beneficial for your health and for your tresses. Rich in antioxidants, these can help in moisturising the scalp and removing dead hair follicles.
These aromatic leaves are not good for your health, but they are also good for your tresses. Curry leaves are rich in antioxidants that helps in moisturizing the scalp and removing dead hair follicles. They are also packed with beta-carotene and protein, which prevents hair loss and thinning of hair.
Health Benefits
Aids Weight Loss
Trying to lose weight? Well, curry leaves can help you out. According to research, curry leaves are said to reduce body fat, thus keep those unwanted kilos at bay!
Heals Wounds And Burns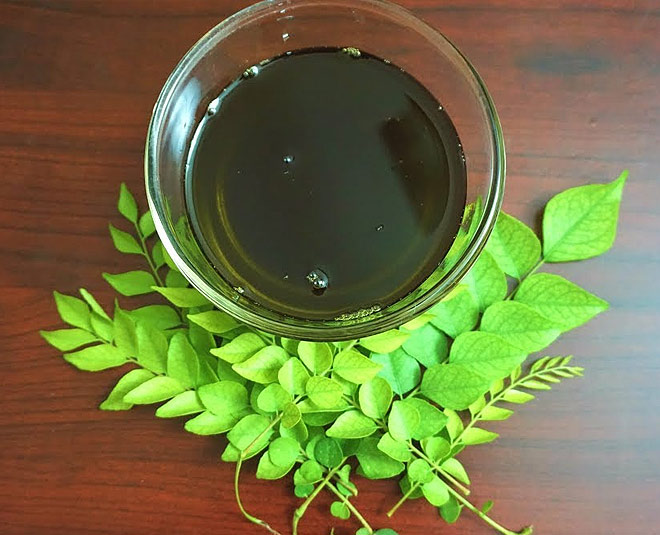 It is believed that curry leaves contain alkaloids that help heal wounds that are not too deep. They can also cure mild burns, inflamed or itchy skin and boils.
Help Sharpen Your Memory
If you want to make your kids a good leaner or sharpen their memory, start including curry leaves in their diet regime. According to research, it is proven that curry leaves can sharpen memory. It also reduces the effects of conditions like amnesia or loss of memory.
Keep Diabetes In Check
As per research, it is believed that curry leaves contain minerals like iron, zinc, and copper, which lowers the sugar level in the body and control diabetes.
What Are The Benefits Of Curry Leaves For Hair?
Promotes Hair Growth
Curry leaves mixed with fennel and rosewater helps increase blood circulation in the scalp and stimulates hair growth. Rosewater nourishes the scalps and curry leaves prevent hair loss.
How To Use It
Simply, mix 1 tbsp of fennel seeds with 1 tbsp of rosewater and 5-6 curry leaves. Blend well until they become a thick paste. Apply on hair from root to tip and let it sit for at least half an hour. Rinse and wash with a mild shampoo.
Prevents Hair Loss
Besides promoting hair growth and controlling hair loss, curry leaves also help strengthen the hair follicles. Curry leaves are rich in vitamin B and several proteins that boost hair health.
How To Use
Blend half a cup of curry leaves and hibiscus petals in a mixer. Add a spoonful of water and make a paste. Apply this paste on your scalp and tresses and wash it off after 15-20 minutes.
Controls Dandruff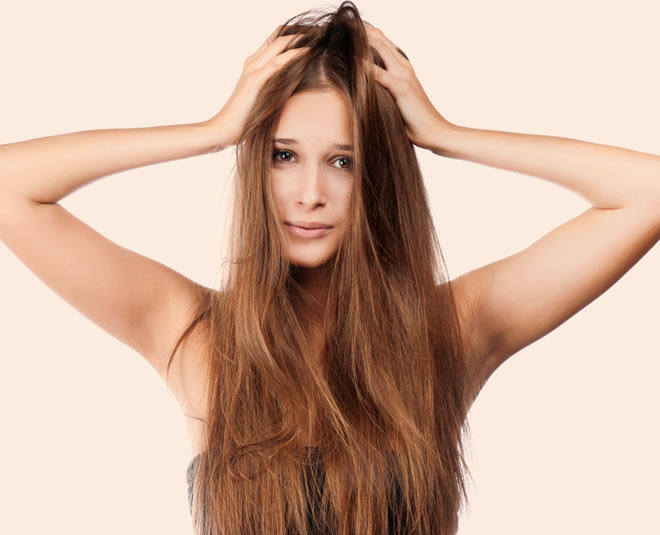 Curry leaves help to control dandruff. Its antifungal properties help in reducing dandruff and itchiness, thus leaving you with a clean scalp and healthy hair.
How To Use
For dandruff-free scalp, make this mask by soaking 15-20 curry leaves in water for 20 minutes. Crush them and add 2 tbsps of yogurt. Mix and apply the mask on hair. Wash hair with lukewarm water after 30-40 minutes.
Adds Shine To Your Hair
If you thought curry leaves can't add shine to your tresses, then you are wrong. Curry leaves are rich in several vitamins that can help you attain shine.
How To Use It
To prepare this mask, heat up 3 tbsps of olive oil for few seconds and add 8-10 curry leaves to it. Once oil cools down, massage it onto your scalp and hair. Leave it for 2-3 hours and rinse off with mild shampoo.
Don't Miss: Tired Of Hairfall, Dandruff Or Splitends? Tame All Your Hair Woes With Coconut Water
Helps With Dryness
Dryness makes the hair brittle, and it leads to breakage. Curry leaves acts as a natural conditioner, tackling dryness by restoring moisture to your hair.
How To Use It
To prepare this mask, boil 5-10 curry leaves in one cup of water. Once done, turn off the heat and let it cool. Once it cools down, rinse your hair with it and bid abide to frizziness!
If you have any remedy rolled up your sleeves share it with us on our facebook page and stay tuned to HerZindagi for more such articles.