She is an idol, an inspiration for many who aspire to be a combination of beauty and brains. But Sushmita Sen is also an icon because of her determination to be fit. It's not just her svelte body that turns heads wherever she goes as she is very much popular for advocating a healthy lifestyle on social media. But what exactly does this well-known celebrity do to keep looking fit and stylish after 40? Read on to find out.
No Stopping Sushmita
Image Courtesy: @sushmitasen47/Instagram
She continues to set an example for many with her dedication to workouts even though she had suffered a bad slip disc injury on the sets of a film in 2006 after which she had to take a break. But fitness is a priority for her and though she has always had a slim and tall frame, fitness is something else which needs constant work. And boy does she work out!
While her injury kept her away from doing the regular gym workouts, she resorted to doing yoga and that too aerial silk yoga which added to her agility and flexibility. It helped her recover soon and also gain lots of strength in the process. Now it's an established fact that yoga for fitness is an excellent regime that helps the body in more ways than one. The benefits of yoga that Sushmita reaps are there for all to see.
Core Care
Image Courtesy: @sushmitasen47/Instagram
The trendy diva keeps posting many pictures and videos of her working out at the gym which give us the ultimate fitness goals. Like many fitness freaks, Sushmita Sen also believes in the fact that a strong core is the key to maintaining a healthy weight and a toned body. She does a lot of core exercises including mountain climbers using TRX which helps in keeping hips, abs and core muscles stable. This workout also increases your efficiency of burning calories, helps to keep your heart healthy and improves your agility. Willpower matters a lot in such workouts and Sushmita keeps herself motivated at all times.
Read More: Sushmita Sen Performs Dhunachi Dance with Renee, Alisah
Staying Flexible And Strong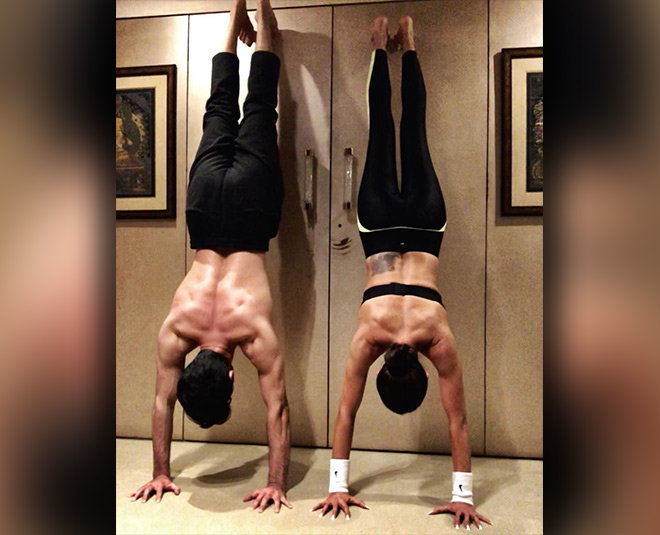 Image Courtesy: @sushmitasen47/Instagram
Along with her daughter Renee, Sushmita also works out to keep her shoulders and spine flexible by doing a set of anti-gravity exercises including ring rows and ring dips. The Bollywood beauty and pageant queen is working on her flexibility and body weight training and believes in the mantra – Stay strong and be different. She even captioned one of her Instagram fitness videos with this saying and went on to add that your destiny is in your hands and you have to get out there and hunt it.
A Diet To Die For
Sushmita also maintains a healthy diet which is nutritious to the core.
She begins her day with a breakfast of ginger tea+3 egg whites+bowl of porridge+vegetable juice
Her lunch comprises of rice+dal+vegetable curry/meat and she has a fruit afterwards
In the evening she has a bowl of upma or idlis with coffee
Sushmita, aged 43, surely sets an example for all 40 year olds who think they are too old to hit the gym. She manages this by being consistent, choosing fitness regimes without following a herd or fads and researching on the best techniques to innovate her workout style.
While we sit back in awe to watch her work out day after day to become an even better version of herself, what we need is to develop the willpower and get inspired enough to do the same to be as sensational as Sushmita Sen! For more on fitness tips, beauty hacks and news on fit celebs like Sushmita, keep reading more on HerZindagi. Don't forget to share your own fitness regime and style with us too!