Katrina Kaif is one of the most beautiful and fittest divas of the entertainment industry. She keeps indulging herself in different types of workout sessions. Whether it is Pilates or weight training, is there anything that she can't do? By looking at her body it is quite visible that one needs to work hard to achieve that level of fitness goals. If you have been feeling lazy or need some motivation to hit the gym right now, then go through these handpicked fitness ideas inspired right from Katrina's official Instagram handle.
Home workout
Image courtesy: Bollywoodmizaz
The whole pandemic scenario has made us realize that how important it is to be self-reliant and self-sufficient in life. Who says you need to have that expensive, heavy gym equipment to work out at home? According to Katrina, you can easily do some best warm-up and intensive exercises without stepping out of your house. Since the covid 19 situation is still not in control it is better to follow the safety measure and workout from your place.
Here Are Some of The Best Warm-up Exercises Suggested By Katrina
image courtesy: Stylecraze.com
Squat with feet hip-width apart 2 sets X 25 reps
How To Do It?
Stand with keeping a gap between your feet in proportion to your hips
Keep your toes outwards with palms in and arms to your sides
Your core needs to be engaged throughout and chest lifted with back straight while shifting your weight to your heels
Now, push your hips backward while bending knees and go down into a squat position.
Your arms and palms need to be in front of your chest
Then push weight towards heels to stand and squeeze your glutes part.
Squat With Feet Wide Parallel 2 Sets X 25 Reps
How To Do It?
Stand with keeping your feet in between your hips and shoulder with width apart distance
Point your toes in a forward direction and extend your arms to bring in front of you
Keep your chest lifted, feet flat, and look forward, your lower back needs to be in a perfect arch form
Now bend from your hips and knees to a level where your thighs are parallel to the floor.
Push from heels and stand, engage your glutes and then get back to starting position
Squat With Feet Wide Turnout 2 sets X 25 Reps
How To Do It?
Keep your head in a neutral position and chest in a forward position
Keep a slightly wide gap between your feets
Go in a squatting position by pushing your hips backward
Keep you back straight
Make sure while squatting your lower body part consisting of thighs, lower leg and feet should be falling in a straight line.
image courtesy: photo gallary.indiatimes
Benefits Of Squats
Squats help in strengthening your core muscles burns down the calories, make your lower body part stronger and shapes your abs and butt area.
Here Are Some Work Out Exercises By Katrina
Don't miss: Top 5 Workouts To Lose Arm Fat
Forward and Backward Lunge 2 set X 15reps
image courtesy: newskarnataka.com
How To Do Lunges?
Stand with your feet in a hip-width apart position
Keep your core engaged
Now with your right leg take a big step forward and move your body weight to the heels touching the floor.
Take your body in a lower position where the thigh of your right leg is in a parallel position to the ground.
When you can balance it out nicely, try touching your left knee to the floor with a tap. Your weight should be on the right leg heel.
Now press the right leg heel and get back in the starting state.
Repeat the same with the other leg
Don't Miss: Want Slimmer Thighs? Try These Top Six Workouts Regularly
In Hover, Hip Dips - 3 sets x 20 reps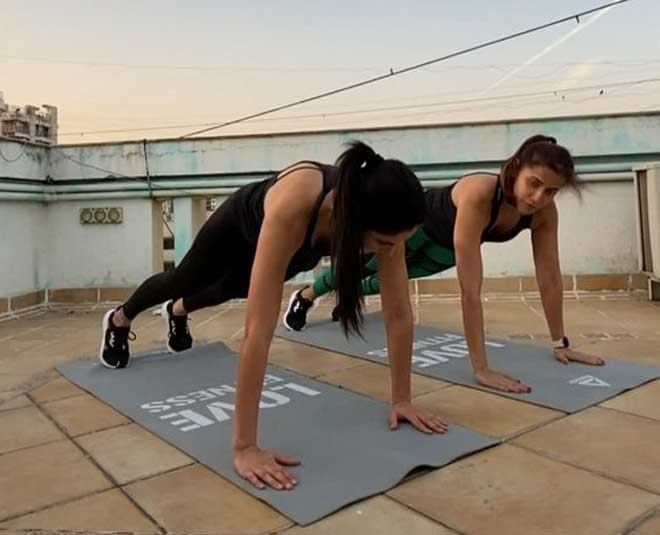 image courtesy: instagram
Lay down in a plank position, keeping in mind that your body is in a straight line, elbows are bending and locked and your feet hip-width apart
Slide your body on the right side in a dip with almost touching the floor position.
Get back in a neutral state and repeat the same on the other side.
Tell us which one of these exercises are you going to try? Stay tuned to Herzindagi for more.