Work from home has not only replaced the office going culture but has also become the norm. It is the only way to keep ourselves safe from COVID-19 along with continuing with our work. Working for long hours in order to meet the deadlines has given rise to a sedentary lifestyle at home. You might notice yourself spending hours glued to your laptop screens with minimal breaks in between.
Improper posture and sitting for long in the same position often result in body stiffness, neck pain, and back pain. All you need to do, in order to keep these problems at bay, is to squeeze out 5-10 minutes during the day to stretch your body a bit. Pen down a schedule for yourself and take a break every two hours. Get up from your desk, take a stroll outside, stretch your arms, or just sit idly. Here are a few easy and quick stretches you can do in between your breaks and prevent your neck and back from aching:
Forward Bend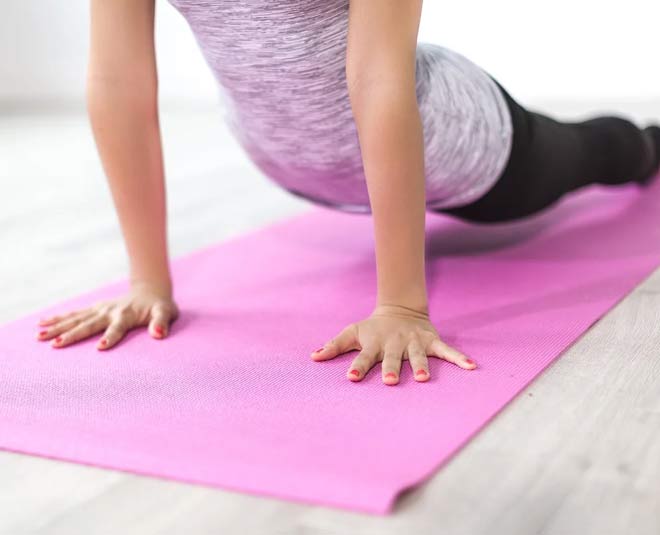 The quickest and most relaxing stretch to do is the forward bend. If sitting on the same chair for hours is taking a toll on your back, then you must try this stretch. This is ideal for people who complain about their back pain, thanks to their sitting posture. All you need to do is stand straight with your feet shoulder apart. Now slowly bend downwards and hang your body. Try touching your toes but don't strain your muscles in order to do so. Hold the position for 20-30 seconds and come back to the original position.
Don't Miss: Best Home Remedy For Hair Fall? Try These Easy Yoga Exercises!
Cat Pose
An easy stretch that could be done even while sitting in the comfort of your bed, this eases all your upper body muscles and straightens the back. Sitting for a long time stiffens your shoulders and you'll feel an instant wave of relaxation with this stretch. For this stretch, sit on your bed together with your leg folded backward. Now extend your arms and move forward on the bed with the help of your fingers. Now stretch forward with your arms extended ahead of you.
Neck Rotations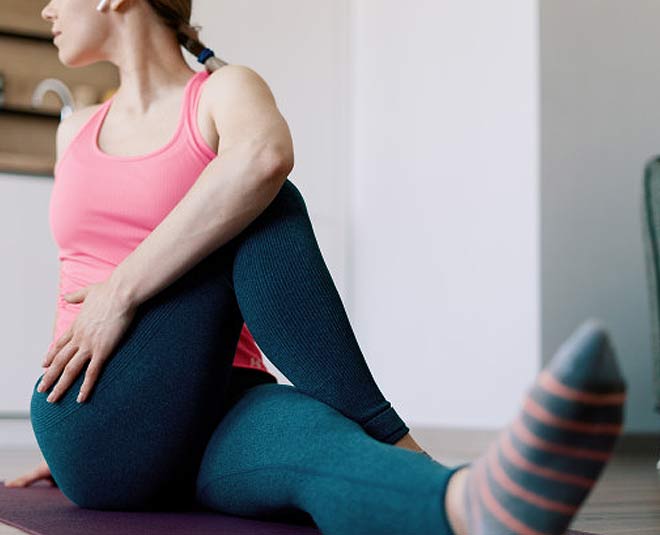 Always try to do neck rotations every few hours in order to prevent your neck from straining while working. You can do this exercise either while standing or while sitting. All you need to do is keep both your hands on your waist and turn your neck from side to side. Look towards the left and then look towards the right. Do this for 5-6 times and then switch to another exercise. Another neck exercise includes neck 360-degree rotations. In this start from below and rotate your neck by forming a full circle with it. Make sure you do it slowly and don't strain it in the process. Complete 6-8 rounds of this rotation and then relax.
Don't Miss: Must Do Exercises For Hands & Wrists If You Work On Laptops & Computer Systems
Back Twist
Back twist is an amazing exercise to ease your strained back and to help reduce love handles. You must inculcate this exercise in your daily routine in order to keep back fat at bay. To do this stretch, stand straight on your legs, and keep your hands on your waist. Now turn from side to side with your legs in the same place. Do this for at least 20-30 times and feel your back relaxed to the core.
Touch The Sky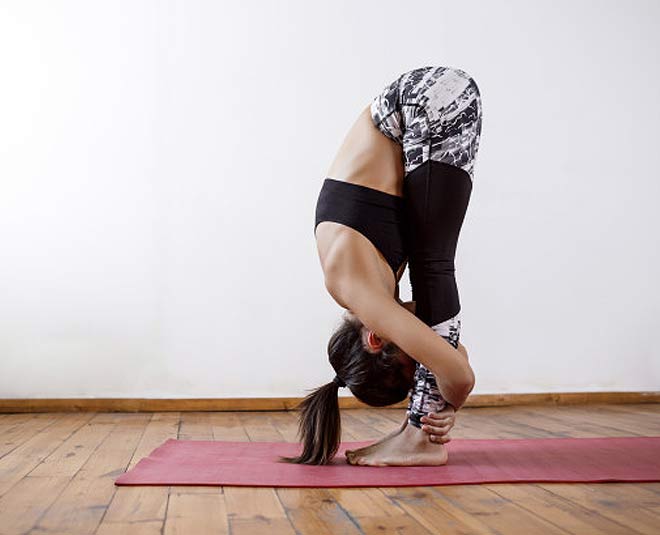 Another quick stretch to help ease both neck and back pain is this one. Stand on your feet and throw your hands upwards. Now stretch your arms upwards and try to touch the ceiling. While doing the stretch you will instantly feel your back straightening up.
Do these exercises at least twice a day in order to keep body pain at bay. For more on fitness and wellness, stay tuned to HerZindagi.com