Raw Mango or Kacchi Kairi is one of the most relished foods of India. Tangy summer drinks and tasty dishes from it are perks of living in a tropical country. It is widely popular because of its qualities that help people beat the heat, but there are many amazing health benefits of eating raw mango every day as well. Take a look at the list of benefits it can reap for your health, along with some yummy dishes made from it.
Boosts Immunity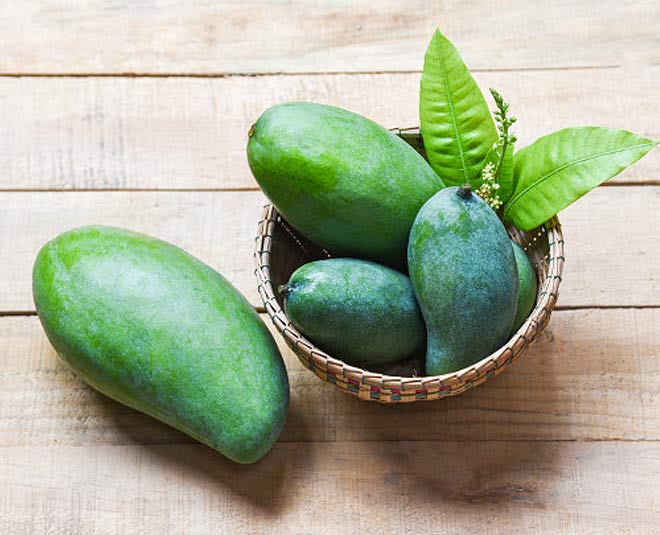 The fruit is rich in vitamin C and vitamin A which are vital for maintaining a strong immune system. Consuming uncooked raw mango is the best way to extract the maximum from the fruit. Vitamin C helps in treating skin problems and hair issues. Raw mango also protects the body from common cold, cough and various other infections.
Develops Liver health
Raw Mango acts as a detoxifier for the liver and helps in secretion of bile juice to the small intestine. It helps kill microbes and cleanses the intestines. Its antioxidant properties reduce the chances of liver ailments and diseases.
Don't Miss: Different Ways To Use Kokum For Weight Loss
Beats The Heat And Prevents Dehydration
It prevents the loss of fluids from the body and helps in retention of electrolytes. This makes it a perfect food for the summer season. It prevents the loss of sodium chloride and iron, stops excessive sweating, and protects from sunstroke.
Helps In Losing Weight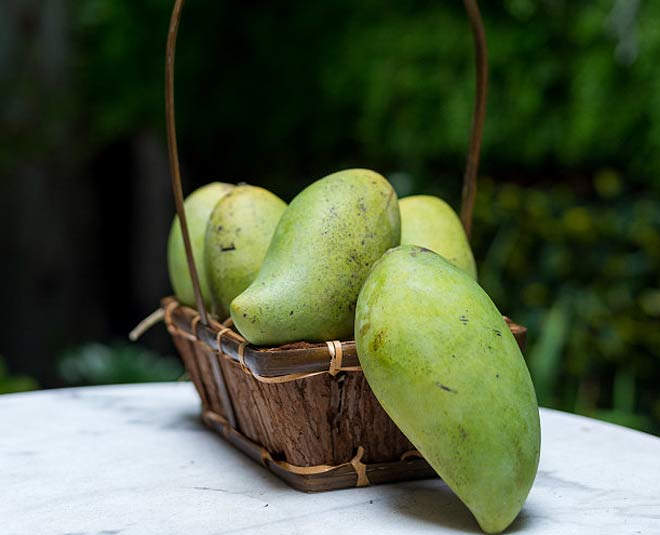 Kaccha aam boosts metabolism and helps the body burn more calories. The fruit itself contains very few calories and almost no sugars therefore making it a perfectly healthy food to include in a weight loss program.
Improves Dental health
Kacchi Kairi is a great food to eliminate bad breath. It cures bleeding gums and since it is rich in vitamin C it is used to treat scurvy as well. Raw mango prevents tooth decay and helps in maintaining strong and shiny teeth.
Don't Miss: Prune Juice: Five Reasons That Show Why This Beverage Has Been Health Staple
Cures Stomach Troubles
Raw mango is rich in a compound called pectin which treats gastrointestinal problems. It is also a high source of fibre which lowers hypertension. It contains vitamin B which helps in fighting constipation and indigestion. Raw mango is also prescribed to people suffering from morning sickness and it's a safe pregnancy snack.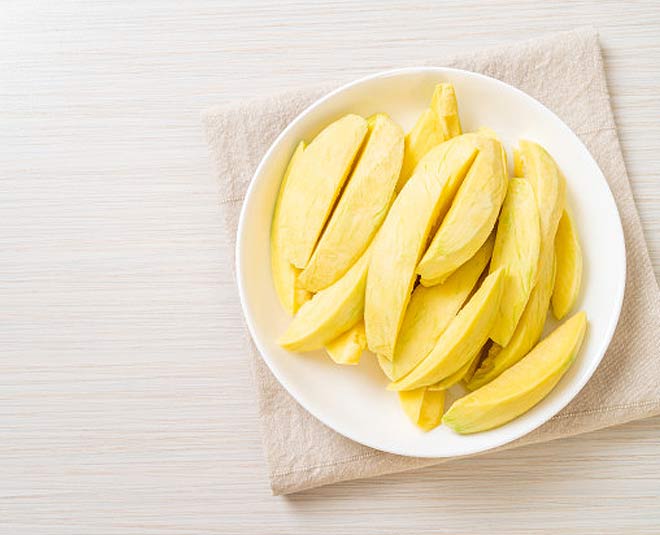 Here are a few recipes and ways in which raw mangoes can be consumed:
Raw Mango Sweet Corn Salad
Chop the raw mango and some other vegetables/fruits like pineapple, coriander, tomato, red bell pepper and spring onions. Add boiled corn kernels along with salt, spices and lemon juice. Garnish with coriander and savour the snack.
Aam Panna
Roast the raw mangoes a bit and then boil them. After boiling, cool them down and peel off the skin. Squeeze the pulp out, add some finely chopped coriander and put it in the blender. Blend it till it becomes a homogeneous mixture then pour it in glasses and add cold water and ice cubes. Enjoy during harsh summer days.
Mango Rasam
Dice the mango and boil it till it softens. Mash the mangoes to remove the skin. In a utensil make 3 cups of water, add the mashed mangoes, red chillies, turmeric powder, salt, jaggery and bring it to boil. In a separate pan heat oil and add hing, mustard seeds and curry leaves and simmer. Add the mango mix and cook for 2 minutes. Serve piping hot.
So, try these tangy kaccha aam recipes and reap a number of benefits from raw king of fruits.
For more such health tips and recipes, stay tuned to HerZindagi.com