After a long day at work, what do you really need? A refreshing beverage, something that can relieve your stress and make you feel relaxed. Right? I keep hunting for caffeine-free beverages that I can enjoy in the evening after wrapping up my work. So, this time I got my hands on this Tulsi green tea by Organic India.
Claims
Caffeine-free
Staple free tea bags
100% Certified Organic
Our infusion bags are made from unbleached, biodegradable fiber
Packaging
These tulsi teas came in cardboard packaging and had separately packed infusion bags. The tea bags are staple-free and as the brand claims, they have been made using unbleached, biodegradable fiber.
Price
Tulsi Original 25 Tea Bags - Rs. 168
Tulsi Sweet Rose 25 Tea Bags - Rs. 168
My Experience
To be honest, one big reason why I picked these teas was that they were packed with the goodness of Tulsi. We are still in the midst of a pandemic and to keep the deadly virus at bay, we have made a lot of changes in our diet since last year. One big change for me was adding green tea to my diet. I always knew that the antioxidants present in green tea do boost our overall health. When I got to know about these tulsi teas, I was impressed.
I was not only looking forward to the refreshing flavour of the tea but also the goodness of tulsi or holy basil and honestly, these teas didn't disappoint me. The flavour is rich, it really feels like you are really sipping on freshly plucked tulsi leaves infused water. These have a fresh and soothing flavour.
Making this tulsi tea was as quick as any regular gree tea. I put one infusion bag in a cup and poured hot water over it. I kept the infusion bag for about 1-2 minutes. You can keep it for longer if you wish to. I didn't add any sweetener to the tea but you can if you like. The Tulsi Sweet Rose Tea has a naturally sweet flavour so it can get just too sweet if you add an additional sweetener to it.
The directions mention that you can have it cold too but I am not really an iced green tea fan. There is like no specific time when I drink it but usually I like to have it in the evening.
If I talk about the benefits, yes, adding these tulsi teas to my diet has indeed helped me in many ways. From making me feel a lot more relaxed to helping in my digestion, these tulsi teas have worked wonders for me. If you are someone who feels overworked during this pandemic or just wants to enjoy a good cup of green tea, this should be your pick.
Don't Miss: 7 Reasons To Ditch Your Regular Chai For Tulsi Tea
Pros
Caffeine Free
100% Organic
Boosts Immunity
Reduces Stress
Packed With Antioxidants
Improved My Digestion
Easy To Use
Easy To Carry Infusion Bags
Affordable
Cons
Verdict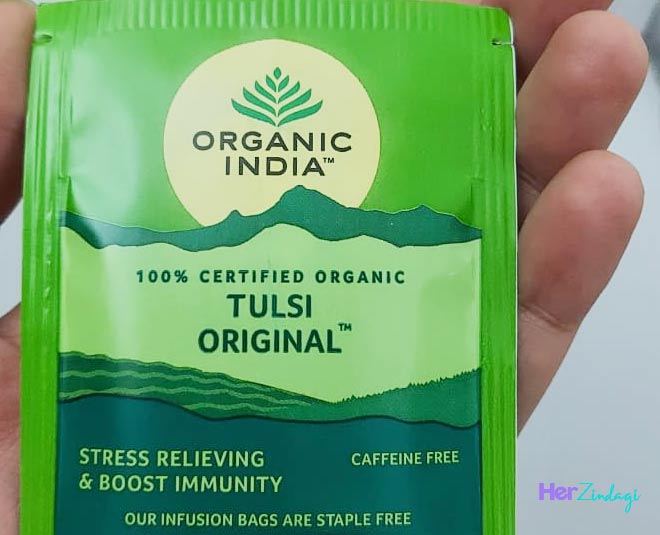 If you are hunting for a beverage that is light and healthy then you have to try these tulsi teas from Organic India. These come with the goodness of tulsi which can help boost our overall health. Also, it is affordable and refreshing. Must try!
Rating
5/5
Tell us if you liked this product review on our Facebook page. For more detailed product reviews, stay tuned to HerZindagi.