Mushrooms are tasty and can be made into snacks with stuffed cheese, as a spread on toasts, soups, curry or a dry 'sabji' which can be had with roti. Their cook time is very low as well so why not have it at least once a week and reap its health benefits? Read on to know more.
Brain Protection
Rich in antioxidants called ergothioneine and glutathione, mushrooms can be good agents for the prevention of Alzheimer's and Parkinson's according to a 2017 Penn State study. According to the researchers, 5 button mushrooms a day can reduce neurological illness. You can have them in any form, be it grilled or tandoor or a spread. This recipe might be of some help.
Anti-Ageing
Mushrooms are said to help the body from taking physiological stress which can cause wrinkles and other signs of aging. The antioxidants present are said to be of major help when it comes to anti-ageing.
Heart Health
Compounds named glutamate ribonucleotides make the mushrooms have an umami taste or broth like savory taste which does not affect your blood pressure or cause any heart disease. Which is why it can be replaced with salt in some dishes. A cup of mushrooms has only 5 mg sodium, which is why we have another reason why mushrooms are good substitutes for red meat in different dishes as well. This way you do not consume many calories, cholesterol, or fat.
Don't Miss: Beat Winter Chill With Yummy & Hot Creamy Garlic Mushroom Soup Using This Recipe
Bone Health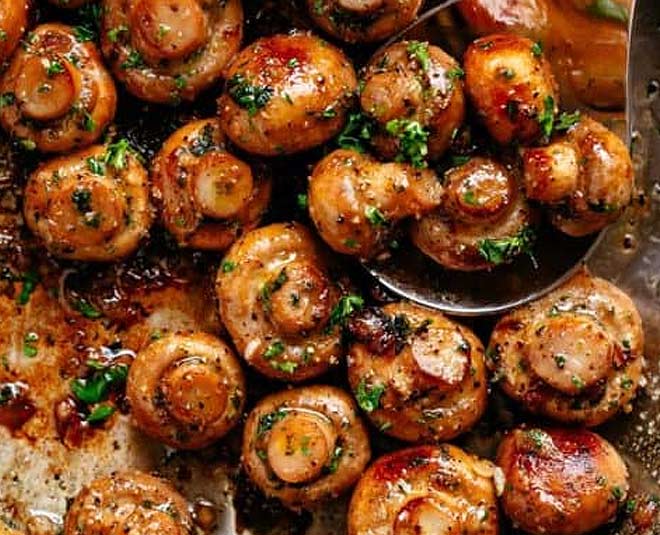 This is a huge benefit when we talk of UVB mushrooms. These mushrooms are labelled like that as they are exposed to sunlight while growing which turns them into Vitamin D sources. This is perfect for your bones as it completes the daily requirement of this vitamin in your body with 85 grams of mushrooms as a part of your daily diet.
Energy Level
To maintain energy, our body needs vitamin B which includes riboflavin, folate, thiamine, pantothenic acid. Mushrooms are very rich in them which helps the body in utilising the energy from the food that we have. The red blood cells produced help in distributing oxygen throughout our body.
Here is a bonus delicious recipe to turning mushrooms into a snack that can be had every other day.
Mushroom 65
View this post on Instagram
Ingredients
8 button mushrooms
1 tbsp cornflour
1 1/2 tbsp rice flour
1 tbsp maida
Red chilli powder as per taste
2 pinches of haldi
1/2 tsp garam masala
Salt as per taste
Oil for frying
Method
Wash the mushroom thoroughly and then using a kitchen paper towel, dry them completely. Cut them into quarter pieces.
In a bowl, mix in all the ingredients except the oil and add water slowly to make a thick batter. You may need just 3 tablespoons of it.
Now fold in the mushroom pieces and coat them well.
Let it sit for 5 mins and then heat the oil in a kadai or a deep pan.
Once hot enough, start immersing the mushrooms in it on a medium flame and take them out when they become crisp.
Drain the oil and serve hot with a chutney or just like that.
To know the benefits of all the fruits and vegetables, stay tuned to HerZindagi.