The entire pre-wedding time for a bride to be is not less than a festival in India. The most common issues that brides face are gaining weight, dull skin, following diet charts, samosa binging, drained out feeling. Ekta Sood, Nutritionist at Diet Dazzle says that "You are not alone! There is so much that goes on in your life simultaneously that your health may suffer." Here are some recipes and diet tips shared by her which will make the journey easy for you.
Keep The Energy Level High
Wedding preparation means unending shopping sprees, fittings and trials, meeting a lot of guests, a new pre-wedding ritual every day and the list goes on. There are days when you will skip out on your meals. There could be days when you feel extremely drained out. This clearly starts reflecting on your skin and eyes which is the last thing you would want on your D-Day. Try these amazing nutty energy balls for an instant energy kick. Just keep in your handbag wherever you go.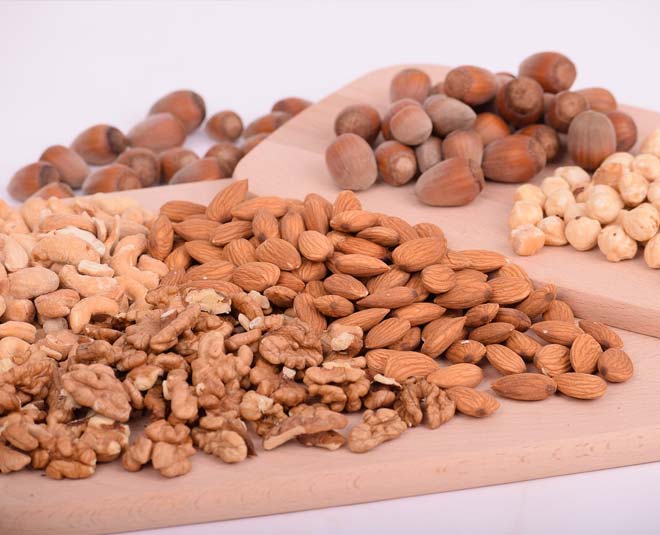 Image courtesy: pixabay
Ingredients:
1 cup pitted dates
1 handful roasted almonds (grounded)
1 handful peanuts
1/2 cup sesame seeds
1/4 cup pumpkin seeds
1/4 cup unsweetened cacao powder
1/4 cup shredded coconut
1/2 oats (blended)
Recipe:
Mix all ingredients to make a dough or use a food processor (I prefer using hands) and blend until mixture is consistent and shows a texture.
Use your hands to press and shape the mixture into balls, coat them with sesame seeds or coconut and place the balls into the fridge to set.
Pro tip: When your "dur k rishte walee aunty" try to force-feed you mithai, tell them to make you eat this bar instead.
For That Pink Glow
Salad-salad everywhere, but which salad to eat? Every bride has a secret wish to have that pink glow on their face on their D-day. While we don't underestimate your partner's potential to make you blush with their compliments, try this amazing carrot and beet salad for those rosy pink cheeks and an instant glow. You can thank me later for those amazing photographs.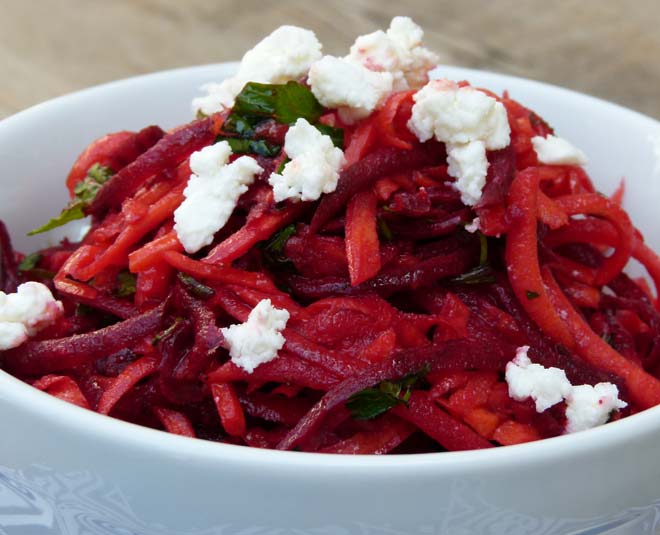 Image courtesy: pamelasalzman
Ingredients:
½ anar
¼ grated carrot ( grated)
½ grated beet (grated)
1 lemon
1 tbsp white sesame seeds
Salt according to taste
Method:
Mix the anar, grated carrot and beetroot in a bowl.
Add white sesame seeds.
Squeeze fresh lemon for that tangy twist.
Add salt to taste.
Here's one more Super Skin Glow Juice to make your skin bright and vibrant both from outside and inside. It is high in oxidants that makes the system alkaline.
Ingredients:
½ beetroot (diced)
1-2 carrots (diced)
1 cucumber diced)
1 handful mint
1 amla
1 coin ginger
1 Lemon
1 pinch pink/ black salt
Recipe:
Dice all the ingredients, put them in a blender with very little water, and churn into a juice.
Pour the juice while straining it
Squeeze fresh lemon juice and salt at the end.
Consume within one hour for the best results.
Don't Miss: Keratin Vs Hair Spa, Which Hair Treatment Should You Choose?
Shed Those Extra Kilos
You are beautiful the way you are but keeping your weight in check can be difficult with lots of "meetha" feeding by the relatives and scrumptious dishes made in the kitchen. After all, "shadi wala ghar hai!" But you want to fit in that dream lehenga which you ordered 6 months earlier, right? Here are two power pact breakfast dishes to set the tone right for your entire day. Do not skip your breakfast in the name of crash dieting.
Overnight Soak Oats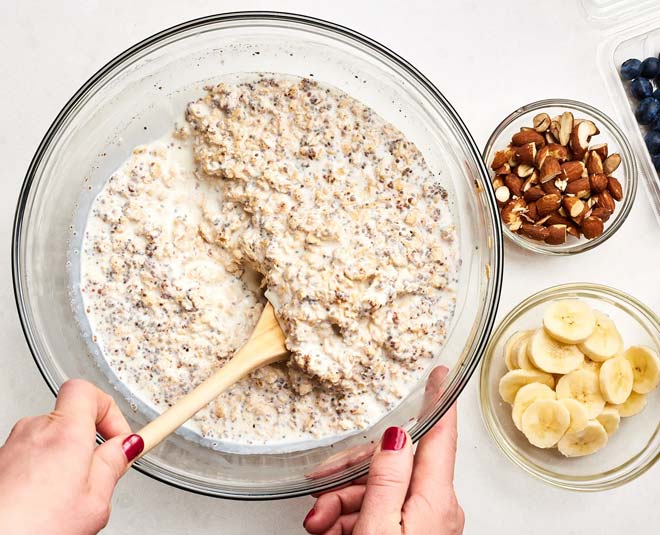 Image courtesy: apartmenttherapy
Ingredients:
1 cup yogurt
2-3 tbsp oats
1 tbsp chia seeds
1 pinch cinnamon
Chopped nuts
Seasonal fruits (chopped)
Seeds- 1tbsp
½ banana
Recipe
In a glass/or small narrow jar add yogurt, oats, chia seeds, cinnamon, ½ banana (mashed) and cover it.
Keep it in a refrigerator to set it properly.
Next morning, top it up with cut fruits, nuts and seeds.
"Another personal recommendation that I give to my to-be-brides is a power house smoothie. On those rush days, it will help you save your time and further clear your skin. It is the best remedy to cure constipation."
Ingredients:
Coconut water
1 cup Banana
Spinach(handful)
½ apple (peeled)
1 tbsp Chia
Recipe:
Blend all ingredients till you get a smooth texture.
For Your Late Night Conversations
Late night conversations and funny banters with your partner during your courtship period is the most amazing thing ever. Don't you agree? However as a dietician, I am always worried that my clients end up having midnight hunger pangs due to irregular sleeping schedules. So, here are two healthy snacking options that I give to my would-be-brides. No calories, only conversations is my secret mantra.
Stew apple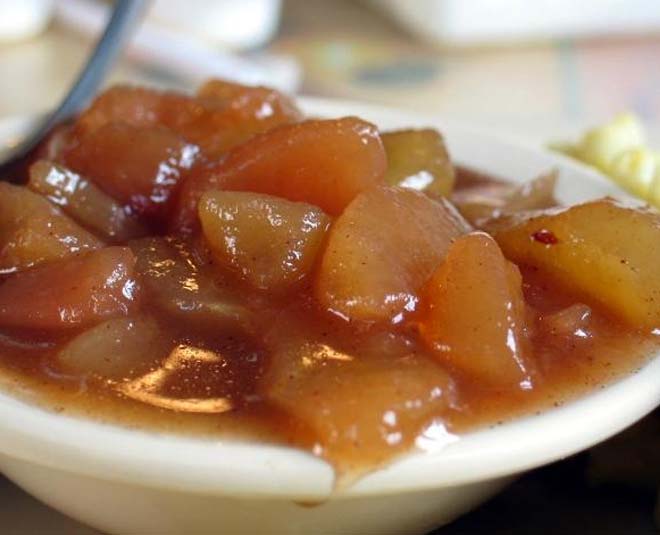 Ingredients
1 apple
3-4 clove
½ cinnamon stick
2 pinch cinnamon powder
60 ml water
Recipe
In a pan add water and big chunks of chopped apple, clove , and cinnamon.
Cover the pan and let it cook in low flame for 7-8 mins.
Let it cool down a bit and enjoy warm stew apple.
Do not mash the apple.
Don't Miss: Wedding Season: Expert Tells Us Winter Bridal Makeup Tips & Trends
Makhana Namkeen
Image courtesy: whiskaffair
Ingredients
Makhana
Rice flakes
Raisins
Almond
Curry patta
Pink salt
Ref chilli
Desi ghee
Peanuts
Recipe
Ghee Roast all the ingredients individually.
In a pan add 1 small spoon desi ghee, pink salt, red chillies. (Add flavor according to your taste)
While roasting rice flakes add curry patta also.
Mix all the ingredients and enjoy.
Next time, binge on these secret midnight snacks rather than opening your drawer to take out an instant noodles or a pasta packet.
On that note, happy wedding!
Stay tuned to HerZindagi for more such tips and recipes.