Supple Skin To Smooth Hair: 5 Reasons To Use Sesame Seed
Get glowing skin and gorgeous locks by just including sesame seeds in your beauty regime. Read to know its benefits.
Sesame seeds are a big part of Indian and western cuisine but do you know about the numerous beauty benefits they have? High on oil content amongst all types of seeds, they are used to treat a variety of skin ailments and are good for the hair too. Called til seeds in Hindi, sesame seeds can be consumed or applied in various forms for a range of benefits.
Anti-Inflammatory Properties
The excellent healing and anti-inflammatory properties of sesame seeds make them perfect for use against problems of inflamed skin that accompany diseases like boils or acne. Sesamin, another compound present in sesame or til seeds has been shown to be very promising in improving the efficacy of vitamin E supplements that are good for the skin.
Anti-Bacterial Properties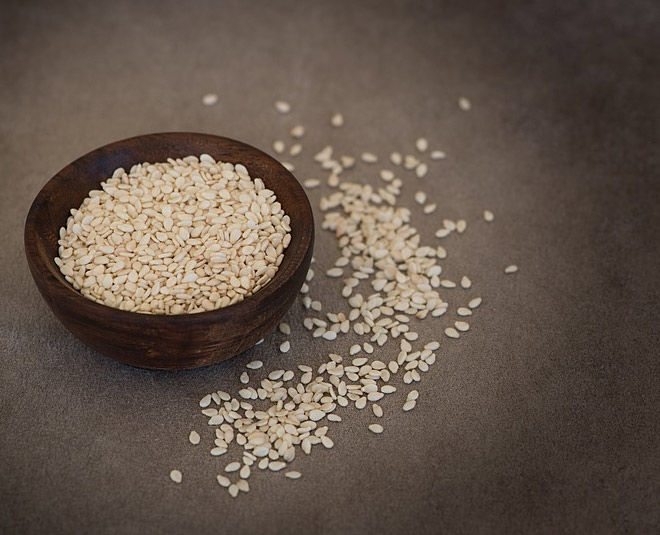 Skin ailments are sometimes caused by excessive growth of the microbes that are present on our skin such as staphylococcus and streptococcus. Sesame seed oil can be very helpful in curbing the infections caused by such pathogens.
Read More: Homemade Hair Mists For Dry Scalp
Anti-Fungal Properties
The natural organic compound sesamol found in sesame seeds is a known anti-fungal compound. Common skin ailments caused by fungi such as athlete's foot can be treated using sesame seeds. Sesame seed oil mixed with warm water is particularly helpful in reducing vaginal yeast infections.
UV And Chemical Protection Properties
Have a suntan or sunburn? Sesame seeds can come to the rescue. Just apply a little sesame seed oil on the affected area and it will lessen the harmful impact of sun rays that age your skin and cause pigmentation. Apply sesame seed oil on your body before swimming in a pool and it will even counteract the harsh effects of the chlorine in the pool water.
Detoxifying Properties
Molecules of sesame seed oil have property of attracting oil-soluble toxins. To make it a part of your beauty regime, wash your face every night and then apply a mix of the oil with vinegar and water (1/2 cup sesame seed oil+1/2 cup apple cider vinegar+1/4 cup water).
Read More: Different Ways Of Consuming Chia Seeds
Other Beauty Benefits Of Sesame Seeds
Help in making skin soft and supple
Makes the skin glow and heals minor abrasions or cuts
Reduces enlarged skin pores. For this, do a sesame seed oil massage followed by a besan scrub routine
The Omega-3, Omega-6 and Omega-9 fatty acids present in sesame seeds promote the growth of hair. Massaging the scalp and applying a bit of the oil on the hair prevents flakiness and gives protection to the hair from the sun rays. It also prevents premature greying of hair.
Using sesame seed oil with other oils such as almond oil or olive oil can multiply its benefits. So include sesame seeds in your diet and also increase its application to have healthy skin and hair in no time.
Recommended Video
For more such beauty and skin care tips, stay tuned to HerZindagi.com