With the hot summers, juicy and refreshing watermelons are here. Do you know, watermelons can completely transform your skin?
Watermelons are packed with the goodness of antioxidants and vitamins which are great for our skin. Of course, you should add watermelon to your daily diet but you can also use it on your skin for its amazing benefits.
Benefits Of Watermelon For Skin
Watermelon works as a natural skin toner. It helps refresh the skin.
Antioxidants present in watermelon help fight the free radicals and prevent skin from ageing.
Applying watermelon on your face can help reduce pore size and oil production.
Since watermelons have high water content, they are great for dry skin. Applying watermelon on the skin is great for anyone with dry and dehydrated skin.
The vitamin C present in watermelons helps you give not just soft but glowing skin.
Watermelons can work like magic on a sunburnt skin as it has minerals and antioxidants which can reduce inflammation, redness on the skin.
Have you ever noticed that watermelon has tiny granules present in it? These granules help in exfoliating your skin naturally.
How To Do Watermelon Facial At Home?
Step 1 - Cleanse Your Face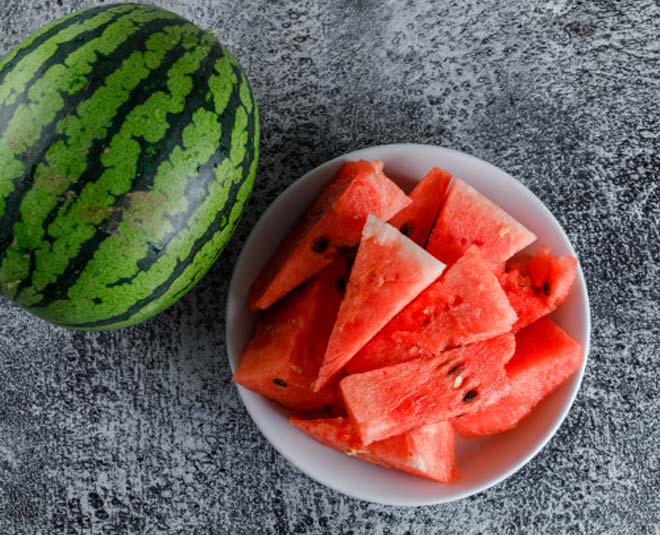 Begin with cleansing your face. Make a cleanser using some watermelon juice and coconut oil. Mix both the ingredients well. Using a cotton ball, apply it all over your face and neck. Keep it for 5-10 minutes and then wash off.
Step 2 - Exfoliate With A Scrub
Prepare a scrub using watermelon juice and rice powder. Mix well. Start to scrub your face with this scrub. Make sure you don't go too harsh on your skin. Massage the scrub gently in a circular motion for about 3-5 minutes.
This scrub will help you get rid of all the dead skin, blackheads, and whiteheads.
Step 3 - Massage
After exfoliating your skin, it is important to moisturise it. Prepare a massaging cream using some watermelon juice, honey, lemon juice, and coconut oil (coconut oil for skin). Mix all the ingredients well. Watermelon massage cream is ready.
Start to gently massage this cream on your face in circular motion till it gets absorbed in the skin. This massage cream will help increase the blood circulation on your face and give you a beautiful glow.
Don't Miss: From Improving Digestion To Preventing Cancer, Drinking Watermelon Juice Has Numerous Benefits
Step 4 - Watermelon Face Mask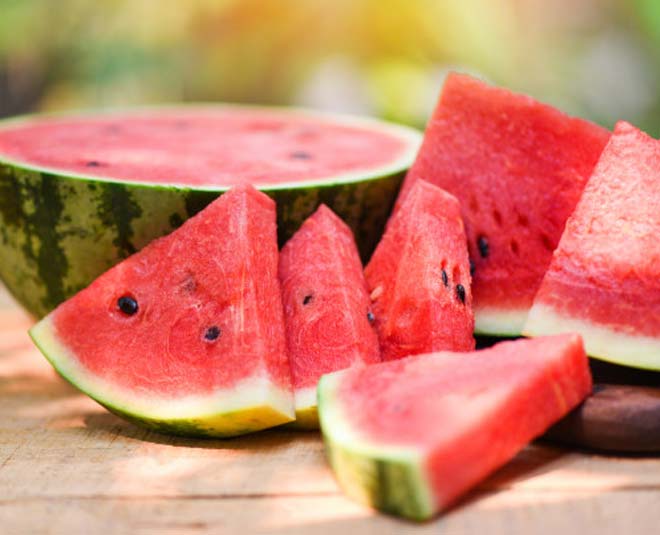 Finish off the facial with a refreshing and hydrating face pack. In a bowl, add some gram flour or besan, milk, and some watermelon juice. Mix well. Using a brush, apply this face pack all over your face and neck. Let it sit for 15 minutes or till it dries and then wash with normal water.
Don't Miss: Lesser-Known Health Benefits Of Watermelon Seeds That Will Compel You Have Them Regularly!
Avoid using any skincare product right after the facial and let all the ingredients set into your skin and do the magic.
Though this homemade facial is completely natural and usually has no side effects, it is best to do a patch test on your hand before using any of these steps on your face directly to prevent any skin problems.
Do try doing this watermelon facial at home and share your experience with us. For more such beauty stories, stay tuned!