Air travel has become quite common these days, it is a high speed, fast mode of transport that perfectly goes with our modern lifestyle these days. Travelling at such a high speed and across time zones can disturb our normal cycle.
Most of us are aware of the 'jet lag' after long flights but even during short flights, our skin goes through a lot, the air conditiond cabin, air pressure changes can lead to dehydration of our body and skin.
From travelling in an air conditioned car to reach the airport to waiting in airport lounges, our skin gets exposed to too much airconditioned air which can be harmful. Airconditioning can take away all the moisture from our skin and leave it dehydrated which further can lead to lethargy and fatigue. The lack of humidity while air travelling also leads to loss of moisture from the skin.
Beauty and wellness expert, Shahnaz Husain shared some quick tips and tricks that can be helpful during air travel. Read on.
Stay Hydrated
The expert shared that drinking plenty of water during flights helps maintain the water balance in the body and keeps the skin hydrated too. One can sip on fruit juices but should completely avoid aereated drinks. One should also avoid consuming alcohol and coffee during the flight as it can lead to dehydration.
Keep A Moisturiser Handy
It is a good idea to keep a moisturiser handy all the time during the flight. It should be used whenever you feel your skin has started to get dry. It helps keep the skin moisturised and works like a protective layer. Using a moisturiser regularly helps in keeping the skin youthful. It is better to pick a moisturising crezam that is non-greasy and leaves your skin soft and moist.
While picking your moisturiser, check for ingredients like honey, sandalwood, almonds among others as they are healthy for your skin. Apply all over face, neck and hands.
Wash Eyes With Water
Most of us usually end up with puffiness under our eyes after flights. This is usually due to the lack of fluids during air travel. Wash your eyes with normal water if your eyes feel tired and heavy after the flight.
On arriving at your destination, take two tea bafs, steep them in water and use on your eyes. Keep them for 15 minutes. They will help relax your eyes.
Pack Lip Balm Or Cream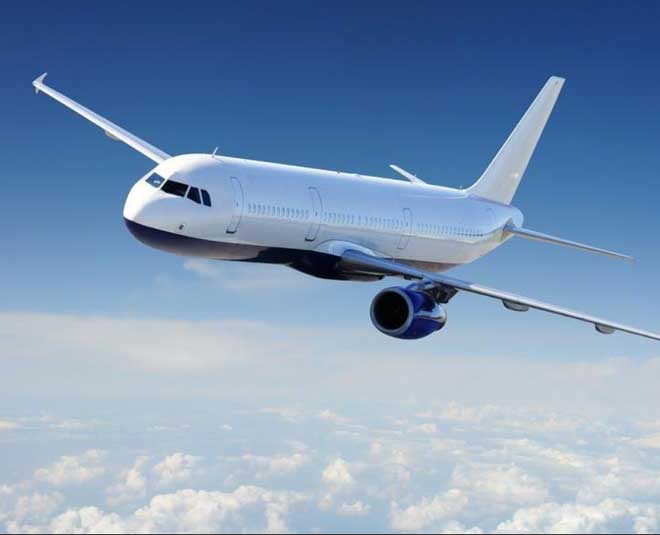 Your lips also suffer from dryness during air travel. Keep a lip balm or cream handy and apply during your flight. The expert shared that an almond cream is ideal for the lips.
Don't Miss: Ever Wondered How Cellphone Is Affecting Your Skin? Read What Expert Shahnaz Husain Has To Say!
Tips To Relax Body During Flight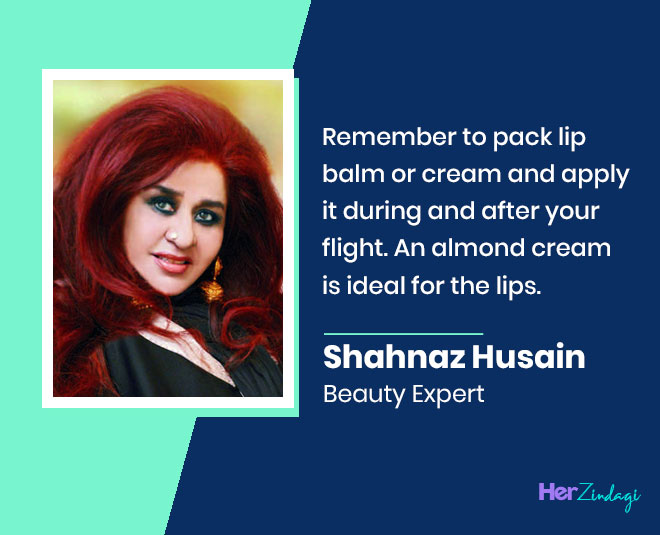 Travelling by air means you have to sit at one place for hours and this can lead to fatigue. The expert suggested that one should avoid wearing tight clothes. To prevent fatigue and helping circulation in the feet, they should be kept raised with some support. Wiggling the toes and making circular motion with feet can help. Walking down the aisle or stretching yourself can help relax your body. Also, doing some deep breathing can help calm your mind.
Don't Miss: Makeup Tips By Shanaz Husain To Be Camera Ready
Relief From Jet Lag
Long flights bring along sleeplessness, indigestion, headache, loss of appetite, mood changes, depression and disorientation. To minimise these effects, the expert suggested exercising regularly. Working out a few days before the flight, even brisk walking can help. Furthermore, the expert suggested eating light meals during the flight, having salads and fruits to ward off symptoms of jet lag.
Shahnaz Husain is a well-known beauty and wellness expert. She is the chairperson of The Shahnaz Husain Group. For more such expert tips from Shahnaz Husain, stay tuned to HerZindagi.