Shahid Kapoor's wife Mira Rajput Kapoor is one of the most popular social media stars today. The celebrity wife is super active on her Instagram and has now turned into a social media influencer. If you follow her closely then you know that her Insta handle is all about sneak peeks into her personal life. Mother of two, Mira Kapoor keeps interacting with her fans through fun Q and A sessions on her social media. This weekend again, she answered to the questions of her followers. Amidst all the fun questions, one user asked Mira about her skincare routine. We can't thank Mira for sharing it all on Instagram.
If you are Mira Kapoor's follower on Instagram then you know it is hard to scroll down her handle without double-tapping any of her posts. Mira Kapoor looks flawless in all her pictures and many of us keep wondering if it is filtered. It is Mira Kapoor's birthday and we thought of treating you all with the secrets to her flawless skin. Well, Mira Kapoor follows a proper skincare routine at day and night to maintain her beauty.
When asked what's her skincare routine, Mira Kapoor shared both her day and night beauty routines.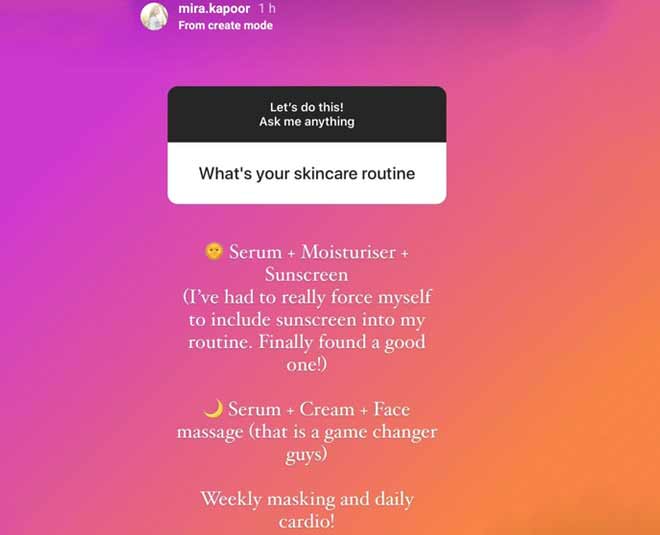 Day Skincare Routine
Serum + Moisturiser + Sunscreen
Mira wrote that she has forced herself to include sunscreen to her beauty routine and she found a really good one.
Serums are basically used to treat specific skincare concerns like acne, dryness, or wrinkles. A serum works deeply into your skin and deals with your skin issues. It can be chosen according to your skin type and issue.
Don't Miss: Mira Rajput's Priceless Beauty Tip For Soon-To-Be Brides Will Make You Wonder Why You Never Thought Of It!
Dryness is one of the most common reasons for skin issues. Moisturising your skin helps in keeping your skin healthy and glowing. It also prevents premature ageing by fighting signs like wrinkles and fine lines.
Sunscreen protects your skin from the harmful rays of the sun and prevents any skin disorders like skin cancer, premature ageing, tanning, or discolouration.
Don't Miss: HZ Exclusive: Mira Kapoor Swears By These Desi Spices In Her Kitchen
Night Skincare Routine
Serum + Cream + Face Massage
Mira Kapoor shared that the face massage has come as a game-changer.
Serum, like we mentioned earlier works on your specific skin issues. It is extremely beneficial to use a face serum at night as it gets enough time to set in your skin and treat your concerns. A massage cream again moisturises your skin well and prevents it from drying overnight. Last but not the least, a quick face massage can really transform your skin. It has a lot of amazing benefits for the skin. Face massaging helps in increasing blood flow in the skin which gives your face a beautiful glow. It also helps in fighting skin problems like scars, dullness, ageing signs, and tiredness among others.
Other than following these beauty routines, Mira Kapoor goes for weekly masking and everyday cardio. Face masks are so beneficial, they help in treating a lot of your skin problems. From hydrating your skin to removing excess oil from your skin, face masks can work like magic on your skin. On the other hand, cardio makes your skin glow from within. It helps in increasing your heart rate which further improves blood circulation and makes your skin healthy. Doing cardio everyday helps in collagen production which promotes new skin cells and keeps your skin glowing and youthful.
Well, Mira Kapoor's skincare routine is really easy to follow and looks like works for real, at least for her. Do follow Mira Kapoor's beauty routine for a skin like her. For more such celebrity beauty secrets, stay tuned to HerZindagi.