There are so many ingredients in our kitchen that can benefit our skin and hair in different ways. One such natural ingredient is saffron. Saffron or kesar is a commonly used spice in Indian kitchens. It is generally used to add colour and fragrance to our foods. But did you know saffron can be used in your beauty routine too?
Preparing saffron oil is an easy way to make it a part of your everyday skincare routine. Saffron is packed with calcium, vitamins, potassium, and magnesium which is great for our skin and hair.
How To Make Saffron Oil At Home?
You Will Need:
100 ml almond oil
10-15 strands saffron
1 airtight container
Directions:
In a small container, add 100 ml almond oil. Now add 10-15 strands of pure saffron to it. Seal the bottle and store it in a cool and dark place for 7 days. The oil will a little orange and that's when it is ready for use.
Don't Miss: Start Drinking Saffron Water For These Health Benefits
Benefits Of Using Saffron Oil For Hair And Skin
Good For Acne Prone Skin
Saffron has antioxidant properties that help in fighting acne. The anti-bacterial properties of saffron clear acne completely and prevent them from occurring again. Using saffron oil also helps in treating acne spots and marks. An easy way to use this oil is by adding them to your homemade face masks.
Reduces Hair Loss
Saffron helps in new hair growth and prevents hair loss. Using saffron oil on your hair roots can help in making your hair strong and healthy. You can also mix saffron oil with another hair oil if you wish to.
Works As A Skin Toner
The antioxidant properties of saffron make it great for your skin. Using saffron oil on your skin can tone your skin naturally and give it a very healthy glow. Applying this oil regularly also helps in fighting free radicals which damage our skin and make it look old and dull. As it works like a toner, it prevents the unclogging of skin pores which lead to blackheads and whiteheads.
Don't Miss: Homemade Saffron Or Kesar Face Packs For Glowing Skin
Lightens Skin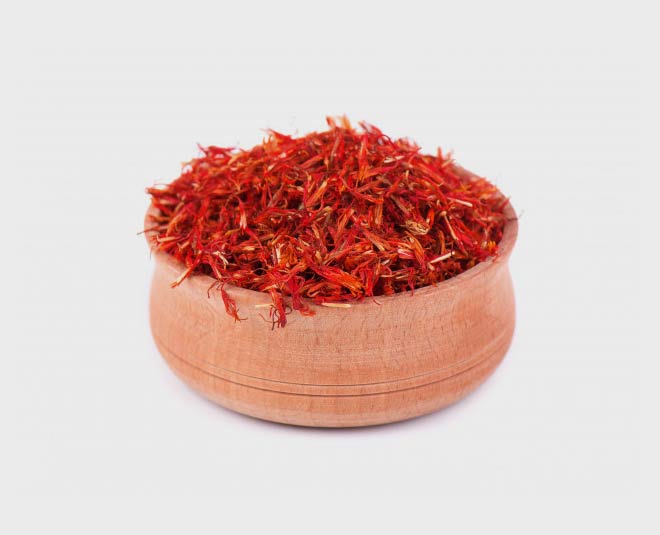 When exposed to the harmful rays of the sun and polluted air, our skin starts to look dull and dark. Saffron works like a natural skin lightener. It helps in lightening your skin complexion and gives you a fair and natural glow. Wash your face and then pat dry. Take a few drops of oil and apply all over your face and neck. Gently massage and wash after a few minutes. You can also keep the oil overnight and wash it the next morning.
Keeps Skin Healthy
Saffron oil helps in exfoliating and improving blood circulation in the skin. It can instantly freshen up your skin and make it look glowing. Saffron is a great moisturiser, a must for dry skin. It gives your skin the much-needed moisturisation and keeps it smooth.
Though this oil is completely natural, it is best to do a patch test on your hand or elbow to check if it is safe for use. If you feel itchiness or see redness on your skin, don't use this oil on your face. If there is no allergy or itching then you can use it on your skin and hair. Do make saffron oil a part of your hair and skin routine to enjoy all its amazing benefits. For more such beauty stories, stay tuned to HerZindagi.