Amidst these unhealthy lifestyle habits, hectic work schedules, getting clear, healthy, and glowing skin looks like a dream. Continuous exposure of the skin to the harmful sun rays, having an unhealthy diet, and sleep disorders, there is so much that contributes to our unhealthy-looking skin.
Acne, pimples, blemishes, pigmentation, there are multiple skin issues we all face, and getting rid of them simply feels impossible at times.
So, what can really help you get clear and glowing skin? Well, popular nutritionist, Pooja Makhija has shared 2 simple hacks that can help you get clear skin and get rid of all these common skin problems. Read on to know.
1. Have 2.5 - 3 L Water Everyday
The expert shared that our skin is the reflection of our gut is from the inside. If the gut is dehydrated then your skin will get dry and lead to acne.
Hydration helps in reducing digestive problems like constipation and also reduces irritation in the gut.
She added a quick tip and shared that adding a tsp of sabja seeds or sweet basil seeds to the first 1 litre bottle. This will help in keeping your gut cool and make your skin clear.
Let us tell you that acne occurs when there is a build-up of dead skin cells, oil, and impurities on your skin. When you drink a good amount of water everyday, you are able to hydrate the skin cells and wash off all the impurities, dust, and dead skin accumulated on your skin.
Don't Miss: This Guide Will Help You Flawlessly Cover Acne Marks With Makeup
Also, acne is a common skin issue that is suffered by women with dry skin. Drinking enough water keeps the skin hydrated, soft and smooth. This further prevents the appearance of acne and keeps your skin young and glowing.
View this post on Instagram
Drinking water also helps in reducing inflammation which can make your acne look red and swollen. When you drink enough water, your body fights against6 inflammation and reduces the appearance of acne.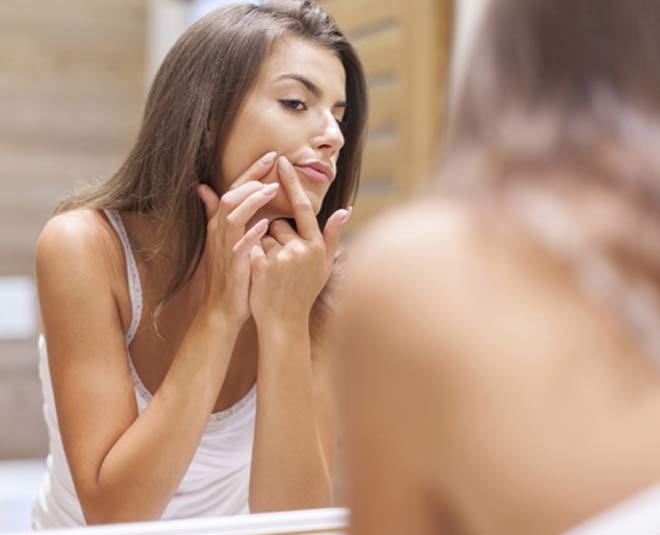 Dry and flaky skin can have more acne breakouts. To prevent these breakouts, it is important to keep your body hydrated for long. Drinking a good amount of water throughout the day helps you achieve soft and glowing skin.
When you drink water in the morning, you are able to flush out toxins from your body which is one big reason behind the appearance of acne.
2. Reduce Dairy
Dairy irritates the gut and irritation in the gut can lead to acne. Cutting out milk, yogurt, paneer, buttermilk, and cheese among other dairy products can prevent any irritation in the gut. These dairy products have lactose which can lead to inflammation. Not consuming any dairy can help you get clearer skin.
The dairy-acne debate is never-ending. While some people believe it, some just don't. However, there have been numerous studies on the same and some suggest that milk can increase the insulin level of the body and affect the blood sugar of the body which further leads to acne. Another study suggests that dairy products have amino acids which can lead to the development of acne. It is believed that consuming dairy products too often can worsen acne.
Don't Miss: How To Get Rid Of Old Acne Scars
Well, the expert suggests completely cutting out dairy from your diet for a clear skin.
The expert suggested that one must try these tips for at least 2 months to see the difference.
We hope this guide helps you get rid of all skin issues, especially acne and helps you get clear, beautiful, and glowing skin.