With the increase in modernity, there has been a change in the thinking of people as well. However, the position of women in the society is still not as strong as expected. The main reason for this is that even today, girls are considered a burden in some families. Marriage talks start in the house when the girl gets a little mature. Although the legal marriage age for girls is 18 but this is also a raw age as girls have grown physically by this age but not mentally. It is quite important to be mature enough in order to marry as a lot of responsibilities come on a girl after marriage.
Not only this, but a girl's education is also not completed by the age of 18. This means if a girl marries at the age of 18, then her mental development will also stop. In view of all this, the central government has appealed to the cabinet to raise the legal age of marriage from 18 to 21 years.The great news is that the cabinet has approved this proposal on 15th December, 2021. However, there is still time for the law to be brought into action as well as included in the Prohibition of Child Marriage Act, Special Marriage Act and Hinsu Marriage Act.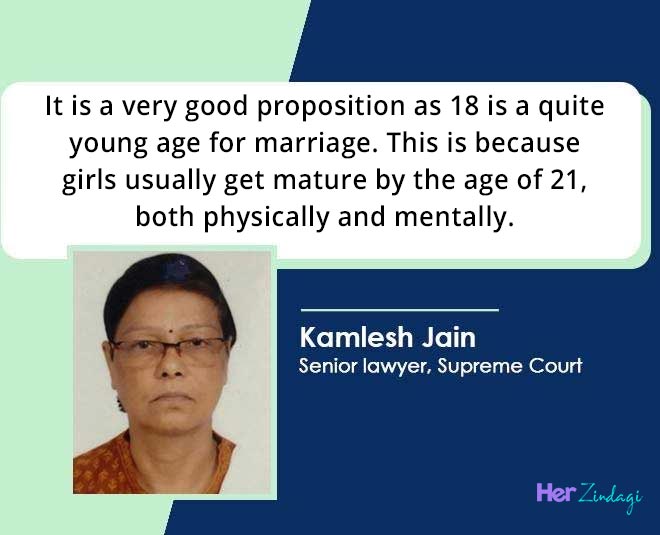 Kamlesh Jain, Senior Lawyer of the Supreme Court says that "It is a very good proposition as 18 is a quite young age for marriage. This is because girls usually get mature by the age of 21, both physically and mentally. Marriage is a big occasion in one's life and marriage adds to a person's responsibilities. Women have more responsibilities. Along with this, they have to handle new relationships which requires understanding and it can't be expected from an 18-year-old."
Why Is There A Revision In The Age Of Marriage For Women?
In the year 2020, Prime Minister Narendra Modi mentioned it in his speech for the first time ever. After this, a task force was formed in June which was headed by Jaya Jaitley and the task force included people from the Ministry of Health and Family Welfare, Women and Child Development, Higher Education, School Education and Literacy and the Ministry of Justice and Law. Everyone believes that if women are married late then it is not only good for them but it will also reduce the challenges in terms of social welfare, finances and health.
Don't Miss: Red Flags In Friendship That Indicate It's Time To Cut Off
Benefits Of This Amendment
If there is a change in the age of marriage of women, then, these will be the benefits which are told by Ms. Kamlesh Jain.
This decision can be considered good in terms of women's health, because 21 years or later is the right time to have a child after marriage. An 18-year-old girl does not have the understanding to marry and maintain relations. In such a situation, her condition will only deteriorate when she becomes a mother.
If a girl marries at the age of 21, then she can get a chance to complete her graduation. This way women can build a career for themselves and make them financially stable.
Don't Miss: HZ Exclusive: Know All About Shaheen Bhatt's Battle With Depression In Her Own Words
As women gain maturity by the age of 21 or after, therefore, it is appropriate for them to get married.
For more such stories, stay tuned to HerZindagi!