It is our Prime Minister, Narendra Modi's birthday today. Born on September 17, 1950, Narendra Modi hails from Vadnagar, Gujarat. From being a tea vendor to RSS Pracharak to being the CM of Gujarat to being the Prime Minister of India today, Narendra Modi has come a long way.
On the occasion of Narendra Modi's 71st birthday, we talked to Astrologer Dayanand Shastri and he shared about special 'yogas' in PM Modi's horoscope with us.
PM Modi is turning a year older and things will change in his life as per the planetary positions in his horoscope. How will these positions affect the future of our nation? Read on to know about his horoscope.
Narendra Modi's Lagan Kundali
In the horoscope, Lagnesh Lord is Mangal which is considered very auspicious from an astrological point of view. The planetary position will only lead to confidence, courage, power, strength, and enthusiasm.
Ascendant and Mars both are very strong in Modi's horoscope, but there is another special thing in this here that strong Mars is also situated in the ascendant house. This speaks of the nature of the person. This means Narendra Modi is fearless and full of enthusiasm.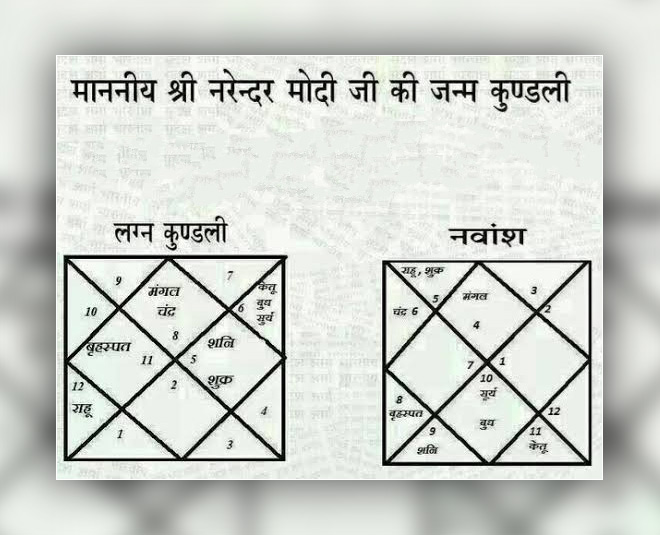 The placement of Mars is strong and this means a person is hardworking and dedicated to his work and at the same time is determined. The person puts in all energy to get success in work.
Narendra Modi has all these qualities. He has a lot of strength and is very competitive. The planetary position in the Lagna chart also indicates that the person dominates his opponents.
Don't Miss: With The Recent Cabinet Reshuffle, Modi Government Now Boasts 11 Women Ministers
Shatruhanta Yoga In Kundali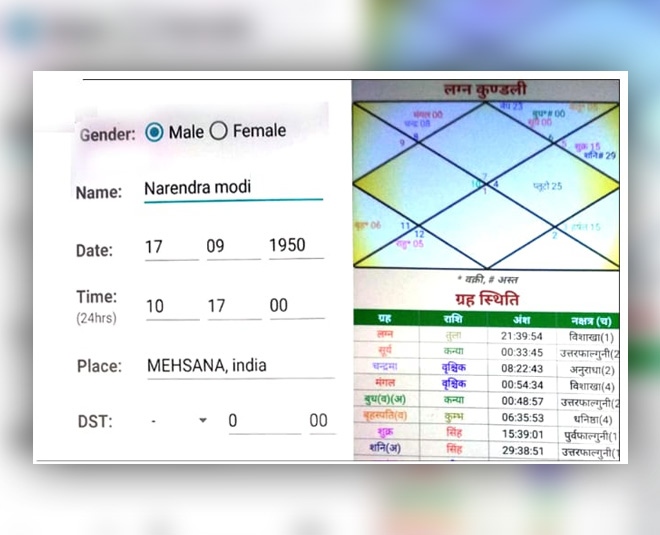 Narendra Modi's horoscope has 'Shatruhanta Yoga' which means all his enemies or opponents will not be able to do any harm to him. The Scorpio Mars in Modi's kundali means that he is full of confidence and his aura will also influence his critics.
The Scorpio in the horoscope means that the person is serious and fearless. As the attitude of the Prime Minister is said, he does not panic at all when taking important decisions.
Also, such people are not afraid to work hard to meet their goals. The feeling of revenge is strong in such people. They do not leave their enemies easily.
Their confidence plays an important role in defeating the enemy. People of Scorpio sign make the impossible possible on the basis of their confidence and manage to achieve their goal in life. If they take a difficult task in hand then they put full emphasis to complete it on full time and achieve success in life on the basis of their extraordinary will power.
Don't Miss: In Animated Videos, PM Modi Performs Tadasana And Vrikshana
Same with our PM Narendra Modi. Narendra Modi manages to achieve his goal by working hard whether it has been a matter of triple talaq or GST, the internal security of the country. All that he has done for the country is evident.
Birth Chart
A lot of astrologers have already claimed that he will become the Prime Minister for the third term as well as per his birth chart. Because of all the good 'yogas' in his horoscope, he will not face any problem in his political career ahead.
As per Modi's horoscope, the planets are located in the higher zodiac this gives him the power to study and analyze anything. PM Modi's voice and speech are very energetic and effective, for which both the powerful Mars and the high Mercury in his horoscope have an important role.
Planet Jupiter is in the ninth house, it gives one, generosity in his personality. The person gives equal status to everyone.
Overall, Shri Modi's horoscope has Lord Moon in Bhagyesh gives him the 'Raja Yoga'. This was a low-lying Raja Yoga from the moon so he got immense success only after struggling.
Tell us your thoughts on PM Narendra Modi's horoscope. Share with us on our Facebook page. For more such stories, stay tuned!