Pratik, Karan Or Tejasswi? Winner Of Bigg Boss 15 As Per Astrology Prediction
According to astrological analysis, only one contestant has brighter chances of winning Bigg Boss 15.
One of the much talked about controversial reality shows, Bigg Boss 15 is finally having its grand finale today.
Till now, Karan Kundrra, Tejasswi Prakash, Shamita Shetty, Pratik Sehajpal, Nishant Bhat and Rashami Desai had made it to the grand finale. However, the finale began with the big announcement of Rashami Desai's elimination.
Well, there are a lot of tough competitors in the Bigg Boss 15 house who stand a chance of winning the trophy. Now, the final fight is going to be between the other five contestants. So, who is going to win the trophy?
Earlier, we spoke to Tarot Card Reader Jeevika Sharma and asked her to predict who has higher chances to win the show among the contestants inside the Bigg Boss house. If you missed reading it, read it here.
Recently, we reached out to Astrologer, Dr. Anil Mitra and asked him to predict who has brighter chances of winning Bigg Boss 15 as per astrology.
Bigg Boss 15 Winner As Per Astrological Analysis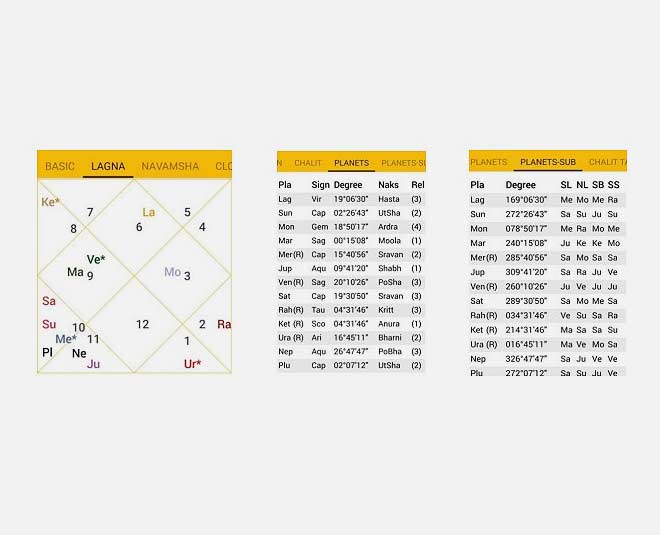 Date of Finale: 16-01-2022
Time of Finale (Expected): 11.50 PM (Night)
Place of Finale: Mumbai
According to the analysis report of our Astro expert -
(1) The Lagan is "Virgo" having Lagnesh as "Mercury".
(2) Mercury is posited in "Sravan" Nakshatra & Nakshatra Lord is "Moon".
(3) "Moon" is the Sign Lord of 11th House.
(4) Lagnesh "Mercury" is in 5th House (Trikone Bhav), but it is conjuct with "Saturn" however Saturn is in Own Sign and in Sravan Nakshatra (With Moon as Nakshatra Lord).
(5) Now "Moon" is transiting in "Ardra" Nakshatra with Nakshatra Lord "Rahu".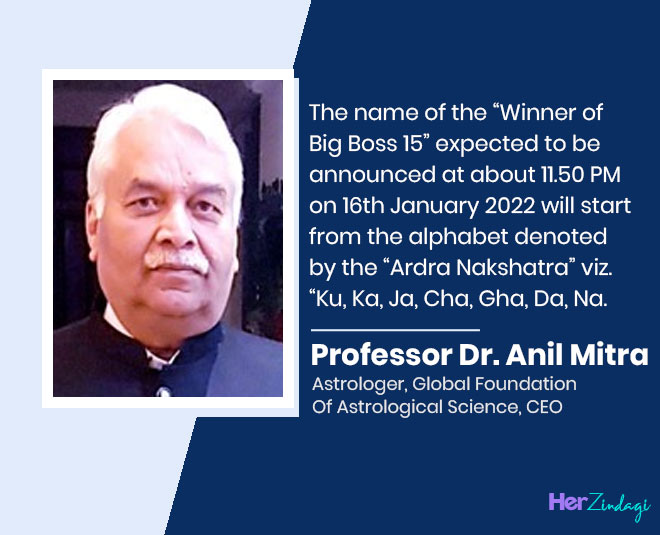 (6) "Rahu" is placed in 9th House in "Kritika" Nakshatra having "Sun" as Nakshatra Lord.
(7) "Rahu" is placed in "Taurus" Sign with "Venus" as Sign Lord.
(8) As per "Numerology" the year – "2022" is "6" number which represents "Venus"
According to this analysis by the horoscope chart, the name of the winner of Bigg Boss 15 will start from the alphabet denoted by the "Ardra Nakshatra" viz. "Ku, Ka, Ja, Cha, Gha, Da, Na". Thus, there Karan Kundrra has the highest chances of winning Bigg Boss this season.
Don't Miss: Bigg Boss 15: Is Karan Causing Trouble In His Very Own Paradise?
Karan Kundrra's Game On Bigg Boss 15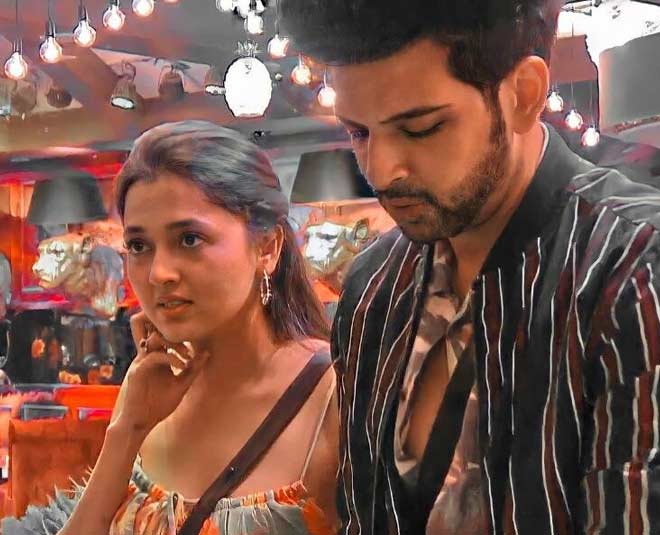 Ever since the beginning of Bigg Boss 15, Karan Kundrra is one of the most talked about contestants on the show. Not only viewers enjoyed his game on the show, they liked his connection with co-contestant Tejasswi Prakash. His relationship with Tejasswi Prakash saw a lot of ups and downs on the show. Initially, they were seen falling for each other, we saw a couple of lovey-dovey moments, however, as the game moved ahead, they were seen focussing on the game more and drifting apart.
Don't Miss: Bigg Boss 15: Is The Bromance Between Karan And Umar Over?
Karan Kundrra is getting immense support from his fans over social media and a lot of celebrities too are appreciating his game on the show.Recently, Bigg Boss OTT winner, Divya Agarwal in an interview with ETimes talking about her favourite contestants said, "I am quite happy with Tejasswi, Umar and Karan's journeys. They have always been my favourites." She further that she will be happy if any of these 3 contestants wins the show.
Will he really win Bigg Boss this season? What are your thoughts? Share with us on our Facebook page. We will be bringing you fresh updates from Bigg Boss 15, stay tuned!