Olympic Gold Medalist Neeraj Chopra Recites Famous Amitabh Bachchan Dialogues In Haryanvi, Watch Video
KBC fans can't keep calm ever since the promos of Neeraj Chopra and P.R Sreejesh' special episode have gone live.
India's star javelin thrower Neeraj Chopra has been making headlines ever since he broke the Olympic record and gave us a gold medal at the Tokyo Games.
The heartthrob will be seen appearing on India's most popular TV show, Kaun Banega Crorepati along with P.R Sreejesh, who was India's hockey team's main man during the Tokyo Olympics this year.
Sony Entertainment Television shared a promo of the episode on their Instagram handle and captioned it, "#KBC13 ke manch par aa rahe hain Olympic Gold medalist Neeraj aur Bronze medalist Sreejesh! Zaroor dekhiyega unhe #KaunBanegaCrorepati iss Shaandaar Shukravaar mein, kal raat 9 baje, sirf Sony par."
The two champions will be guests on Kaun Banega Crorepati for the upcoming Shandaar Shukravaar episode. The episode has already been shot and ever since the channel shared some promos, they have been going viral on the net.
Olympic Champ Neeraj Chopra Recites Big B's Dialogue's In HaryanviIn one of the promos from the episode going viral on social media, Neeraj Chopra can be seen reciting a dialogue from Amitabh Bachchan's famous dialogue from the movie Silsila - Main Aur Meri Tanhayi. The star javelin thrower gave it a Haryanvi twist and the host Amitabh Bachchan just couldn't control his laughter.
Amitabh Bachchan Recites Lines In Haryanvi
Indian hockey team goalkeeper, PR Sreejesh quickly asked Amitabh Bachchan if he had ever featured in a Harayavi movie. To this he answered that he hasn't but delivered a dialogue in Haryanvi for one of his movies long time back and it was quite difficult for him.
To this, the Indian hockey player shared that he along with Neeraj Chopra will teach Amitabh Bachchan some Haryanvi. Neeraj Chopra then translates Bigg B's popular dialogue from the movie Zanjeer - "Yeh police station hai tumhare baap ka ghar nahi."
Don't Miss:All You Need To Know About Seema Punia Antil, The Discuss Thrower
See Amitabh Bachchan reciting the dialogue in Haryanvi here -
View this post on Instagram
Neeraj Chopra Shares Why He Chose Javelin Throw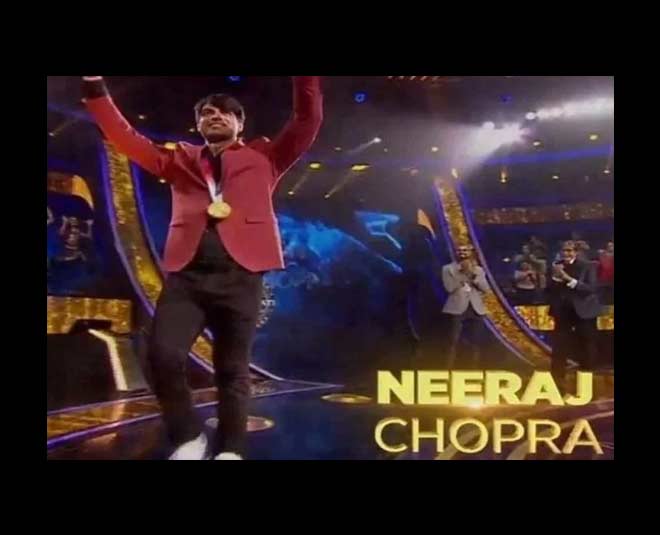 When host Amitabh Bachchan asked Neeraj Chopra why he chose javelin throw, he shared that he saw his seniors playing it and he really liked it and wanted to do it. He shared that he felt that javelin was the only sport that he wants to do in life. He further shared how it took him about 10 years to reach from 40 m to 80 m for his game.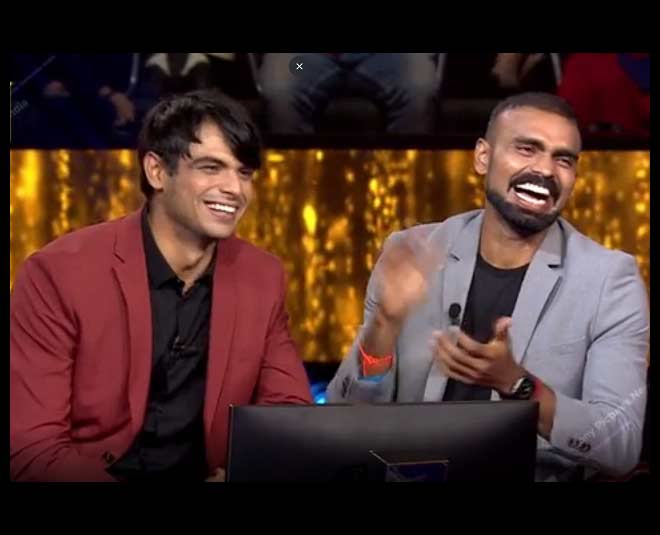 Indian hockey player P.R. Sreejesh also talked about his struggles during the initial days. He hails from a simple family and they didn't have enough money to get him the equipment for goalkeeping. He also shared how the entire country laughed out at the hockey team when they didn't win any matches.
Don't Miss: Tokyo Olympics 2020: Read All About Indian Hockey Forward, Navneet Kaur!
Both Neeraj Chopra and P.R. Sreejesh had to pass through struggling initial days to reach where they are today. The two have made the enire country immensely proud with their game at the Tokyo Olympics 2020.
We can't really wait to see Neeraj Chopra and P.R Sreejesh along with Amitabh Bachchan on Kaun Banega Crorepati. Tell us your thoughts on the two champions on our Facebook page. For more such stories, stay tuned!