Cliched and Tone Deaf: Huma-Sonakshi Starrer Double XL Trailer Is Riddled With Stereotypes
Double XL revolves around the story of two women who are victims of fat-shaming.
At the very start of the trailer you hear the voices of Huma Quereshi and Sonakshi Sinha, concerned about losing the weight that they gained for the film. Thereby absolving themselves of the 'shameful' fat version of them that we expect to see in the film Double XL. Irony cannot be missed in the dialogue that follows, Sonakshi says, "the same way we did before becoming heroines."
T-series dropped the announcement video of its upcoming film Double XL today. A film that's supposed to call out body shaming, stars Huma Qureshi and Sonakshi Sinha in pivotal roles. The first look however has left me disappointed. As a fat woman I am cringing at all the cliches and the plain appropriation of the body positivity movement without understanding it.
Stereotypes Aplenty
Take for example, the need to give Huma Qureshi a burger in hand and Sonakshi to slurp down a smoothie, because obviously, that's what fat people do at any given time. And then the arm, belly, double chin and hip shots are the epitome of the male gaze. Instead of calling out body shaming, the film seems to be emphasizing all that it stands for. And the random shots of dancing plus size women just makes no sense.
Acceptance Not Pity
It is disappointing that actors like Sonakshi Sinha and Huma Qureshi, who have themselves been subject to fat shaming, did not pick on the stereotyping and agreed to play along. This fake melodrama of fat women don't have "sapne dekhne ka haq" is frankly a passe emotion. Plus size women are reclaiming the word, and in India too, women are not letting their weight or people's judgements stop their paths to success. So spare us the pity party!
Plus Size Influencers React
HerZindagi reached out to body positivity influencers to get their reaction on the trailer. TEDX speaker, Professor of Marketing at MICA, and body positivity influencer, Dr Falguni Vasavada said, "Overall I feel good that there are films that have started talking about plus sizes, weight and fat shaming but this trailer is definitely a big putoff for me. It seems like tokenism. Take for example the line that emphasizes that you can never be the leading lady if you are overweight. The attempt looks fake and for token sake, atleast in the trailer, lets see if the movie gives a realistic picture. "
Don't Miss: Dr. Falguni Vasavada- The Flagbearer Of Body Positivity In India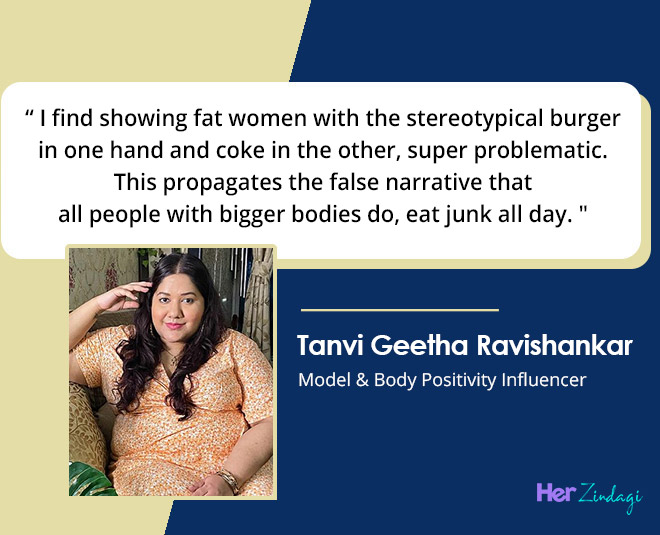 Tanvi Geetha Ravishankar, a model and a lifestyle & body positivity influencer told HerZindagi, "Let me first say that I love the fact that a mainstream bollywood movie has 2 leads that aren't a size zero or small ! It's awesome..even though xxl is still very much a straight size and not plus size , it's still a start. And so true, shaming people for their weight is considered "tumhare bhala ke liye" in our country and everybody wants our bhala! However I do find showing fat women with the stereotypical burger in one hand and coke in the other, super problematic. This continues the false narrative that all people with bigger bodies do, is eat junk all day or that the reason we are fat is because we eat bad and don't exercise, which cannot be farther away from the truth. I still am very interested to know the plot line of this movie and whether they do have a true Body Positive message at the end of it all. Fat Acceptance is the need of the hour, with no clauses attached to it and cannot just stop at an xxl but has to apply to the biggest body there is. Hoping that this movie is a positive start for the same."
Will There Ever Be a Plus Size Sheela?
While it is something to cheer that there is a movie about plus size people, this writer wonders if there will ever be a time when plus size women can be cast for regular mainstream roles. Where the narrative does not have to justify a fat heroine, because believe it or not, fat women exist and they thrive. They have romances, jobs, and families too. 'Food' for thought?
Don't Miss: Inside The World Of Sobia: The "Phenomenal" Model India Is Talking About
Double XL Release Date
The shoot for the film is over and the release is due in the summer of 2022. Written by Mudassar Aziz and directed by Satramm Ramani, the film is produced by T-Series, Wakaoo Films and Elemen3 Entertainment. The film is set to release in Summer 2022.