Things aren't going very smooth for Eijaz Khan inside the Bigg Boss house this season. Ever since he stepped inside the house, he has been getting into arguments with his co-contestants. Well, that's the case with contestants every year but what's special this time is that almost everyone inside the Bigg Boss house seems to have a problem with him.
With the recent task, it looks like things have taken an ugly turn. Recently, Eijaz Khan was announced as the new captain of the house after he won a task. However, soon after, Eijaz Khan was seen breaking down. Why? Read on to know.
Eijaz Khan Breaks Down Inside The Bigg Boss House
The new entry inside the Bigg Boss house, Kavita Kaushik was seen accusing him of using her. She also accused him of giving her attitude because he was now the new captain of the house. While she kept blaming him for irritating her, Eijaz kept his cool and asked her to follow all the rules of the house.
What's interesting here was that Eijaz Khan called Kavita Kaushik a very dear friend but Kavita had a very different story. Kavita Kaushik even ended up abusing him but Eijaz Khan was seen being patient.
Now, a new promo has been released by the channel and it shows Eijaz Khan breaking down into tears. In the video, he can be seen crying and telling co-contestant Nikki Tamboli that he doesn't realise who loves him and who doesn't. He further shared that this is the reason why he doesn't want to get into a relationship.
Bigg Boss 14 Contestants Against Eijaz Khan
Well, this is not the first time a co-contestant has accused Eijaz Khan of something. Earlier, Rubina Dilaik in an episode said that Eijaz Khan keeps flipping. Her husband on the other hand said that Eijaz thinks that Bigg Boss can be won only by manipulation. Nishant Singh Malkani was seen calling Eijaz Khan a 'pyscho' in one of the episodes.
Don't Miss: BB 14: Eijaz Khan's Girlfriends, Rape Accusation, Mental Illness! All You Need To Know About Him
Rubina Dilaik Says Eijaz Khan Has Mental Issues
When Eijaz Khan and Kavita Kaushik were fighting, Rubina Dilaik was seen telling her husband Abhinav Shukla that Eijaz has mental issues and that he isn't balanced. Rubina Dilaik's statement on Eijaz Khan didn't go down with Eijaz' fans. One of the users on Twitter wrote, "Rubina Dilaik stop saying again n again that #EijazKhan has mental health issues and that he is a psychopath! Stop calling him mental all the time!! Mental health is a serious issue, it's not a joke!"
Don't Miss: Pavitra Punia Confesses Feelings For Eijaz Khan, Are They The Next Shehnaaz And Sidharth?
Another one wrote, "I really hope Rubina gets asked about this during weekend vaar. Mental health isn't a joke. #BB14 #EijazKhan."
Fans In Support Of Eijaz Khan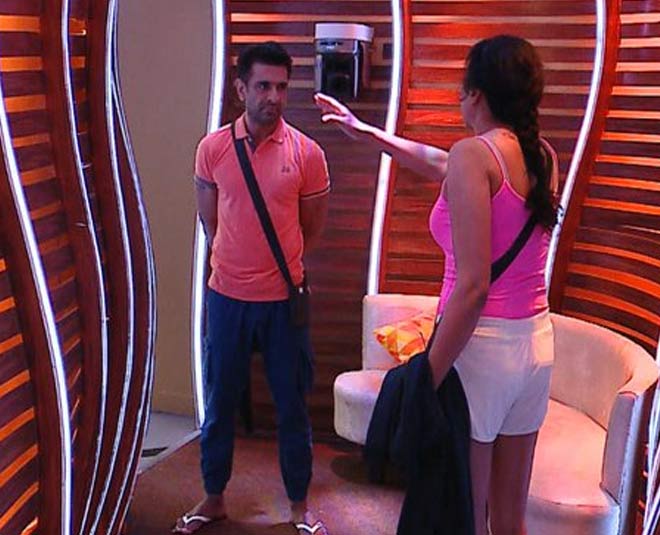 Ever since Eijaz Khan and Kavita Kaushik's ugly fight got aired, a lot of the viewers have come in support of Eijaz and are slamming Kavita for her behaviour. Taarak Mehta Ka Ooltah Chashmah actress Munmun Dutta took to Twitter and wrote, "Kavita Kaushik is absolutely rude. Period ! Disgusting way of speaking to Eijaz. She forgot her own behaviour with Shardul, Pavitra, Rubina when she was the captain. Those overreactions.. Respect for Eijaz today for still being respectful infront of that verbal diarrhoea.
A lot of Eijaz Khan's fans also took to Twitter and praised him for his patience and bashed Kavita Kaushik for using such ugly language on national television.
Well, the game has just begun. With new contestants entering the Bigg Boss house, we were anyways expecting a lot of twists. We wonder what's next! Are you enjoying watching Bigg Boss 14? Share your thoughts with us! For more such stories, stay tuned!