DDLJ is not just a movie to us Indians, it is indeed an emotion, a reality of an alternate universe. We are all so deeply indulged in the movie, even after 25 years of its release that we now believe that we can't get over it at least in this lifetime. This movie was released way back in 1995 on the 20th of October. And it will soon be celebrating its silver jubilee and we are ready to stream it again. Back to back for all our lives.
The movie is a story of two young lovers, who cross all the hurdles to take their love story to the pinnacles of success. They fight all odds, from convincing the family to crossing borders between countries and being close but far away from each other. All these elements added up in the perfect intensity to create a movie as cherished as DDLJ. So much so, that this movie was up and running in Maratha Mandir, completing uninterrupted 23 years of continuous shows in 2018. Let's now take a look at some of the most iconic scenes of the movie.
When Raj Looks At The Moon And Longs For Simran
Image Courtesy: Youtube
After returning from their Euro trip, both Raj and Simran start missing each other and hallucinating about seeing each other. And later, Raj is seen staring at the moon as he longs for Simran's company while on the other side Simran is preparing to leave for India. Raj is constantly staring at the moon and playing the mandolin simultaneously as his dad approaches him with a beer and then he reveals to his dad that he is in love with Simran.
Raj Meeting Simran's Babuji In Punjab
Image Courtesy: Wordpress
So, this was one of the most iconic and funny scenes because when Raj arrives at Prabhu Kutir (Simran's Punjab Home) Simran's dad is at the door welcoming all the guest, when Raj enters, both have bizarre expressions as they are trying to remember when they have come across each other, given the strangely familiar faces. Raj remembers that he is the same person he fooled in London for buying Beers but Simran's Babuji still tries to recall.
When Raj And Babuji Feed The Pigeons
Image Courtesy: Pinterest
In order to impress Simran's Babuji and apologise for what happened in London(Bus from Delhi To London), raj makes it a habit to wake up early in the morning and follow babuji to the fields to feed the pigeons. After days of efforts, babuji finally starts cheering up to his efforts and acknowledging them to forgive him.
Don't miss: Revisit DDJL With Some Of Its Most Iconic Raj - Simran Scenes
Raj And Simran's Mom Heartwarming Moment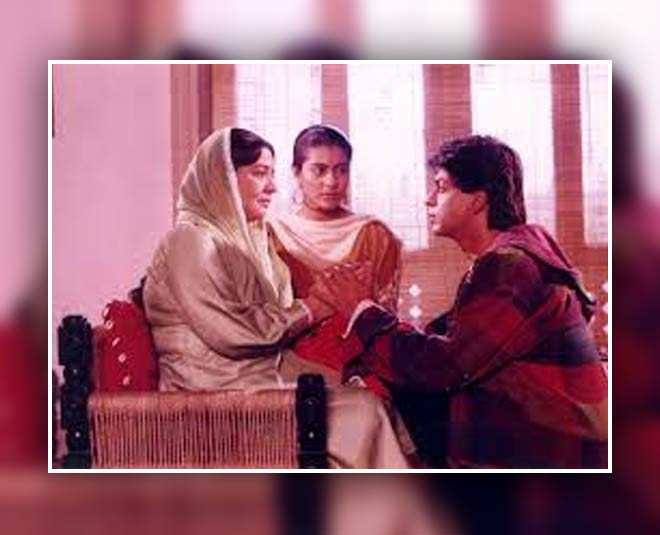 Image Courtesy: Pinterest
When Simran's mom spots Raj and Simran feeding each other after Karwachauth, she gives them her jewels and advises them to run away in order to lead a happy life. But Raj hold's Simran's mom's hand and assures her that he will, by hook or by crook, marry Simran with the agreement of everyone including Babuji. Making such a statement even after Simran's marriage was in a few days, actually stood out for the audience.
Don't miss: DDLJ To Complete 25 Years, Have A Look At These Behind The Scenes Pictures From The Shoot Sets
The 'Ja Simran Ja' Scene
Image Courtesy: Pinterest
The last and final scene of this movie was definitely the most eye-catching one. When the family discovers about Raj and Simran's relationship, Raj is thrown out and faced by a gang of Kuljeet's people who beat up Raj and his father at the railway station. But then, Simran's family arrives, and seeing Raj's courage and never-ending love for Simran, Simran's father finally lets go off her hand and says "Ja Simran Ja, Jee le Apni Zindagi" And Raj and Simran end up together.
If you liked this article, stay tuned to Her Zindagi for more such pieces.