DDLJ is not just an abbreviation, it is an emotion that we all feel. The magic that this word can cast on us, starts with a picture of Raj, playing a red mandolin in the mustard fields and a happy and weary Simran coming and hugging him. The embrace of love the legacy that follows.
This year the movie will complete its 25th anniversary. It was released on 20th October 1995 and is one of the most appealing tale of two Indians who fall in love with each other to create a dreamy story. Let's all go down the memory lane and live this wonderful movie with the top iconic Raj Simran moments that this movie gave us, that brought light and spark in our lives.
The Church Scene
When Raj and Simran miss their train while on a trip around Europe, Simran has finally, started coming out of her shell, she then spots a church nearby and insists Raj to come along with her. They both then go on in the church and Simran joins her hands in front of the Holy cross, while Raj is left mesmerised by the way innocent Simran is praying and his eyes get glued to her. When Simran is done praying, they both start moving towards the exist and Raj asks Simran what she wished for, to this Simran replies that, her wish won't come true if she revealed her wish. And also expresses that she firmly believes that her prayers will be answered. Raj, then hands Simran his backpack and asks her to take the lead. He then prays and asks for Simran's wishes to be answered.
"Shadi Me Nahi Aauga"
After a month full of lovely moments, their Europe trip comes to an end and they are bidding final goodbyes to each other. Both Simran and Raj have started liking each other by now. Then Simran invites him to come to her marriage, Raj refuses and says Mai Nahi Aauga.This statement made it very clear that Raj was hurt by the fact that Simran was going to get married soon.
When Raj Finally Comes To India For Simran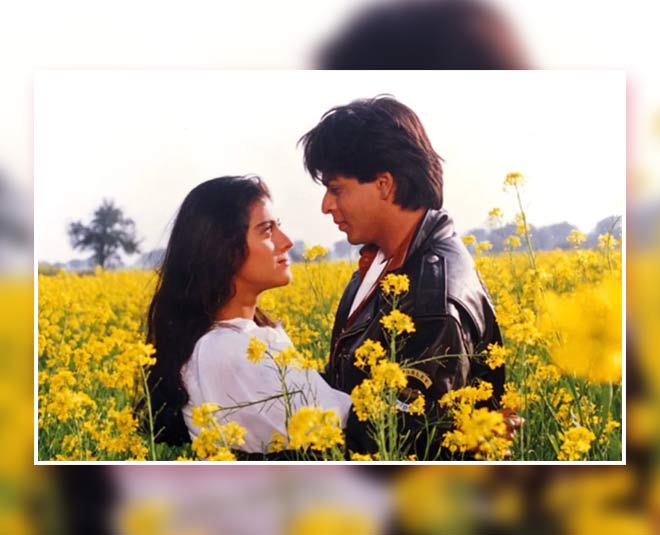 After realising their love for each other, nothing goes right for the couple. While Simran and her family have already started preparing for Simran's marriage ceremony, Raj, still in London, tries to figure out a workable plan to win over both Simran and her family.
After a few days, Raj finally reaches India and play the mandolin, Simran recognises the tunes and follows the heart-warming tune that is decorated with the fragrance of Raj's arrival. Raj and Simran meet and after 'Tujhe dekha Toh Yeh Jana Sanam' they both indulge in a tight embrace and melt our hearts in a moment.
When Simran Fakes Getting Dizzy And Fainting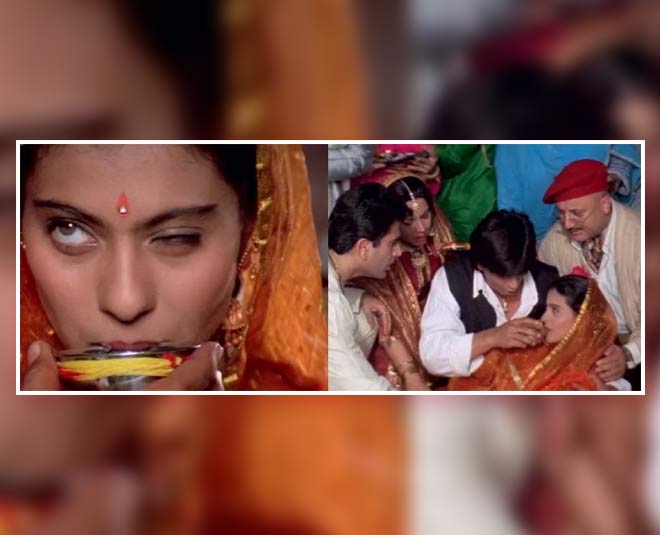 One of the other iconic moments is when Simran fakes fainting just in order to drink water from Raj's hands for her first Karwachauth and then winks at Raj. Raj and Simran finally rest, as they achieve what they wanted to. Karwachauth is a festival in which women fast for their male counterparts and their long lives. It is a ritual to drink water or eat from your partner's hand to increase the power of your love and relationship.
Don't miss: DDLJ To Complete 25 Years, Have A Look At These Behind The Scenes Pictures From The Shoot Sets
The Most Iconic Train Sequence
This is the most iconic scene of this movie and has also been replicated in other films, but never with such intensity. In the last sequence when Simran's father finds out that Raj is the guy, Simran met on her Europe trip, he strongly agitates and throws Raj out of their home. When Raj and his father are on their way back to London, Kuljeet and his friends beat up the father-son duo. But still, Raj has the fire of love in his eyes and Simran's father notices it at last. And leaves Simran's hands and says, 'Ja Simran Ja, Jeele Apni Zindagi' and Simran rushes to catch Raj, who is standing at the door of the moving train. He outstretches his hand and Simran grabs it and gets in the train to live happily ever after with the love of her life.
Don't miss: Did You Know Shah Rukh Khan Once Approved Sidharth Shukla For His Daughter?
Stay tuned to Her Zimdagi for more such pieces.