bodyWe don't know of the way to someone's heart is actually through the stomach but we know one thing for sure that the valentine's day is arriving and that we are all ready to catch up with the festivities of love with this day of love. Therefore, we got you some recipes that you can prepare on valentine's day to impress your partner for handmade treats.
Valentine's Special Jam Tarts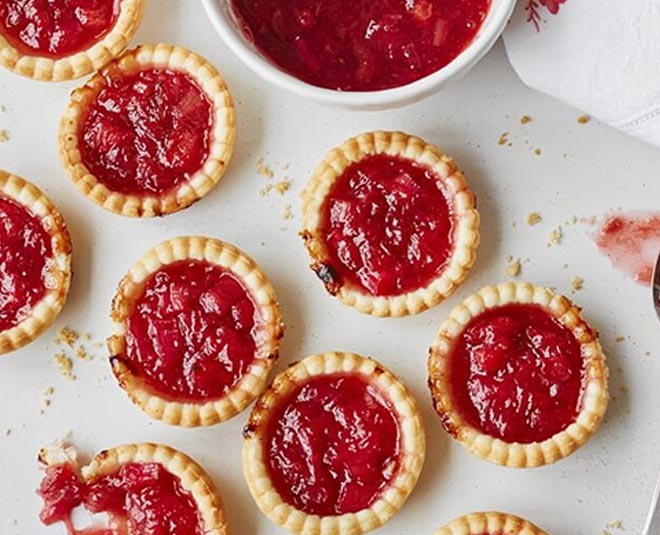 Prepare these 5 ingredients jam tarts this valentine's day and make time with your beau super romantic.
Ingredients
250g Plain Flour Plus Some For Dusting,
125g Butter Chilled And Diced,
1 Medium Egg,
1 Vanilla Pod,
100g Jam
Method
Take the flour, butter and a pinch of salt, put them inside the food processor and blend well. The mixture will turn out to be like bread crumbs, next add the vanilla pod and the eggs.
Now add some cold water and knead it into a dough, without applying too much effort.
Wrap the dough inside a cling film and refrigerate for 30 minutes.
Meanwhile, take a tart dish and start to grease it with butter.
Take out the dough from the fridge and start to roll it out into a thin sheet. Using a round mould cut out some circle to line the tart dish.
After lining the tart tin, place small hearts over the pastry and bake for 15-20 minutes.
Serve the tarts after cooling them down nicely.
Red Velvet Cookies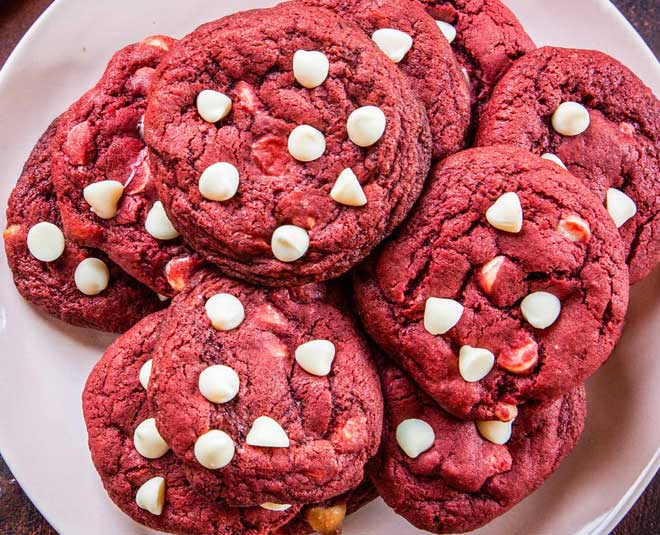 Relish the mouth water taste of red velvet cookie specially made for your partner at home. Take a look at the recipe here:
Ingredients
175g Soft Salted Butter,
200g Light Brown Soft Sugar,
100g Caster Sugar,
1 Large Egg,
2 Teaspoon Vanilla Extract,
½-1 Tablespoon Red Food Colouring Gel,
225g Plain Flour,
25g Cocoa Powder,
½ Teaspoon Bicarbonate Of Soda,
150g White Chocolate Chips
Method
Start by beating the sugar and butter till a foamy cream is formed.
Now add the eggs, vanilla essence and the food colour, along with some bicarbonate of soda, flour and the cocoa powder. Mix the ingredients nicely to form a consistent paste lastly add the choco chips.
Transfer the dough on a sheet of parchment paper then chill until the dough is stiff and ready to bake.
Heat the oven to 190-degree Celcius and cut 1 cm thick pieces of the cookies from the dough place them together in batches on a baking paper for about 15 minutes till they turn crispy.
Finally, drizzle some white chocolate over the cooled cookies and sprinkle some icing sugar.
Don't miss: Light Up Your V Day With Sweet Classic Vegan French Crepes
Vanilla Panna Cotta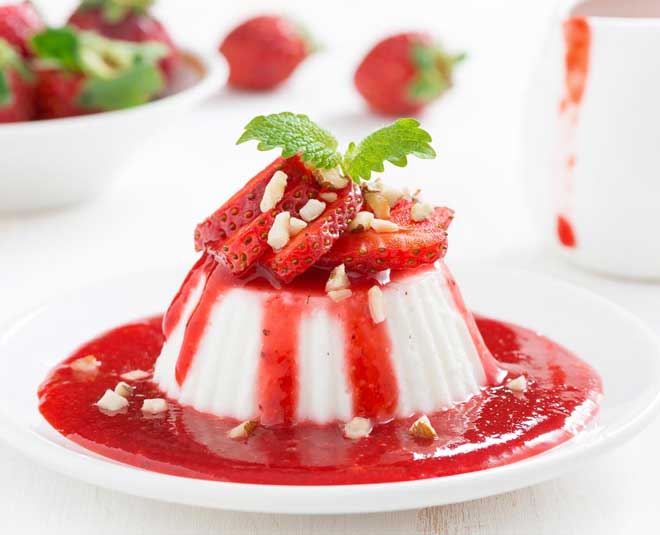 Prepare a delicious and smooth vanilla panna cotta that is a type of a pudding that is both easy and time-saving. So, let us learn how to make it.
Ingredients
2 ½ Sheets Gelatine,
150ml Milk,
400ml Double Cream,
60g Caster Sugar,
1 Vanilla Pod,
Fresh Strawberries,
Strawberry Compote
Method
Soak the gelatine sheets in water for 5 minutes.
Take a pan add some milk to it along with the sugar and the vanilla pods. Heat the mixture and bring to a simmer. Then after 5 minutes, remove the pan from heat and to this add the gelatine sheets. Stir the mixture until the sheets completely dissolve.
When the mixture is ready to transfer it to pudding moulds and refrigerate to let it set in for a couple of hours.
Once the pudding is ready, take it out on a plate and garnish with strawberries and strawberry compote.
Don't miss: The Perfect Love Potion Drink Recipe For The Love Of Your Life
If you liked reading this article then stay tuned to Her Zindagi for more such pieces.