With the onset of the winter season besides the change in climate comes one of the most attractive and pleasing seasonal fruit called the strawberry which is a beautifully sweet, aromatic, fiber-rich fruit packed with vitamins and antioxidants. The garden strawberry was first bred in Brittany, France, in the 1750s. Here are a few facts about strawberries worth taking a note of:
There are around 200 tiny seeds in every strawberry we eat up.
The native American Indians call strawberries as heart seed berries.
Strawberries are known for weight reduction especially the belly fat.
The romans believed that strawberry consumption could cure issued like bad breath, chronic fainting and liver disorders as well.
On a global platform strawberries are also available in blue, yellow, white, black and purple.
Taho is one of the most famous drinks made in the Philippines made with strawberries.
Strawberries contain more vitamin C than oranges and are very helpful in reducing inflammations.
Strawberries have a number of benefits for our body and health from being good source of vitamins, minerals, antioxidants, folate, potassium, manganese, dietary fiber, magnesium to name a few.
Strawberries usually contain around 90 percent water content with a very minor quantity of fats which makes it easy to be consumed by all.
Unlike some other fruits the strawberry stops ripening after being picked.
The strawberry plant is said to tolerate any kind of soil but it also believed that richer the soil, larger the crop will be.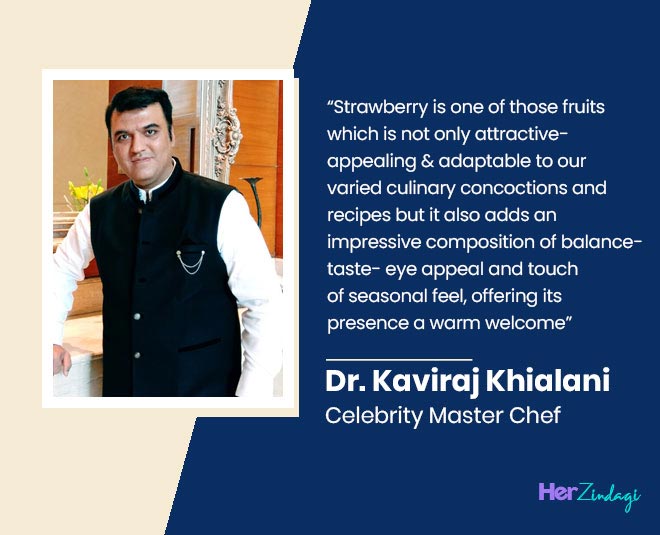 "Strawberry is one of those fruits which is not only attractive- appealing & adaptable to our varied culinary concoctions and recipes but it also adds an impressive composition of balance- taste- eye appeal and touch of seasonal feel, offering its presence a warm welcome"- Dr. Kaviraj Khialani- Celebrity Master Chef.
Here are three ways with strawberries this winter season to try out and relish the delectable fruit of the season!
STRAWBERRY HIDDEN TREASURE
Ingredients:
Fresh strawberries- 200 gms, cleaned, cut 1 x 4 each
Half of it to be made into a puree and keep chilled
For the hidden treasure:
Sponge cake- 3-4 slices to be broken up into crumbs.
Chocolate sauce- 2-3 tbsp.
Gulab jamuns- 2-3 no
Cashewnuts- 2-3 tsp chopped
Raisins 2-3 tsp
Rabdi- 1 cup
Cherries/ peanut chikki pieces/ mint for garnish
Method:
1. Prepare all the ingredients for the strawberry surprise dessert as listed above.
2. Churn half the strawberries into a puree and keep chilled. In a mixing bowl combine it together with the chilled rabdi.
3. Choose between dessert cups/ small glasses or a pudding dish to set the dessert.
4. Start with the base layer by placing a little strawberry rabdi followed by little cake crumbs, sliced Gulab jamuns, nuts, chocolate sauce, we can also add some assorted fresh fruits as well into the layers along with a few strawberry pieces as cut above.
5. Repeat the layers till the top and finally have the rabdi layer on the top, garnish the dessert appropriately and place it for chilling 1-2 hours and then serve it.
Don't miss: Learn Fusion Gajar Halwa With Chef Kaviraj Khialani
STRAWBERRY OATS CRUMBLE PHIRNI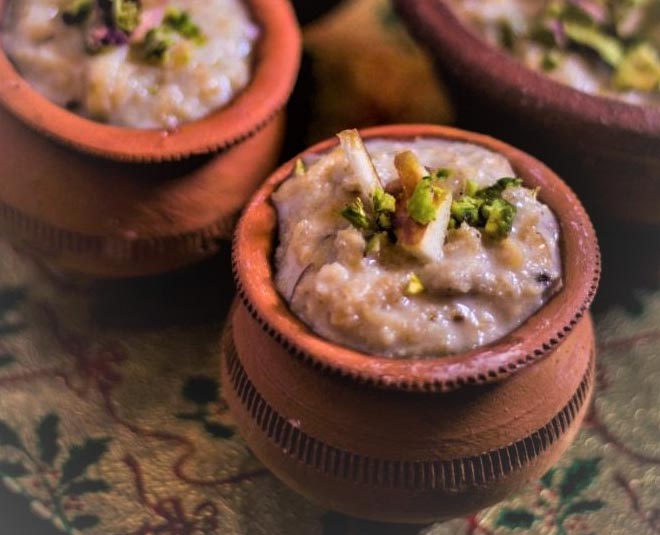 Ingredients:
For the phirni:
Milk- 400 ml
Sugar- ½ cup
Condensed milk – 2-3 tbsp.
Green cardamom powder- ¼ tsp.
Mava- 2-3 tsp grated
Rice paste- 2-3 tbsp.
For the oats crumble:
Oats- 1 cup
Soy milk- 2 cups
Date puree- 2-3 tbsp.
Assorted nuts- 2-3 tsp chopped
Chocolate cookies- 3-4 no broken into crumbs
Coconut chikki- ½ cup crumbled/ crushed
For the garnish and presentation:
Fresh strawberry pulp- ¾ cup
Fresh cut strawberries- ½ cup
Mint/ cherries/ chocolate chips for garnish.
Method:
1. Prepare all the ingredients for the fusion dessert recipe as listed.
2. In a saucepan combine together the ingredients for the rabdi and place it on a low to medium flame in order to start reducing it and getting it thick, need to keep stirring it all the time.
3. On the other side, start with the soy milk, date puree, rolled oats and allow them to cook for a few minutes, once it thickens up, cool that mixture as well.
3. Now mix in a little of the fresh strawberry pulp into both the mixtures and add little fresh sliced ones as well.
4. Using dessert cups/ glasses or a pudding dish start assembling the prepared sweet start with the oats mixture mixed with the chikki and cookie crumbs and top it with the strawberry phirni mixture and garnish with nuts/cherries and set in the fridge for 30 -45 mins and serve.
Don't miss: Try These 3 Delicious Desserts In A Jar By Chef Kaviraj Khialani
FUSION STRAWBERRY KA MEETHA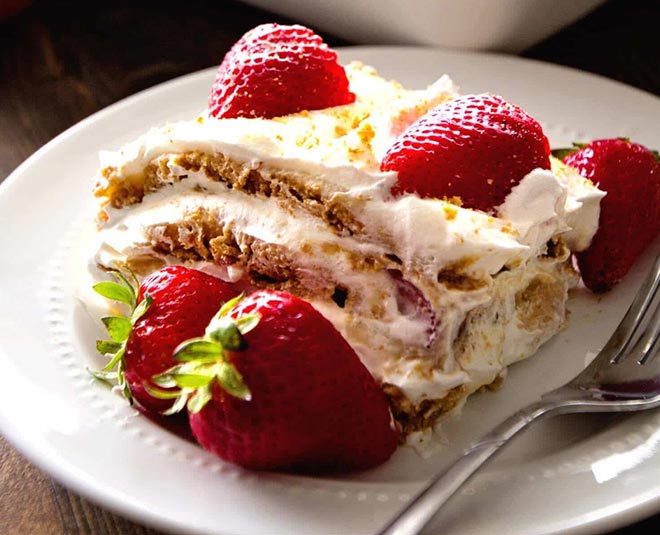 Ingredients:
White/brown bread slices- 10-12 no, crusts removed, cut into triangles.
Sugar syrup- 2 cups to dip and soak the fried bread
Motichoor ladoo- 1 cup, crumbled up
For the custard mixture:
Milk- 500 ml
Custard powder- 2 tbsp.
Water-1/4 cup
Sugar- 1 cup
Saffron-1/4 tsp
For the sweet cream mixture:
Whipping cream sweetened- 1 and a half cup
Strawberry slices- 1 cup
Strawberry crush- 2-3 tbsp.
For the fruity layer:
Fresh/tinned pineapple slices- 2-3 no cut into small cubes
Cherries- 10-12 no sliced
Mint leaves- 10-12 no
Coffee decoction- ¼ cup
Cake crumbs/ brownie crumbs- 1 and a half cup
Rum/ brandy/dessert wine- 2-3 tsp- optional.
Almonds- 2-3 tsp chopped
Raisins- 2-3 tsp chopped
Cashews-2-3 tsp
Gulkhand- 2-3 tsp
Method:
1. Prepare all the ingredients for the fusion dessert recipe.
2. Fry up the bread pieces and dip them in a little sugar syrup, pick them up in few seconds and keep them on the side.
3. Boil milk, combine the custard powder and water, mix well and add it into the milk, add sugar and using a whisk blend it up well, bring to boil, simmer for a couple of mins, remove it off the flame once it gets thick and coating texture.
4. Whip up the sweetened fresh cream mixed with a little strawberry crush and freshly cut slices. whip it up lightly and keep chilled. Prepare all the fruits as listed along with garnishes.
5. Set this dessert in a deep pudding dish, start with the layer of the sweet custard and continue upwards with bread pieces, layer of fruits, chilled cream mixture and motichoor ladoo, Gulkhand, coffee decoction with rum/brandy if desired and continue the layers coming upwards.
6. Garnish the dessert dish with fresh strawberries, mint, cherries etc and allow to set and chill in the fridge for 2- 3 hours and serve.
Celebrity Chef Kaviraj Khialani has varied experience with hotels and airlines. He is also a consultant, food designer, and food stylist. For more such interesting recipes from the chef, stay tuned to HerZindagi.